What is Chromecast?
Chromecast is a streaming media adapter from Google that allows users to play online content such as videos and music on a digital television. The adapter is a dongle that plugs into a TV's High-Definition Multimedia Interface (HDMI) port. A power cable connects to a USB port on the Chromecast device.
Chromecast devices enable users to stream (cast) content from their smartphones, tablets, laptops or desktop computers to a television with an available HDMI port. The newest generation of Chromecast -- Chromecast with Google TV -- extends these streaming capabilities by providing a user interface for running apps directly on the Chromecast device. Chromecast with Google TV also includes a Bluetooth remote that provides Google Assistant voice control.
Earlier Chromecast models did not include the user interface or support local apps, nor did they provide a remote control. They were used strictly to stream content from other devices. Google no longer sells Chromecast devices without Google TV.
Google currently offers two Chromecast with Google TV models. The first is the HD version, which can stream up to 1080p HDR, and the other is the 4K video resolution version, which can stream up to 4K HDR. The HD version costs $29.99 and the 4K version costs $49.99. A wide range of streaming apps are now available for Chromecast, including Netflix, Hulu, Peacock, YouTube, Spotify, PBS, BBC News, Apple TV and many others.
Setting up Chromecast devices
To set up a Chromecast device, users need to install the Google Home app on their iOS or Android devices. The device must be on the same Wi-Fi network as the Chromecast device. After the setup is complete, users can then use the Google Home app to manage and control Chromecast and stream content. Users can also configure settings, manage streaming apps and stream content directly through the Chromecast interface. In addition, they can use voice commands to control Chromecast and choose which content to view.
Users cannot use their computers to set up or manage Chromecast devices, but they can still cast to Chromecast, using the Chrome browser or a Chromium-based browser such as Microsoft Edge. The browser makes it possible to stream individual tabs or the computer's entire display screen. Users can use Chrome to stream content on Windows, macOS, Chrome OS or Linux computers, although Google stresses that the results on Linux can vary "depending on OS distribution, driver support and desktop environment."
Some websites are already Chromecast-enabled, including Netflix, YouTube, Google Play Movies and Google Play Music. To stream directly from these services, a user needs only to click the cast button, which is usually in the video or audio player. Some apps are also Chromecast-enabled, making it easier for users to stream content from their iOS and Android devices. Before using the Cast feature, however, users should ensure that they're running the latest version of the app.
Chromecast competes with other devices that can stream media to a television, including Roku Streaming Stick, Amazon Fire TV Stick and Apple TV. After the introduction of Chromecast with Google TV, Chromecast is now more in line with these other products. This is because Chromecast with Google TV includes a user interface, supports local streaming apps and includes a remote control.
Chromecast is also built into a number of TVs and speakers, which means the physical dongle is no longer needed. Streaming apps are available for both types of devices. Vendors that offer TVs with built-in Chromecast include Philips, Sharp, Sony and Toshiba. Vendors that offer speakers with built-in Chromecast include LG, Philips, Sony and Vizio.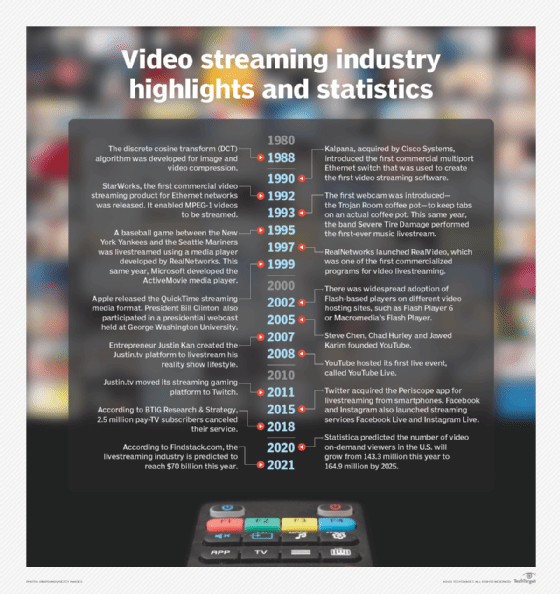 Explore the differences between video streaming and video conferencing.
This was last updated in
October 2023
Continue Reading About Chromecast