Definition
Continuity of Care Document (CCD)
What is a Continuity of Care Document (CCD)?
A Continuity of Care Document (CCD) is an electronic document summarizing a patient's health record that is shared when their care is transferred from one healthcare provider to another. CCDs are used to enhance communication between providers, standardize the exchange of patient data, save time during patient encounters and reduce the risk of medical errors.
A CCD is exported from a patient's electronic health record (EHR) and exchanged electronically. It typically includes a patient's clinical summary, their current and past health status, and other pertinent information. It is also known as a Summary of Care Document or Summarization of Episode Note.
Most CCDs include the following information about a patient:
Family history.
Demographics.
Social history.
Immunizations.
Allergies.
Medications.
Lab results.
Care plan.
Procedures and encounters.
A CCD may also include information about diagnoses and health risk factors as well as advance directives and problem lists. Some CCDs also include additional information such as smoking status, vital signs and insurance information.
Because CCDs are compiled using a standardized format, they support interoperability. Compatible EHRs can display the clinical information they contain in a consistent manner, regardless of which organization or provider added it.
Continuity of Care Document specification
The Continuity of Care Document specification is a compromise reached[JM1] by two standards groups, ASTM International and Health Level 7 (HL7). The specific content and scope of the Continuity of Care Document specification was determined by ASTM's Continuity of Care Record, an extensible markup language-based (XML) specification for patient summary data.
A CCD captures a summary of a specific patient's relevant clinical data at a particular point in time. The HL7 calls this summary a "snapshot in time." The main purpose of this snapshot is to ensure that the most pertinent data is transferred from one provider to another and that the recipient can quickly and easily distill it.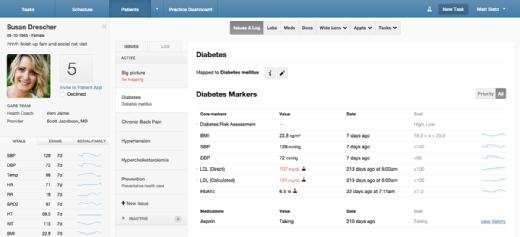 Uses and benefits of a Continuity of Care Document
One significant benefit of a CCD is that it provides useful background and baseline knowledge about a patient. This information enables healthcare providers to deliver more efficient, personalized and timely care. A detailed CCD that includes the most up-to-date patient information can be shared within and between hospitals, labs, clinics and other healthcare organizations to better understand the patient, enhance patient safety, reduce the need to repeatedly document certain details and improve care delivery at every point of care.
The CCD also provides a way for providers to securely exchange patient information via EHR systems. Another advantage is that it improves communication between healthcare providers, particularly when there is a transition of care, such as when a patient is referred to another provider or transferred from the emergency department to an inpatient unit. The information contained in the CCD as well as its shareable nature helps facilitate a smooth patient handoff and continuity of care.
When patient data needs to be moved from one organization's her system to another, having the information in a standardized format makes this transfer easy and quick. A CCD ensures such standardization so health systems and practitioners can readily access relevant patient data and develop the optimal care plan. In addition to sharing a CCD with each other, clinicians can also share it with the patient, keeping patients involved in their own health outcomes and improving patients' experiences with their providers.
C-CDA healthcare data format
The Consolidated Clinical Document Architecture (C-CDA) is a standard that defines a common set of rules for creating clinical documents to be shared within and between EHR systems. The most common file format of C-CDA documents like CCDs is XML. Most of these documents are read only. C-CDA is an evolution of an earlier standard, CDA. As of 2022, C-CDA and Fast Healthcare Interoperability Resources are the two main formats for electronic exchange of clinical documents.
The C-CDA provides a standardized way and a template library to write a CCD so that all documents accomplish the following:
Provide a snapshot or point-in-time report of a patient's health summary.
Can be easily exchanged by different healthcare systems.
The architecture includes numerous rules that govern the structure, encoding and semantics of clinical documents like CCDs. Additionally, a hierarchy of specifications are included in the format to communicate and transport clinical documents between systems.
The C-CDA has also been the default export format for all U.S. EHR systems that comply with Meaningful Use rules set forth in the Health Information Technology for Economic and Clinical Health Act (HITECH) standard -- Stage 2: advanced clinical processes -- in 2014.
Meaningful Use requirements set the stage for the interoperability and exchange of healthcare information. It eventually evolved into the Promoting Interoperability Program. Stage 2 of HITECH made it mandatory for providers to not only electronically record clinical data but also make the data available to patients and electronically transmit it to regulatory agencies. The C-CDA format provides a way for a CCD to meet the HITECH program's Meaningful Use goals.
A CCD that satisfies these goals must include all these facts about a patient:
Demographic overview.
Vital signs.
Primary care provider.
Referring provider's name.
Reasons for referral.
Current problem list.
Current medications list.
Lab test results.
Encounter diagnosis.
Care plan field with information about its target outcomes and instructions given by the (referring) provider to the patient.
Apart from CCDs, other documents can be created in C-CDA format for specific use cases. One example of is a discharge summary that includes information about a patient's release from care. Other examples are procedure notes and diagnostic imaging reports.
Learn about EHRs and why they're an important part of health IT. See how IT tools are being used to capture patient health data in real time to transform the healthcare industry.
This was last updated in
August 2023
Continue Reading About Continuity of Care Document (CCD)
Dig Deeper on Electronic health record systems