phonlamaiphoto - stock.adobe.com
Healthcare virtual assistant from Epic and Nuance points to trend
A variety of vendors have teamed up with the healthcare industry to create new products, such as Epic and Nuance's healthcare virtual assistant, which may prove beneficial to the field.
Growing collaboration between major players in the health and technology fields has resulted in strides toward...
Continue Reading This Article
Enjoy this article as well as all of our content, including E-Guides, news, tips and more.
new healthcare-centered products.
Earlier this year, Apple announced that it was teaming up with Cerner to make health records available via the Apple Health app, and Epic partnered with CVS to expand visibility to lower drug cost alternatives. Now Epic, working together with Nuance Healthcare, has announced the first commercial availability of a healthcare virtual assistant.
From tech giants to small, private companies, vendors want to develop and cater to the healthcare field, said Victor Camlek, Frost & Sullivan principal analyst.
"The Amazons, the Googles, the Microsofts, they all have their eyes on healthcare and they see tremendous capability to utilize their tech and advance their tech and work with the institution to solve some of the problems that have been acknowledged across the board in healthcare," he said.
Collaboration results in products
Through the Apple Health app, which is undergoing pilot testing, patients can aggregate their health records from a variety of institutions to create a more comprehensive view of their health, due to the collaboration between Apple, healthcare organizations and EHR vendors. Data from EHRs can connect to the app, making it easier for patients to see their records.
Oftentimes such collaboration relies on expertise each partnership brings to the table to create a beneficial product, Camlek said.
Epic and Nuance recently announced the first commercial availability of virtual-assistant enabled workflows through both Epic Haiku and Epic Rover. Epic Haiku is a smartphone-based EHR application used by clinicians, while Epic Rover is a mobile app used by clinicians, nurses and others for documentation and medication scanning.
Doctors using Haiku can access the voice-enabled EHR virtual assistant to retrieve schedules, as well as patient information and visit summaries. Nuance, a software technology company that provides artificial intelligence and speech recognition applications, has for years developed virtual assistants for a variety of major companies, including Audi, Domino's and USAA.
Epic and Nuance have worked together for several years, a partnership that has resulted in hundreds of thousands of doctors already using voice in some combination with Epic, said Sean Bina, Epic's vice president of access applications.
As Epic and Nuance started to work on the initial healthcare virtual assistant prototype about 18 months ago, Bina said Epic had to identify the most common commands physicians used, as well as what ways physicians would ask the system for that type of information.
For Nuance, since the virtual assistant technology had already been developed, it was a matter of catering a healthcare virtual assistant to the right audience.
"We took that same software that processes billions of transactions a year outside of healthcare and brought it into healthcare," said Peter Durlach, senior vice president of strategy and new business development for Nuance Healthcare. "We built healthcare-specific skills around what nurses and doctors wanted to accomplish."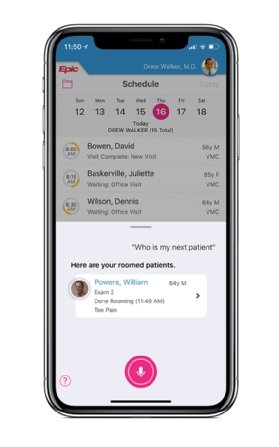 Durlach said Nuance has worked hard to develop a relationship with Epic, built on the common goal of "trying to make the experience for the patients better." He said the relationship has evolved over the last decade to the point where approximately 80% of Epic clients are Nuance clients.
"There is a huge overlap in our client bases, so we have joint development, tight development across all of our products," he said.
Camlek said it's not simple for healthcare to simply shift gears into the technology field, but it can be beneficial to healthcare organizations to work with vendors with the right capabilities and technology. Different companies bring different strengths to the healthcare field, Camlek said.
"There are many of them in the mix here helping to create technology based on various expertise components that may exist on the healthcare side and on the technology side," Camlek said.
Future of collaboration
As the need for enhanced technological capabilities pressures the healthcare industry to keep up, Camlek said partnerships between healthcare entities, voice platforms, software companies and other organizations will continue to expand into the future.
The Amazons, the Googles, the Microsofts, they all have their eyes on healthcare.

Victor Camlekprincipal analyst, Frost & Sullivan
"It's going to grow. It's the only way to proceed," Camlek said.
Bina said Epic had a great deal of success integrating with Nuance's speech recognition engine and implementing the healthcare virtual assistant, and he foresees more use of voice technology.
Durlach said the vision for the future is the intersection of an ambient listening system with clinical knowledge to help drive the next steps in the patient journey.
"We have this common view that the holy grail is, at some point in the not too distant future, when you're going to see your physician in an exam room, instead of the physician having to go back and forth from the PC to you or ... having to dictate notes, we can actually record the conversation in the room in a HIPAA-compliant way with patient consent and automatically generate the documentation from that conversation," he said.
Dig Deeper on Healthcare IT systems and applications