BillionPhotos.com - Fotolia
Postnatal care pathway moves to dashboards at U.K. hospital
A digital postnatal discharge system at a hospital in Chelsea, London, has provided a better avenue for communication between ward staff and a better postnatal discharge experience for patients.
Sunita Sharma ordered a pizza online one day and marveled at how much visibility she had into the process -- from order to oven to delivery. If ordering a pizza could be that transparent, there must be a way to bring the same kind of digital experience to healthcare, she thought.
Sharma is a consultant obstetrician and gynecologist at Chelsea and Westminster Hospital in London, a 430-bed care facility with a 27-bed postnatal care ward. Sharma is in charge of the postnatal care ward, which manages about 5,500 deliveries annually. On the ward, communication between team members about patient status used to take place on a whiteboard, she said.
But after her online pizza ordering experience, Sharma said she began to feel communicating by whiteboard was outdated, and she wanted a better way for team members to talk to each other -- a change that would make for a better postnatal discharge experience for patients, as well.
"My vision was clear: I wanted to re-create what that pizza experience was like," she said. "I had to order the pizza, and I thought, 'Wow, I know it has gone in the oven; I know it's coming to the door.' I said, 'If this could be in postnatal, what a transformation it would be.'"
Hospital goes digital in postnatal care
Before postnatal patients are discharged, they have to go through a distinct process, known as a care pathway, to ensure mom and baby go home safely. The care team at Chelsea and Westminster Hospital used whiteboards to keep track of what steps mom and baby, which the facility used to see as distinct patients, had completed. It was a process Sharma said she wanted to digitize.
"How efficiently a postnatal ward works is very important for any maternity service, because you need to have a good flow of patients through the system so that people get safely where they need to be," she said. "You have to ensure they're safely discharged in a timely manner, or else you'll have a bottleneck. Flow matters."
Using care pathway management software from Lumeon, a care pathway management vendor, Sharma and her team helped create a digital dashboard accessible from any computer or mobile device in the hospital. It enabled staff to monitor patients, communicate and digitally track the care pathway process for each patient leading up to being discharged.
In place of a whiteboard, a monitor displays a dashboard of patient statuses in the postnatal care ward. When a staff member logs on through a portal to access the digital postnatal care system, they can accept tasks to complete for patients. Sharma said the dashboard uses a traffic-light design, so when a care pathway task is complete, the task's button goes from red to green. If the step has yet to be completed, the task's button remains red.
Implementing the digital postnatal discharge system brought better communication and more transparency into the patient's progress, according to Sharma. It also tied mom and baby together.
"It is cumbersome when you don't have a tool that helps you bring everything together into one portal," she said. "So, what Lumeon has enabled us to achieve is that mom and baby are seen as one unit we're looking after, and we can have visibility into each of those journeys."
As a team, Sharma said members are better informed about the holistic care of the patient.
Care pathway system improves communication
Communication, I can confidently say, has become easier.

Sunita Sharmaconsultant obstetrician and gynecologist, Chelsea and Westminster Hospital
One of the main benefits of using Lumeon's software is improved communication between staff members, Sharma said.
Mom and baby see a stream of healthcare professionals when they're in the hospital, and getting information from one person to another is crucial when the average length of stay in the postnatal care ward is 1.8 days.
"Communication, I can confidently say, has become easier," she said.
Part of Sharma's vision for the digital postnatal discharge system is to give patients an opportunity to communicate through the dashboard. The technology can function as a connection from patient to caretaker, allowing patients to notify ward staff of their specific needs.
"Women may sometimes trivialize their needs because they don't want to bother someone, but if there was a portal through which they could let someone know, 'Could I have something?' that will be delivering on the good experience," Sharma said.
The Lumeon technology allows that sort of interaction with the dashboard, Sharma said -- a function she plans to eventually add to the system.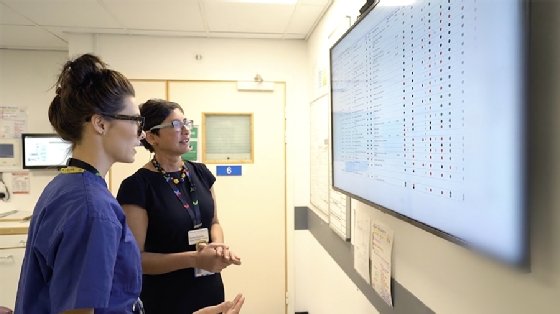 The newest buzzword
Digitization is the newest buzzword in care pathway management, according to Sowmya Rajagopalan, Frost & Sullivan's global program director for transformational health. She said she believes digitizing care pathways will result in improved efficiency in patient care.
Care pathways are beneficial in clinical conditions that require real-time monitoring, as well as regular clinical interventions, she said. She noted that there is widespread adoption of cancer and cardiac care pathways.
Care pathway management ties the clinical and administrative systems together. Organizations can customize, design and implement their own care pathway rules to achieve the desired outcome, Rajagopalan said.
"It supports a single, real-time view of the entire patient journey from referral to outcome," she said.
Dig Deeper on Healthcare IT systems and applications