everythingpossible - Fotolia
Predictive analytics in healthcare helps improve OR utilization
It is expensive for a hospital to run multiple ORs, therefore it's important that the space is used efficiently. One hospital uses predictive analytics to improve OR utilization.
Booking an operating room is not an easy task. ORs are shared spaces across many different services in a hospital, with multiple surgeons vying for that space. Not only that, it's expensive to run an OR, so efficient use of that space also is important.
"Figuring out who gets which time reserved for them is fairly complicated and it involves a ton of data in order to know, once you've reserved time for surgeons, whether or not they're actually using it," said Yi-An Huang, director of procedural operations at Boston Medical Center. The data involved includes not only scheduling information but also patients' surgery files, hospital policies and movement information.
If a surgeon books an OR but then does not plan to use it, Huang said it's helpful to know that sooner rather than later so another surgeon can be booked into the room. That way, "you can actually get more cases on and you're not underutilizing your OR time," Huang said.
It's an incredible amount of cost that goes into staffing an operating room, and most of that is fixed.

Yi-An Huangdirector of procedural operations, Boston Medical Center
Analyzing all that data to make sure the OR is used effectively is a daunting task. "I'd say the challenge we had is we were mostly doing a lot of analysis in spreadsheets," Huang said.
Huang would download the raw data and crunch the numbers himself. The calculations were fairly complicated since not only scheduling data is considered but also what type of procedure, movement information and more, he said, and it delayed the decision making process. "It makes it very burdensome," Huang said. "There [are] a bunch of other things that we need to get done, and so it stretches your resources, and it takes other things that you could be doing off your plate."
Predictive analytics in healthcare: Improving OR utilization
To solve this problem, BMC contacted Hospital IQ, a startup based in Newton, Mass., that has built a platform hosted in the cloud to manage predictive analytics in healthcare.
"Hospital IQ lets us get data quicker, get analytics quicker so we can understand what's happening in our ORs, and it supports our decision making," Huang said.
Rich Krueger, CEO at Hospital IQ, explained the company's software analyzes operations, what's happening and how changes can affect other things.
"You've got demand of patients and you've got supply of resources," Krueger said. "What we do is we break out the demand into demands you cannot control," -- for example, emergency department arrivals -- "and then you've got demands you can control." Elective surgical procedures, which are not urgent and don't need to be dealt with immediately, fit into the latter category, Krueger said.
With Hospital IQ, "you can do a bunch of 'what if' analyses to determine the impact on changes and that impact on cost, quality and operational efficiency before you've made a change," Krueger said. For example, it enables hospitals to answer questions such as: "If I increase the number of cardiac surgeries by two cases per week, do I need to increase the number of ICU beds? And if so, how many?" he said.
Another example is that this tool also enables hospitals to figure out and predict how many staffed general medical beds are needed on a Saturday afternoon to ensure that 90% of admitted patients get a bed in two hours, and so on, Krueger said.
"This helps you make better decisions faster," he said.
Huang explained that within each clinical service in the hospital, staff members are appointed to use this software to monitor performance and make sure time and space is being used effectively. He added that they can not only do this on a real-time basis, but they can project future OR utilization based on schedule data.
Although a hospital may not be able to control arrivals in the emergency department, Krueger said it turns out ED visits are very predictable. By using the concept of natural variability in emergency admissions combined with tools from operations research like queuing models to match the variable demand, Krueger said, predictive analytics in healthcare is able to achieve this.
"When you blend [what can and cannot be controlled] together, you can run a much better delivery system," Krueger said. "Then you can inform people on the ground -- the nurse leaders, the schedulers, everybody -- on what's the best decision to make at this moment of time, knowing what these patterns are, the demand you can control, as well as understanding what's currently scheduled and how this new [surgery] that you schedule would impact things."
Saving money with effective OR utilization
For a basic surgical procedure, it can cost the hospital $15 to $20 per minute of OR use, according to 2010 research done by Stanford University. Ultimately, it can end up costing a hospital millions of dollars per year to run multiple ORs.
"It's an incredible amount of cost that goes into staffing an operating room, and most of that is fixed," Huang said. "You've already paid for it, and so if you can fit more cases into your existing schedule, the financial impact can be huge." Generally, the more surgeries that occur in an OR, the more payments a hospital can charge for.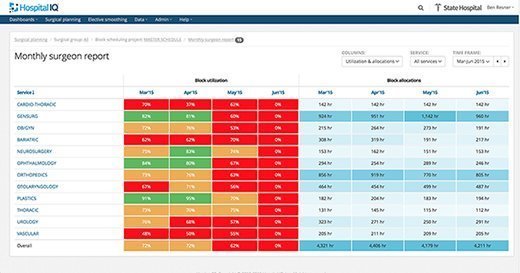 And that is why improving OR utilization is so important, Krueger and Huang agreed.
"I have no question that on an annual basis we're going to exceed a million dollars of impact," Huang said. "You're talking about thousands of dollars per hour of additional revenue that basically drops to the bottom line, and so there is a tremendous amount of impact if you can find OR time and give it to surgeons who will use it."
Improving patient care
Efficiently using OR time and space not only brings the hospital more money, but it improves patient care, too.
"The ability to use our OR time effectively … has a tremendous impact on quality of care for our patients because they can get in quicker for their surgeries," Huang said.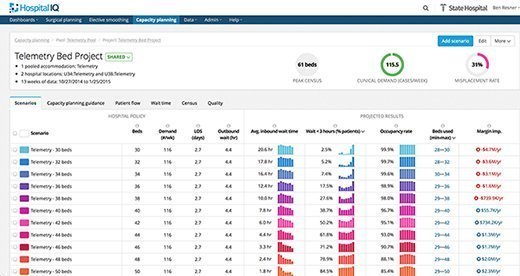 Hospital IQ let's Huang and his team be more proactive about making sure that surgeons can book an OR for cases. Now, instead of waiting to hear from surgeons who are unable to book an OR for their patients, Huang and his team can monitor who is in which OR and whether surgeons are getting backlogged. With this information, the team can act quickly to ensure those surgeons who need an OR get one.
"If you have a new surgeon who's growing, more patients are seeing him, they're booking more surgeries and they're sort of running out of time in the OR," Huang said. "[Hospital IQ] lets us act much more quickly to provide them time, and that means patients don't wait as long for surgery."
Let us know what you think about the story and predictive analytics in healthcare; email Kristen Lee, news writer, or find her on Twitter @Kristen_Lee_34.
Next Steps
Using topological data analysis to find best care paths
CIO Halamka uses data analytics to help wife fight cancer
What's holding everyone back from big data in healthcare?
Dig Deeper on Healthcare IT systems and applications