Share this item with your network:
Strategic insight for health IT leaders

Wilm Ihlenfeld - Fotolia
Use of AI in healthcare seen saving lives of patients
Prevention of heart attacks and diagnoses of cancer may one day improve, thanks to AI. Infograph statistics reveal promising findings for AI applications in healthcare.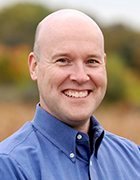 By
The use of AI in healthcare, like in many industries, battles a certain amount of hype that inflates the potential of the technology. But there are real success stories and innovative ideas for what AI algorithms could accomplish, including clinical approaches that potentially save patients' lives.
The National Health Service (NHS), the public healthcare system in the U.K., seems primed to take advantage of AI applications in hospitals and clinics. British Prime Minister Theresa May recently called upon the NHS and high tech community to push forward on AI research as a way to detect cancer cases earlier.
Plans are for 50,000 people in the U.K. to receive early diagnosis each year with the help of AI and big data detection techniques for prostate, lung, ovarian and bowel cancers, with the goal of saving 20,000 lives annually by 2033.
Meanwhile, a variety of studies indicate progress with the use of AI in healthcare for diagnostic purposes:
A simple drop of blood may be enough for AI to perform 50,000 diagnostic assays, according to an author of a healthcare study conducted by Aruba Networks, a subsidiary of Hewlett Packard Enterprise. Today, AI can perform 30 assays from a drop of blood, our sister publication, ComputerWeekly, reported.
Researchers from Google and Verily Life Sciences found that AI could analyze retinal images to predict heart attack risks with 70% accuracy, according to the journal Nature Biomedical Engineering. "Importantly, the algorithm predicted the cardiovascular risk factors from [back-of-the-eye] images with unexpectedly high accuracy," the journal reported.
Through analysis of medical imaging data at the pixel level, AI can determine from hundreds of mammographies which cases warrant more review by radiologists, Kim Garriott, principal consultant for healthcare strategies at Logicalis, told SearchHealthIT in March.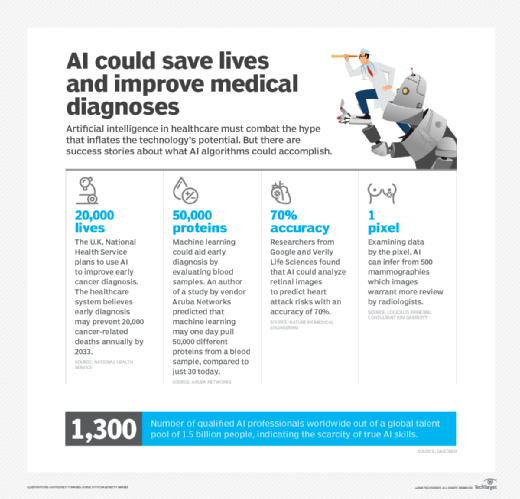 Despite all the work being done to further the use of AI in healthcare, the job market for AI professionals -- those who have knowledge about data analytics, business development and computer programming -- is tight. In a global talent pool of 1.5 billion people, only 1,300 job seekers possessed true AI experience, said analyst Peter Sondergaard at Gartner's annual Symposium and ITxpo last September. No doubt those numbers have improved since then, but AI skills will remain highly sought after not just in healthcare, but also in many other industries.
Dig Deeper on Healthcare IT systems and applications