everythingpossible - Fotolia
One Virtual System Worldwide: Intra-Epic interoperability
Epic Systems Corp. introduced new interoperability features, part of its Epic 2018 EHR update, that enable Epic-based healthcare systems to share more health data with each other.
One Virtual System Worldwide, Epic Systems Corp.'s new intra-Epic interoperability framework, is getting a warm reception from the electronic health record users and others in health IT.
The new features are contained in a simple and apparently easy-to-use clinician-facing interface in the vendor's Epic 2018 EHR system upgrade, expected to be released in February.
Health data sharing for Epic users
The functions enable different Epic healthcare providers around the world to share medical images, book appointments, search health data and text among each other. Another function that is part of the One Virtual System Worldwide, intra-Epic system messaging, had already been available.
"I'm strongly encouraged. It's really important for the electronic medical record vendors to lower barriers to interoperability," Brian Clay, M.D., an Epic user and chief medical informatics officer at University of California San Diego Health, told SearchHealthIT. "This move by Epic should make sharing information easier, both for providers and patients."
Despite wide and long-standing criticism of the giant vendor for allegedly making it hard to share data from its EHR, Epic has long maintained that it has always provided full interoperability within its own user base and with outside entities, as well.
The new "Working Together" functionality in One Virtual System Worldwide is only Epic to Epic now. Epic says two existing parts of the new system, "Come Together" and "Happy Together" already enable Epic users to pull in and exchange information from non-Epic sources such as other vendors, networks and government agencies.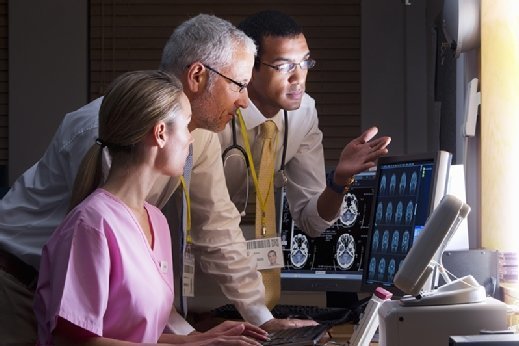 New openness for Epic
In what looks like part of a concerted new effort to combat perceptions that Epic isn't open, the privately held company revealed the One Virtual System Worldwide concept with an upbeat news release. It may have been the first time Epic made a major announcement publicly.
Nancy Fabozzi, principal analyst of connected health at Frost & Sullivan, said she was impressed after looking over publicly available materials about One Virtual System Worldwide.
"Anything they can do to move the needle forward on interoperability is going to be appreciated in the marketplace. What's not to like?" Fabozzi said. "The interface, from what I see, with its clean buttons, is really nice. This is exactly the kind of thing that clinicians want to see and how they want to interact with electronic health records."
Fabozzi added that she sees the latest Epic interoperability move as a way to, simultaneously, open up to the outside world, answer questions about its commitment to interoperability, and stay abreast of the fast-changing healthcare and health IT markets.
Healthcare markets changing quickly
Epic understands that the world is changing very, very dramatically, and the cloistered world they had is gone.

Nancy Fabozziprincipal analyst of connected health at Frost & Sullivan
In addition to Apple's move into health records, the healthcare industry was roiled in recent days by the blockbuster news that Amazon, Berkshire Hathaway and JPMorgan Chase are forming an independent healthcare company for their employees.
Meanwhile, huge deals -- such as CVS' $69 billion acquisition of Aetna last year -- are also reshaping healthcare, and many expect Amazon and Google, among other tech giants, to make major healthcare moves.
Amid that upheaval, Fabozzi said she thinks Epic understands it is no longer an unrivaled leader in health IT, a position it occupied -- along with its chief competitor, Cerner Corp., to some extent -- during the meaningful use era when Epic grew explosively, as dozens of big healthcare systems standardized on its EHR platform.
"I think Epic understands that the world is changing very, very dramatically, and the cloistered world they had is gone," Fabozzi said. "Now, it's about optimizing these EHR systems and responding to this changing ecosystem that demands more openness and more interoperability."
On the patient side, Epic said its MyChart patient portal already gives patients of Epic-based healthcare systems the ability to combine health data from different providers as a personal health record that is portable among different providers.
Perhaps coincidentally, Epic recently collaborated with Cerner to help develop Apple's new personal health record system for the Apple Health app, a similarly interoperability-focused new product.
Epic's 'Working Together'
With One Virtual System Worldwide, Epic is expanding data sharing and other options on the provider-facing side for clinicians and other hospital staff.
These fall under the "Working Together" concept, the newest level of the three-tier system that makes up One Virtual System Worldwide.
The first tier, Come Together, consisting of gathering data in one place, and second tier, Happy Together, presenting combined health data in an easy-to-read format, are not new and have been included for several years in versions of the Epic EHR.
Epic describes Working Together as new software capabilities that enable healthcare providers to take actions across organizations.
"We're taking interoperability from being able to 'view more' to being able to 'do more,'" Dave Fuhrmann, vice president of interoperability at Epic, based in Verona, Wis., said in the release. "Over the last decade, we expanded the amount of data that customers can exchange. Now, our new functionality 'Working Together' will allow clinicians to work across Epic organizations to improve the care for their patients."
New Epic interoperability functions
These One Virtual System Worldwide features, according to the vendor, include the following:
Images Everywhere enables Epic users to see medical image thumbnails from other Epic providers, click on an image from the original source and retrieve an image for review.
Book Anywhere allows schedulers who refer a patient to another Epic provider to directly book the appointment in the other system.
Search Everywhere allows users to search data from other healthcare organizations on Epic and also examine free text

,

such as in notes and documents.
Clay, the San Diego healthcare system CMIO, noted that physicians at UC San Diego Health routinely coordinate care with nearby providers, such as Rady Children's Hospital, another Epic user, and now clinicians from both systems can share health data faster and better.
"This will enable us to share information more easily," he said.
Dig Deeper on Healthcare IT management and organization