Luis Louro - Fotolia
New Apple Health Records API may make a PHR app easier
Apple's new Health Records API should mean a slew of incredibly customized healthcare apps later this year. But concerns remain about security and interoperability.
Apple's decision to open its Health Records API to developers could jump-start the market for truly personalized healthcare applications. But experts warned the announcement is just the first step in a lengthy process of electronic and personal health record integration, and significant challenges -- from privacy issues to interoperability -- remain.
At a time of rising consumer demand for increased control of and access to personal health records (PHR), Apple is the first major player to offer an open API. And this is just the latest of the company's moves into the health IT space. For some, this step could be a game changer.
Wolfram Kerl, CTO at Munich-based Smartpatient, was an early user of Apple's new Health Records API in the company's MyTherapy medication management PHR app.
"Until today, healthcare IT and health apps have been largely separate worlds, only talking to each other in proprietary environments," Kerl explained in an email. "With the introduction of Health Records early this year, Apple started connecting iPhones to clinical systems using the FHIR [Fast Healthcare Interoperability Resources] industry standard. Now, by opening the API, developers for the first time can implement patient use cases with electronic health records, while getting access to a potentially huge installed base."
Go custom or go home
This means developers now have the opportunity to easily create a customized PHR app, which is a big departure from the one-size-fits-all strategy in use today, said John Moore, founder and managing partner of Chilmark Research, based in Boston.
With Apple doing all the legwork to connect the different hospitals, we can focus our developers on the patient's user experience.

Wolfram KerlCTO at Smartpatient
"The open API is going to enable a longitudinal patient record, and that creates an opportunity for precision medicine using digital tools," Moore said. "When you have an opportunity to look at individual records and know social determinants and a number of other factors, I think the applications can use that record to help guide you to a much richer experience, and one that's personalized to your individual health situation."
To look at it from a slightly different perspective, consumers want to interact with their health data as easily as they shop online. The new API could help give a PHR app that retail feel, Kerl said. "With Apple doing all the legwork to connect the different hospitals, we can focus our developers on the patient's user experience."
But will a personalized PHR app be sufficiently secure? Apple's announcement indicated the company won't access or store personal health data shared with any apps created from the Health Record API. Instead, sensitive information will remain on an individual's iPhone. That's no guarantee an application is HIPAA-compliant, however.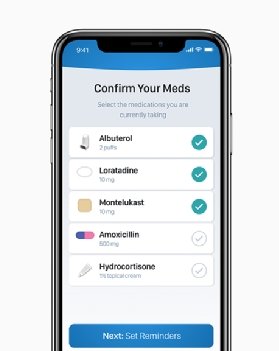 "In the wake of Facebook data concerns, consumers and developers alike need to be cautious and put safeguards in place when it comes to consumer data," warned Arielle Trzcinski, a senior analyst with Forrester Research. "There's really sensitive information in there. People need to proceed with caution."
Proceed with caution toward PHR apps and perhaps a good dose of patience, Kerl advised. This is just a small step toward solving the massive interoperability issues in the healthcare world.
"Healthcare IT is full of interoperability problems. And, so far, the Health Records API just gets data from the hospital to the patient," he said. "The next frontier is the patient using this data with other providers, too. So, while the Health Records API does nothing to directly solve interoperability problems, it does provide a significant incentive for the healthcare industry to commit to FHIR and tackle the obstacles that still remain."
Dig Deeper on Healthcare IT systems and applications