gekaskr - Fotolia
Tablets in healthcare: iPad Pro and Surface Pro 3 battle for top spot
Our expert breaks down how to deploy tablets in healthcare and compares the features of the iPad Pro and Surface Pro 3.
Though an upcoming and fairly new tablet are both available with styluses, adding to their list of commonalities, the iPad Pro and Microsoft Surface Pro 3 aren't as similar as they appear. The popularity of the Microsoft Surface tablet and the Surface Pen, as well as the recent announcement of the iPad Pro with the Apple Pencil, show that styluses are being reintroduced and have another chance to be widely adopted by users. Is the enterprise ready for the Apple Pencil? Or will a Windows tablet stylus be the leading tool of choice?
September 2015 was a month full of stylus-friendly tablet news. Apple announced its next iPad with its Pencil, and images leaked of the upcoming Dell XPS 12 tablet showed the device with an accompanying stylus. These developments show that big technology players see an opportunity for the stylus to make a comeback.
Mobility an advantage of tablets in healthcare
The mobility required by medical professionals makes tablets in healthcare settings a natural fit. The long battery life, multi-touch interfaces, light weight and computing power of these mobile devices are a few of the main reasons why healthcare organizations are acquiring tablets for their employees. Many tablets have powerful processors and capabilities equivalent to desktops, and have slowly been able to pull buyers away from traditional laptops.
Which operating system a tablet runs is the main distinction for users and IT to consider, as they evaluate some of the new devices entering the consumer market. The iPad Pro will use iOS 9 and the Surface Pro 3 runs Microsoft's latest operating system, Windows 10. There are a few areas where these operating systems are quite different.
Access to enterprise applications
For tablets in healthcare environments, there are systems and applications that clinicians must be able to access from their devices. Some of these applications must run directly on the device, which requires a Windows-based tablet in many cases. Others can run as hosted applications and be accessed on an iOS device. It can be argued that an iPad Pro could survive in an enterprise, as long as all the apps are fully hosted or available on a virtual desktop. Windows-based tablets in healthcare seem to have the advantage in this area.
Local storage capabilities
As far as the local storage needed on the devices used in the enterprise, having limited space is not always a bad thing. Most IT departments would prefer no valuable data be stored directly on the devices, because that would help IT keep data secure in the case of device loss or theft. There are some basic storage needs, which are required for applications to work. The Microsoft Surface Pro 3 is available in several different models, with storage capacities of as much as a 512 GB solid-state drive, with a MicroSD expansion capability. The iPad Pro only goes as high as 128 GB of local storage.
Multi-display support and battery life
Not all healthcare users desire the ability to connect to multiple displays. In most cases, clinicians are satisfied with the portability of their mobile devices and are happy to trade screen size for accessibility. With that said, the iPad Pro is 12.9 inches and has a 2732 by 2048 resolution, compared to the 2160 by 1440 display of the 12-inch Surface Pro. The Surface has a docking station that allows it to be connected to an external display.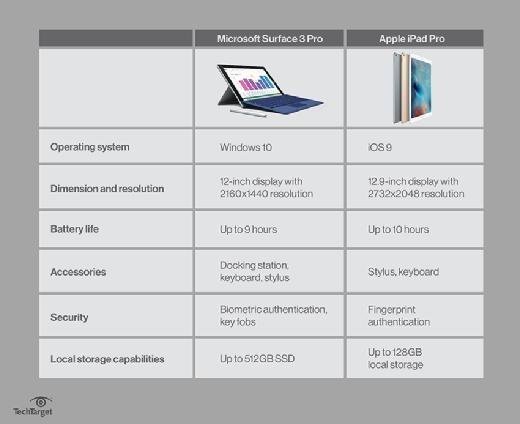 Apple's iPad Pro can be used for a slightly longer period on one battery charge. With up to 10 hours of battery life, it is projected to last a little longer than its Microsoft counterpart. In healthcare, longer battery life frees hospital staff from being tied to a desk. That's especially useful for when clinicians are providing care to patients at bedsides or in exam rooms.
Security for healthcare tablets
Introduced in previous generations of Apple devices, such as the iPhone, iPad Air and iPad Mini, fingerprint authentication will offer iPad Pro users a more advanced authentication method than the traditional password or PIN. Microsoft has also made significant improvements to its security and authentication in Windows 10. In the latest Windows release, users can pick from a number of authentication methods, such as biometric authentication and key fobs. These security measures were the result of Microsoft's adoption and support of the Fast IDentity Online 2.0 specifications. It's worth noting the Microsoft Surface does not offer fingerprint scanning and additional hardware is needed for that device to support the Windows 10 biometric authentication.
The tablet space is full of devices from a host of different manufacturers. Each offers something specific that makes them unique from the competition. It's critical for an IT department to ensure that a device meets their security and application requirements before approving it for enterprise use. The Apple iPad Pro is likely to gain traction over time, but older iPad versions and Microsoft tablets are still being deployed in healthcare, and could prevent the iPad Pro from becoming the preferred mobile device of healthcare professionals.
About the author:
Reda Chouffani is vice president of development at Biz Technology Solutions Inc., which provides software design, development and deployment services for the healthcare industry. Let us know what you think about the story; email [email protected] or contact @SearchHealthIT on Twitter.
Next Steps
An Apple executive revealed its newest tablet
Smartphones and tablets can be sources of healthcare data breaches
Telemedicine pilot connects patients to caregivers with tablets
Two physician-driven health IT vendors offer tablet products
Dig Deeper on Healthcare IT systems and applications