razihusin - Fotolia
HR technology startups vie for top spot at Unleash conferences
At the U.S. and U.K. Unleash conferences this spring, five startups demonstrated technologies that seek to solve the most pressing challenges HR professionals face.
One advantage of being a high-tech market analyst is being asked to participate on panels that judge innovative HR technology startups.
At the two spring Unleash events in London and Las Vegas, finalists from the array of young companies at the show numbered five per event. Being a finalist created the opportunity for these companies to give a spotlighted presentation of their value proposition to not only judges, but to an audience interested in what these newer firms had to offer to the human capital management marketplace.
The London HR technology startups vying for the top award included the following:
ClickIQ bills itself as talent attraction technology and applies integrated AI-based machine learning to the hairy problem of successful recruitment marketing. It tracks clicks, applications and spend across job boards and social media; supplies analytics; and learns what works and what doesn't. Touting the "right ad in the right place," the application is sold on a pay-per-click basis, and customers only pay for results.
Horsefly is a woman-owned co-op of marketing professionals that had its roots as a traditional creative and media buying agency in 2005. The group describes itself as an agency that is "a dynamic mashup of creative advertising [plus] digital marketing," a group of creatives and digital specialists who come together to provide business strategies and brand growth for its customers. Unusual in its affiliation structure, the group's creative members address brand authenticity for effective media spend, while the digital side analyzes the resulting market data to create strategic programs that tap into their ROI tracking data.
Devskiller addresses a common dilemma for recruiters: finding and hiring software developers. Like its competitors, it is a tool to verify programing skills. And like many HR technology startups, it was borne of the founders' inability and frustration at trying to recruit technical staff. The tool has the developer candidates solve programming problems with any tools they'd like, using Devskiller's Test Wizard to create code based on the job description for which the candidate is applying.
EVA.ai, based in London, enters the crowded field of talent acquisition software with a product that amalgamates the many varied data sources that recruiters rely on, using natural language processing, AI and machine learning. EVA.ai claims to give recruiters 25% of their time back, saved from jumping around between applications.
10x Psychology, which is based in the U.K. and whose tagline is "exponentially better people," provides tools and services that address the psychology of the workplace. While it sounds heady, the team purports to go beyond the core psychometrics like ability and personality to include areas such as well-being, the employee experience and values. It claims the combination of data with psychological insight drives employee and organizational performance.
What resonates with judges seems to be whatever the top-of-mind issues are for HR professionals. In this case, tools related to talent acquisition and hiring management came out on top. I suspect organizational psychology seemed too ethereal for the judging panel, as, in order, EVA.ai, ClickIQ and Devskiller were the top three.
As a veteran in this space, I note that the products and messages, "unique" as each proclaimed it was, were not. As mousetraps among the vast number of options buyers face, they may move the "better" needle a bit higher, but mousetraps they still are.
Buyers will need to understand that AI and natural language processing are a basis for a tool, not the tool itself.
Two of the five HR technology startup finalists at Unleash Las Vegas focused on talent acquisition; three focused their pitches on broader HR topics. Here are the competitors:
SeekOut is a sourcing tool with the tagline, "Go beyond LinkedIn." Using both AI and integrated GitHub search mechanisms with its SeekOut Robot, it purports to deliver a more extensive view of a potential candidate, particularly for tech positions. It has the laudable goal of increasing access to diverse candidates by providing a "blind" option in resume or profile review. The company has a database of "whole person" profiles that can let recruiters see beyond what potential candidates say on their profile and also find candidates who are supposedly invisible in other tools. Like most talent acquisition products today, it offers attractive analytics in its people insights interface.

Cultivate co-founder and CEO Joseph Freed presents at Unleash in Las Vegas.

Capacity -- formerly known as Jane.ai -- is interesting in that it is hard to tell if it is best described as a platform or an application. The goal is clearer: It aims to get information from the plethora of locations in a corporation to people who need it within seconds. It integrates with applications such as Microsoft Teams, Slack and SharePoint to provide answers to natural language questions via the bot. Pitched here not only to HR buyers, the tool can also be used in IT help, customer contact and support, and sales team support. Given the inordinate amount of time users spend looking for answers, anything that can locate data quickly seems valuable.
Cultivate, headquartered in San Francisco, joins the crowded field of leadership development, albeit at a time when leadership development should be a key concern for organizations. The product uses AI to help managers be better leaders, with coaching on employee communications -- all assuming today's digital-heavy work environments. The company states its goal as "helping people build better relationships with digital communication." Cultivate uses natural language processing and machine learning to analyze a manager's digital communication with his or her team to provide actionable leadership insight.

EVA.ai founder and CEO Ben Kaminsky (left) and CCO Max Knupfer (right) take a selfie with their startup award at Unleash in London.

TalVista addresses the important issue of unconscious bias in the recruiting process. Because so many decisions are based on what is written -- such as the job description -- or the resume received from the candidate, software that helps HR see beyond biases of all types can enhance the diversity goals of the organization. Founded by longtime industry talent acquisition leader Elaine Orler, TalVista is geared toward enhancing better inclusion through gender-free job descriptions, redacted resumes and profiles for hiring based on skills, not color, gender or other areas unrelated to the ability to succeed in the job, as well as providing support for unbiased interviewing.
MeaningBot is, first and foremost, an AI company. Founded in 2016, the New York-based company creates business applications on top of AI, rather than providing a software product that just happens to be based on AI. Its HR AI Advisor uses natural language and layered voice analysis, and its mobile phone-based application interface offers blind applications to alleviate bias. The data collected in the application process provides information on the person being considered for hire in terms of behavior and culture fit, as well as past jobs and achievements.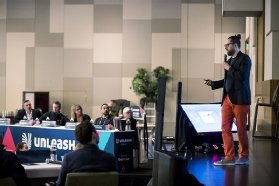 The Las Vegas winners were Capacity, followed by SeekOut and Cultivate. Note that part of the criteria for judging was the pitch itself, and some speakers are naturally more at ease, persuasive or even flamboyant in front of an audience.
The bent toward better, faster recruiting tools is evident, though one may have expected an entry addressing employee reskilling this year. New intelligent technology resonated with this audience more than service-based offerings, and there was more than just a nod to the issue of unconscious bias.
Vendors -- both HR technology startups and long-established providers -- tend to say AI and machine learning about almost everything today. Buyers will need to understand that AI and natural language processing are a basis for a tool, not the tool itself. Soon, these buzzwords will become as hackneyed as saying the tool is software as a service -- and when is the last time you heard that?