JJ'Studio - Fotolia
Worksite health services providers on the rise
Employers are turning to workplace health vendors to provide on-site healthcare services to workers to reduce healthcare costs and drive engagement and productivity.
Employers are turning to an expanding pool of worksite health vendors to provide healthcare and wellness services at work, a new report from KLAS Research showed.
Joe Van De Graaff, a KLAS vice president and principal author of the report, "Worksite Health Services 2018: Market Introduction and Vendor Guide," said KLAS -- known for its influential health IT market research reports -- has lately looked more closely at the workplace health trend as more employers have started to provide healthcare as part of HR benefits.
Self-insured employers and population health
The phenomenon, most prevalent among large, usually self-insured or self-funded employers, is tied to the data analytics-based population health strategy that major hospital systems are using to control expensive-to-treat chronic health conditions on a large scale.
KLAS' health IT research has focused on population health and value-based care -- the fast-growing shift in healthcare insurance reimbursement from volume-based fee for service to outcome-based care.
"That has opened our eyes to this sister world of organizations that are already taking on [partial or full risk for their] populations," Van De Graaff said. "What has become very evident is that, when these healthcare providers take on risk, they have to take on the lessons learned from the world of insurance."
So, employers, whether private or public sector, are learning that, if they can minimize chronic conditions afflicting thousands of workers, they can not only help control insurance costs but also help workers become healthier, more engaged and more productive.
"If the employer who is at risk for you and me and sees that I visit the emergency department 10 times in a year, they have to figure it out, because they're paying for that," Van De Graaff said.
"Self-funded organizations are looking at how they can focus on prevention and minimize not just occupational health-related injuries but also how to create preventative and holistic care and take care of chronically ill employees," he said.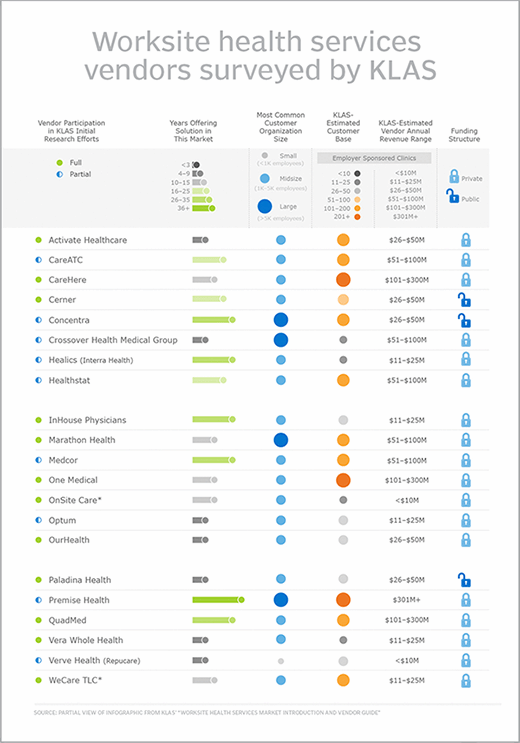 Focus on full-service vendors
The KLAS worksite health vendor guide surveys 21 vendors that provide a full range of health and wellness services to employers and leaves out companies that focus only on specific segments, such as occupational health or telehealth.
The guide also focuses only on third-party vendors. It does not include employers that provide their own healthcare staff and services, or vendors involved in a hybrid approach in which employers provide some health services on their own and contract with third-party vendors for other services.
Self-funded organizations are looking at how they can focus on prevention and minimize not just occupational health related injuries but also how to create preventative and holistic care and take care of chronically ill employees.

Joe Van De GraaffVice president, KLAS Research
The worksite health services the vendors provide range from primary care to "convenient care" for relatively mild issues, such as colds and inoculations, and physician-staffed urgent care for more serious events, such as trauma or broken bones. Some also provide telemedicine and behavioral health services.
As distinguished from KLAS' traditional in-depth -- and sometimes pointed -- reports that rely heavily on users' frank accounts and assess vendors' market status and potential performance, the worksite health guide is stripped-down.
The guide is aimed at employers looking to see what's available on the market.
The infographic-style document -- available for free to the public, unlike most of KLAS' reports -- does not rank the vendors.
Worksite health vendors compared
Instead, it displays how the companies compare in terms of years offering services in this market; most common customer size; estimated customer base; annual revenue range; publicly or privately owned; care delivery model; most common contracting; emerging contracting model; and geographical coverage.
Most of the companies the surveyed vendors do business with are midsize, with 1,000 to 5,000 employees; only three are publicly held, most run on-site health clinics and some operate satellite clinics away from the employer headquarters.
Billing, or contracting, models include per employee per month, monthly, fee for service and shared risk, meaning the employer and provider agree to share costs. That means both sides' costs go down if the provider succeeds in producing better health outcomes.
Broad range of vendors
Interestingly, two of the bigger companies KLAS surveyed, Optum and Cerner, come out of the health payer and IT worlds. However, both are fairly new to the worksite health clinic business and have smaller customer bases than many of the others.
Other players in this niche, such as Premise Health, target larger enterprises with 5,000-plus employees. And vendors such as InHouse Physicians and Medcor are on the small side in terms of revenues but are well-established with many years of experience in the market.
The vendors also vary widely in their emphasis on technology and how to integrate things like electronic health data with primary care providers' data networks. Some of the providers focus more on clinician staffing, for example.
Van De Graaff noted that, while the worksite health services market is still nascent, it is growing quickly, so it is somewhat of an open playing field.
Workplace health and wellness
How employers are integrating on-site health services into the HR benefits sphere is also evolving, but it is already becoming common for employers to incentivize workers to choose employer-sponsored health services, he said.
"We look at this space broadly, thinking it's mostly health and wellness and how the fundamental difference between that and healthcare is, when we're looking at health and wellness, the focus is on the before, not the after," Van De Graaff said.
"What we probably find most fascinating and even most compelling, whether from a technology or services standpoint, is" how to identify and prevent chronic health issues from getting worse, he said.