Photobank - Fotolia
Seven corporate wellness trends for 2018 -- and beyond
If you think a corporate wellness program begins and ends with giving employees a Fitbit, it's time to do some homework on the next-generation of health promotion programs.
The top corporate wellness trends are being driven by wellness technology -- some of which now sounds a bit futuristic....
Continue Reading This Article
Enjoy this article as well as all of our content, including E-Guides, news, tips and more.
But experts say that in 2018 and beyond, you can expect to see employers try new technologies, such as room sensors and chatbots, in an effort to keep employees healthy, engaged, productive and loyal.
Here's a look at seven of those tech-enabled corporate wellness trends that are expected to take shape in the near future.
1. Corporate wellness programs are becoming holistic
In terms of corporate wellness trends, expansion is a dominant theme.
Indeed, simply giving employees wearables to track their activities "isn't going to cut it in the long run," said Jason Russell, director of SAP Software Solutions' North America Total Rewards employee benefits program. He noted that participation in SAP's step-tracking program peaked in 2016 at one-third of the company's U.S. employees, and now includes about one-fourth of the employee base.
In 2018, expect to see more employers striving to keep corporate wellness offerings fresh and top of mind, and to expand them to provide a more holistic program, Russell said. For example, SAP recently began offering employees app-based health and diet coaching via mobile coaching app Kurbo and a program that uses molecular medicine and big data to determine the best treatment for employees diagnosed with cancer.
2. Consumer tech keeps influencing corporate wellness
As with practically every other area of the enterprise, corporate wellness trends will continue to be heavily influenced by what's happening in the consumer space.
Wearables and consumer technologies will continue to find their way into employer well-being programs in 2018, said Kate McCarthy, senior analyst for Forrester's digital business strategy for healthcare. For example, a recent Cedars-Sinai study found that virtual reality (VR) therapy can help reduce pain for hospitalized patients, she noted.
Some companies, like Cisco, have recently rolled out VR pods to promote employee stress reduction. But the technology is still "fairly expensive, and not yet mature enough for widespread adoption," McCarthy said.
3. Employers are using wellness to keep talent happy
During and after the Great Recession, jobs were hard to come by. So employers weren't too concerned about building a differentiated employee experience, according to McCarthy.
But unemployment in the U.S. has declined from 10% in October 2009 to 4.1% as of October 2017, according to the U.S. Bureau of Labor Statistics. In the current tight labor market, expect more companies to strive to develop a positive employee experience in hopes of recruiting and retaining top talent, McCarthy said.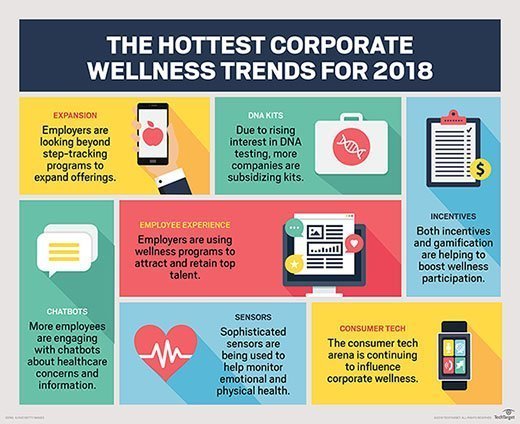 A company's culture, technology environment and physical workspace all play a role in shaping the employee experience, according to many experts. And that means employee experience is influencing corporate wellness trends, as well. Indeed, health promotion and fitness apps and other technologies contribute to the overall employee experience, according to the Deloitte Insights study "Employee experience: Culture, engagement and beyond."
That said, too many companies aren't yet delivering on the employee experience front. In the Deloitte study, nearly 80% of executives surveyed said employee experience was either very important or important. However, only 22% rated their companies as excellent in offering a differentiated employee experience.
Due to the growing need to retain top talent, expect to see employers grow more interested in understanding what's frustrating employees this year, as well as hearing their ideas for fixing those problems, McCarthy said.
4. More employers are offering DNA kits
DNA testing kits are having a cultural moment in general -- and they're even becoming a corporate wellness trend. The kits were "on everyone's holiday list" in 2017, Time magazine claimed, and Oprah Winfrey added 23andMe's kit to her list of favorite things for the year.
With rising interest in DNA testing, expect more companies to offer kits at a subsidized discount to their employees this year, said Rod Reasen, founder and CEO of Springbuk, which provides health analytics software for employers. But, as with any new wellness initiative, he said employers should make sure the workforce is interested in and comfortable with the idea of employer-subsidized DNA testing.
SAP Software Solutions is one such employer offering DNA testing to employees. In 2017, the company began offering its 15,000 U.S. employees a heavily subsidized discount on genetic test kits from Color, which includes a hereditary cancer test, Russell said. Among the goals was to "empower our employees to treat disease before they get it." Employees have purchased some 4,900 genetic testing kits thus far, he said, and the program is being expanded to Canada this year.
When launching the DNA program, SAP Software Solutions stressed to employees that none of the data collected would be shared with their insurance provider or with SAP.
"Because it was a voluntary offering, employees welcomed the opportunity to take advantage of it," Russell said, adding that he's not heard of any privacy concerns among employees.
5. Incentives are boosting participation
By now, most people expect their employer to integrate consumer wearables, like Fitbits, into their wellness programs, McCarthy said. This year, expect to see more employers use incentives and gamification to step up engagement in their wellness and activity programs, she added.
For example, some businesses use third-party vendors, such as Jiff, to encourage employees' healthy behaviors through rewards and incentives, McCarthy said. Employees who meet certain agreed-upon health or activity goals can be rewarded with gift cards from retailers such as Whole Foods and REI. Programs like Jiff's personalize health program recommendations for employees and provide real-time analytics to track outcomes, she added.
6. Chatbots are supporting wellness
Consumers are growing more accustomed to chatbots on Facebook and other platforms. According to a spring 2017 mobile consumer study from Vibes, a mobile engagement platform company, 65% of consumers said they'd be comfortable interacting with a company via chatbots.
In 2018, expect to see a growing use of chatbots and voice bots -- such as Amazon's Alexa -- among employees for health and well-being purposes, said Nichol Bradford, co-founder of the Transformative Technology Lab for well-being at Sofia University in Palo Alto, Calif.
Bradford said chatbots can augment, rather than replace, some basic functions of a company's employee assistance program, such as offering information about healthcare benefits -- or even providing answers to sensitive questions regarding physical or mental health.
The willingness to talk about sensitive personal matters [with] a chatbot may seem counterintuitive.

Nichol Bradfordco-founder, Transformative Technology Lab for well-being, Sofia University
"The willingness to talk about sensitive personal matters [with] a chatbot may seem counterintuitive," Bradford said. But there's evidence that at least some people would feel more comfortable with the anonymity of a chatbot exchange compared to talking to a human, she noted.
For example, a study from the University of Southern California's Institute for Creative Technologies found that soldiers and veterans who served in war zones were up to three times more likely to reveal their symptoms to a chatbot vs. disclosing symptoms on an official military survey -- even when assured the survey information would remain anonymous.
7. Sensors are enabling corporate wellness advances
In 2017, the Food and Drug Administration approved the first Apple Watch medical accessory. KardiaBand is a $200 wristband with a sensor that, combined with a watch app, provides a medical-grade EKG reading in 30 seconds.
You can expect to see employers offer subsidized discounts on such devices in 2018 and beyond, Bradford said, as a way to help employees privately monitor heart health conditions.
On a larger scale, sensors are already available that can read the emotions in a room and provide visual feedback, Bradford said. For example, Empath is an emotion recognition program that identifies emotions such as anger, joy and sadness by analyzing voice samples. Empath works with Philips' Hue Smart Lighting and its Utakata Mood Light app, thereby changing the color of the lighting in a room to respond to moods during conversations.
"Visual indicators or other feedback like this can let you know when you're in alignment, or not, with others," Bradford said. In turn, that feedback can be useful in promoting positive emotions, team building, productivity and more.
It's still early days for this particular technology, she added, so we aren't likely to see much adoption in 2018. But in the coming years, expect a growing use of internet of things sensors in the workplace to enable greater productivity, elevate mood, reduce stress and promote healthful behavior.