Dawn Hudson - Fotolia
Ultimate Software acquisition won't be immune to turnover, culture clash
Ultimate Software's employees own stock that's now worth $331 a share, thanks to a private equity sale. Will this money prompt some to leave?
Ultimate Software, an HR vendor, may face a clash of cultures and a spike in turnover as the result of its acquisition by a private equity firm.
But there's more to the recently announced deal than that. Hellman & Friedman, which is paying $11 billion for Ultimate, also owns another HR vendor, Kronos. The Ultimate Software acquisition, which is not expected to close until mid-2019 and is subject to stockholder approval, gives the private equity firm a significant chunk of the human capital management market.
Hellman & Friedman (H&F) bought out Kronos in 2007. The two HR vendors are expected to operate independently, but analysts speculated that customers may see product sales efforts involving both firms.
There's good reason for H&F to be gentle with Ultimate to avoid some of the disruptions that occur when firms shift to new ownership. Earlier this week, it reported nearly $1 billion in year-end revenue, a total revenue increase of 21%. In a signal of stability post-sale, Ultimate's top management will remain, including Scott Scherr, its CEO and founder, after the deal closes later this year.
Management stability is important to Susan Bernstein, founder of Brilliant Ideas HR Consulting, which has expertise on Ultimate's UltiPro system, its main product, as well as other human capital management tools.
"There are concerns that product development and culture will be impacted," Bernstein said. If Scherr "remains at the helm, they should remain on course," she said.
Even if the private equity firm handles the Ultimate Software acquisition with kid gloves, one element will be out of its hands: employee retention.
Employee windfall
Ultimate said the change in ownership will not be disruptive, especially for customers.
"Nothing about our customers' experience with Ultimate will change," Scherr said in an email statement. "The only change our customers could expect are the long-term benefits of us being able to invest in future products and services at a quicker pace."
Ian Campbell, CEO of Nucleus Research, based in Boston, said the Ultimate Software acquisition is "fantastic news" for customers. He said he believes it will improve the firm's technology investments and is not expecting a private equity takeover that results in major cutbacks.
"This is a market that's growing, and not a market where you'd want to stifle or hold back the vendor," Campbell said. "Ultimate has shown a great track record, with a good product and extremely happy customers."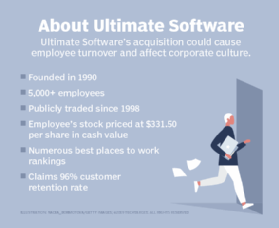 Despite Scherr's message to customers and despite management stability, there are risks for Ultimate, experts in private equity acquisitions said. Ultimate's employees -- the company has more than 5,000 -- receive company stock when they are hired. The sale of Ultimate put the value of the stock at $331.50 per share in cash value.
Employee financial windfalls, along with the potential for a startup-corporate culture clash, may lead to the "loss of the very talent that got you to where you are," said Ruben Moreno, who heads the HR executive search practice at Blue Rock Search, a national recruiting firm in Sarasota, Fla., that works with private equity investing groups in deals.
The private equity firm may offer additional incentives to try to keep a team together. Still, "employees will always be inclined to leave after an event like this," said David Louton, professor of finance at Bryant University.
For Ultimate Software employees, the top-rated HR vendor in Glassdoor's recently released Best Places to Work listing, the incentives to move on could be significant, Louton said.
Powerful motivators to exit
Indeed, some employees may be inclined to leave post-sale, as a result of "greater employee independence conferred by the windfall and the difficulties involved in adjusting to a new corporate culture, which may seem restrictive and considerably less receptive to innovation," said Louton, who was speaking generally. Those factors "can be powerful motivators," he said.
Employees who have worked at startups often want to remain in that world, according to Louton. "Once you have experienced the more innovative and merit-based culture of an early stage company, it is very difficult to go back," he said.
Louton said there are two possibilities with an acquisition of this sort. One, the private equity firm may be interested in acquiring the intellectual property to make it available to other firms in its portfolio. In this scenario, the private equity firm has a clear understanding "of the strategic advantages that could accrue from acquisition of the intellectual property and less appreciation of the value of the team that produced it," Louton said.
Or, two, the private equity firm believes "the target firm has significant unrealized potential in its own right, and they can provide critical input that will unlock that potential," he said.
In the second scenario, the private equity firm "fully appreciates the special chemistry of the team that developed the software and is committed to keeping them together," he said.
The reality? "Statistically, the first possibility is more likely, especially for firms in software, biotech and other technical fields," Louton said.
Role of culture fit cannot be overstated
Blue Rock's Moreno said he, for one, expects to see employee turnover.
"The first thing I would say is fire up the recruiting machine," Moreno said, because there will be a spike in turnover, and some of that will be encouraged by the employee stock vesting.
The attitude of some employees will be: "'I'll take my windfall, and I'm going to go somewhere else and do it again,'" Moreno said.
Typically, in private equity buyouts, a tremendous amount of debt is assumed. "So, now, the expectation is we do less with more," Moreno said. This can lead to a clash of cultures and competencies, if the acquiring firm, for instance, places "a high value on frugality and scrappiness," he said.
Even when your values are similar, the way you operate is often not.

Chris Steelevice president of Saggezza
An acquiring firm can mitigate these changes with clear communication and commitment to the product, Moreno said. Even then, culture fit issues will loom.
"Even when your values are similar, the way you operate is often not," said Chris Steele, vice president of Saggezza, a Chicago-based management consulting and technology services firm that also works with private equity firms.
One of the things an acquiring firm can do is make the employees feel as if they are "part of the process" when rolling out new initiatives and technologies, Steele said.
"I strongly feel that the existing employees from the company under acquisition should lead the effort to bring any new systems into daily use," Steele said. "It makes them feel much more like they're not just here to serve a bigger purpose, but they're actually a part of the change."
For the customers, "the first thing is obviously to quell any fear," Steele said, and the acquiring firm's first priority will be to ensure customer needs are met.
Ultimate has a good track record
The Ultimate Software acquisition could also create a ripple effect. Nucleus Research's Campbell is unsure what the acquisition will mean for Kronos, which he said has faced some of the same challenges legacy companies face when shifting to the cloud. He said he would not be surprised if H&F steered some Kronos customers to Ultimate Software.
Kronos, however, did get a recent endorsement from SAP, which announced it has started reselling its Workforce Dimensions product.