Rawpixel.com - stock.adobe.com
Employee activism gives life to tech union organizing
A rise in tech union organizing is linked to the rise in employee activism, according to experts. They also believe the climate for union activity is changing.
As employee activism takes root in tech, so does union activism. The link between the two is not coincidental.
In the last three years, Google and Microsoft employees protested military contracts, Amazon employees sought action on climate change, Facebook employees voiced anger over the firm's inaction on former President Trump's postings, and Wayfair employees fought to end furniture sales to migrant detention centers.
In this same period, a group of contractors at Google unionized, as did employees at Kickstarter PBC, a crowdfunding platform in New York, and at Glitch Inc., a coding platform.
More recently, in January, Google employees formed the Alphabet Workers Union. The tech union represents about 800 employees of Alphabet Inc., Google's parent company. The firm employs approximately 135,000 workers.
Prominent labor unions see a link between employee activism and tech union interest that, for some employees, has little to do with payment increases or job benefits. Instead, interests may include "the freedom to decline work on projects that don't align with our values," which is one of the goals of the Alphabet union.
Many tech employees have what's considered good pay but "having a union is not just about securing better wages or better salaries," said Grace Reckers, lead organizer for Office and Professional Employees International Union (OPEIU), an affiliate of AFL-CIO.
Even if an employee is paid a living wage, "you still deserve the right to be part of the decisions that are made that impact your compensation, your working conditions, the products you create," Reckers said.
"If they are going to be the people who are generating profit for the company, they want to have a say in how much that company is affecting the environment or global warming, or how that company takes part in U.S. imperialism and destruction of Black and brown communities," Reckers said.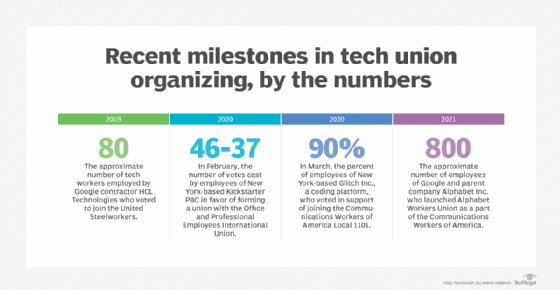 Uphill climb for unions
Labor unions have had more success organizing lower-wage workers at tech firms, such as the developing story between Amazon and its warehouse workers. Ballots to form a union were mailed Monday to about 6,000 Amazon warehouse employees in Bessemer, Ala. Voting will continue for the next seven weeks.
But organizing high-skilled workers is more complicated. Take IBM.
In 1999, IBM employees launched Alliance@IBM, a Communications Workers of America (CWA) unit. Similar to Google's effort, it began by representing only a fraction of IBM's overall workforce. But it never got enough membership to seek collective bargaining representation and was suspended in 2016.
What remains of the IBM organizing effort exists as an active Facebook Group, Watching IBM.
"The effort to organize workers in the tech sector has an uphill climb," said Peter Meiksins, a professor emeritus of sociology at Cleveland State University, who has published research on tech union interest.
Highly educated employees "have always been a challenge to organized labor," he said. "Professional identity tends to make employees think of unions as 'not for them,' so they have to be persuaded that joining a union doesn't turn them into a blue-collar worker."
But that kind of thinking may be changing. Kickstarter employees are part of the OPEIU union, which recently formed the Tech Workers Union Local 1010 as an umbrella group for tech union organizing. CWA launched a similar tech-focused effort last year.
There is a clear link between employee activism and labor organizing, said Jerry Davis, a business administration professor at the Ross School of Business and professor of sociology at the University of Michigan.
The new efforts at tech union organizing are part of a broader rise of political activism that is spreading from the public square to the corporation.

Jerry DavisProfessor, Ross School of Business
"The new efforts at tech union organizing are part of a broader rise of political activism that is spreading from the public square to the corporation," Davis said. "If you look at the demands of tech activists, they are not about wages and hours, but about social issues and pressing the company to live up to its values."
Some HR managers have turned employee activism on social issues into a positive thing, and as a way to improve employee experience and engagement. But when it comes to employee union efforts, it may be a harder task because businesses typically resist union organizing efforts.
When Kickstarter employees were in the process of organizing, the firm's CEO, Aziz Hasan, published an open letter that said in part, "the union framework is inherently adversarial."
But after the union was formed in January, Hasan amended that statement by writing, "Kickstarter has and always will fully support and respect our staff's decision to unionize" and said the firm would now focus on negotiating "a fair collective bargaining agreement."