Getty Images
Surge hiring, HR tech highlighted in 2023 federal budget
The White House's proposed federal budget for 2023 seeks to create an enterprise-wide HR system, as well as improve its ability to recruit for an expanding federal workforce.
The federal government wants to hire more than 80,000 new workers next year, raise employee pay by 4.6% and become a "model employer" for the private sector.
To accomplish these goals, the White House's just-released 2023 proposed federal budget calls for improving its HR capabilities with new technology and recruiting approaches, and better analysis of its data.
The Office of Personnel Management (OPM) budget seeks $418 million, an $88 million increase over what it received in 2021 in its primary discretionary account. "The Federal Government has an opportunity to reimagine the way Federal employees work," the White House stated in its budget request to Congress.
According to budget documents, the U.S. employs 2.2 million people, excluding the military and Postal Service workers, and expects to expand its workforce by 82,300 employees in the 2023 fiscal year, which begins Oct. 1.
Some of the hiring projections in the federal budget are in response to the approval last November of the $1 trillion infrastructure spending bill. One month after the approval, the OPM released plans for surge hiring to quickly fill federal jobs needed to support the infrastructure bill.
"Agencies need to hire now to fill essential and mission-driven roles: scientists to combat climate change, engineers to repair and rebuild our roads and bridges, and workers to help ensure that every community in America has clean water, just to name a few," said Kiran Ahuja, OPM director, in a December memo outlining the surge hiring plan.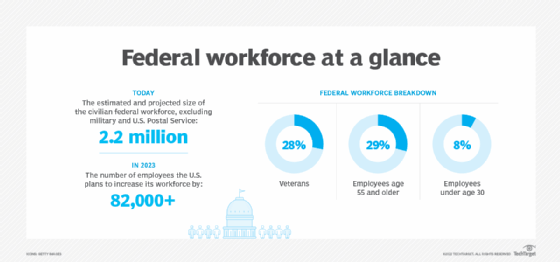 Federal budget talent surge
The talent surge concept calls for a more aggressive recruitment strategy. It includes marketing its workplace flexibilities, such as telework, and proactively seeking out job candidates. The Biden White House is also continuing the Trump administration's skills-based hiring effort, which puts emphasis on skill assessments over college degrees for some jobs.
In a strategic plan released last week for fiscal years 2022 to 2026, the OPM said it wants an enterprise-wide HR technology strategy that delivers seamless HR capabilities across the federal government. It calls for expanding the use of cloud services and upskilling the workforce. Improving employee engagement is also part of the strategy.
The government has, in recent years, not really used interns as a pipeline of talent.

Kristine SimmonsVice president of government affairs, Partnership for Public Service
Separately, the White House's proposed budget noted that federal agencies in the top quartile of engagement have more than 40% lower absenteeism, plus lower turnover and higher productivity.
Much of the plan for surge hiring is rooted in customer service, said Kristine Simmons, vice president of government affairs at the Partnership for Public Service, a nonprofit, nonpartisan government management advisory group. "People are used to having service that is often instant, often self-service," she said.
Simmons said the government needs people with the new skills "who are well versed in technology."
The government has a problem attracting younger workers. Just over 8% of federal civilian employees are younger than age 30. Nearly 30% of the federal workforce is age 55 or older.
The U.S. plans to hire more than 35,000 interns in the 2023 fiscal year.
"Internships are a fantastic way to evaluate people on the job," Simmons said. "The government has, in recent years, not really used interns as a pipeline of talent," she added, which is different from the private sector.
The proposed budget also included a pay increase of 4.6% for civilian and military employees. Between 2009 and 2020, the average worker pay in the private sector rose by 38%, compared with federal civilian pay increases of 15%.
"The proposed federal pay increase is needed to prevent federal pay from falling even further behind," the White House stated.
Patrick Thibodeau covers HCM and ERP technologies for TechTarget. He's worked for more than two decades as an enterprise IT reporter.