Getty Images/iStockphoto
U.S. spending triggers race to train construction workers
Massive U.S. spending on everything from new roads to wind generation is testing the ability of the government and private sector to churn out enough construction workers.
Construction will grow as an occupation thanks to several federal spending bills, including the $1.2 trillion infrastructure bill approved last year. The question now is whether training programs can train laborers fast enough to get all the work done.
The Virginia Community College System (VCCS), for instance, trains about 4,000 students annually in construction-related jobs, which amounts to around 20,000 trainees over five years. The community college system is now working on increasing the capacity of construction-related programs and providing training in occupations such as offshore wind generation. It plans to train 35,000 in five years.
Despite the increase, "it probably will still not meet the total demand," said Randy Stamper, associate vice chancellor for career education and workforce programs at VCCS.
Construction work is growing because of the $1.2 trillion infrastructure bill, the recently approved $370 billion climate bill, and the $280 billion CHIPS and Science Act that includes $52 billion to expand U.S. semiconductor chip manufacturing capacity and construction of chipmaking plants.
Construction work today employs about 7.7 million people in the U.S. The Associated Builders and Contractors (ABC) organization estimates that the industry will need 590,000 new construction workers next year alone to meet the needs of the spending bills.
The infrastructure bill included $800 million for training, but it's not enough, according to the National Skills Coalition (NSC). It wanted at least $40 billion to shore up the gap caused by past underinvestment, said Caroline Treschitta, policy analyst at NSC.
"We've seen continued disinvestment over the past 20 years at the federal level in workforce programs," Treschitta said. "If we don't have the skilled labor to fill those jobs, the investment is not going to go as far as it could."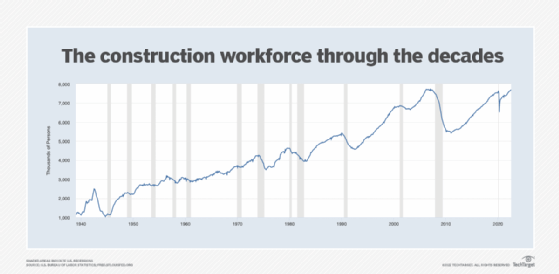 Construction work's image problem
Attracting young people to construction jobs is also challenging.
"We're a culture that doesn't promote blue-collar jobs, quite frankly, and certainly not in construction," said Peter Dyga, president and CEO of the ABC Florida East Coast Chapter. "We haven't promoted these jobs in a long time."
But Dyga sees changes in the national discussion and believes blue-collar jobs are getting more attention because, unlike with colleges and graduate programs, student debt "is not an issue with apprenticeship education."
Training construction workers can begin with as little as eight to 12 weeks to provide students with the general knowledge and competencies, VCCS' Stamper said. "Regardless of whether that's building roads or building wind turbines, there are certain basic construction skills that anybody is going to need to have," he said.
Workers can then move on to more specialized training and earn associate degrees for more specific construction-related skills. Community colleges can provide the classwork instruction "and some hands-on instruction that complements and supplements the job training that the employer provides," Stamper said.
Employers can enroll workers in apprenticeship programs that might include college training.
Apprenticeships and politics
Apprenticeship programs can run from two to four years and cover wide-ranging areas, such as roofing, lineman, electrical, mechanical and other skills. Once apprentices complete their training and are considered trade professionals, they can be eligible for jobs with salaries of more than $75,000 for some skills, Dyga said.
But apprenticeship programs and training are not without their hot-button issues. The government Registered Apprenticeship Program (RAP) sets standards and often includes union programs. But the construction industry also runs programs, including Industry-Recognized Apprenticeship Programs, or IRAPs.
In 2017, President Donald Trump signed an executive order that gave official standing to IRAPs. President Joe Biden's administration rescinded Trump's executive order in 2021, saying that these programs "threaten to undermine registered apprenticeship programs" with lower standards. Labor unions back the Biden administration's view, but industry groups are pushing back.
As much as we prefer you all working with unions, that's not the case everywhere.

Harin ContractorSenior policy advisor, White House National Economic Council
The government RAPs "are woefully inadequate" and only graduate 40,000 to 50,000 apprentices a year, said Greg Sizemore, ABC's vice president of health, safety, environment and workforce development, in a written statement in response to questions.
The lawmakers are mandating use of the government RAPs "on private projects receiving federal tax breaks as well as on taxpayer-funded construction projects," said Ben Brubeck, ABC vice president of regulatory, labor and state affairs, in a written response. "Union lobbyists and lawmakers know this policy chokepoint ensures the use of union labor and the award of public works contracts to unionized contractors."
According to Sizemore, ABC uses an "all-of-the-above approach" to training. The ABC chapters offer more than 300 registered apprenticeship programs and additional industry-recognized apprenticeship programs.
In June, the White House launched the Talent Pipeline Challenge to encourage employers, educational institutions and training providers to commit to training workers.
"This is a high priority for the administration," said Harin Contractor, senior policy advisor at the White House National Economic Council, on a recent conference call on training sponsored by the NSC. He said the Biden administration will push for more funds.
"As much as we prefer you all working with unions, that's not the case everywhere," Contractor said. "We do want you to work with quality training partners."
Patrick Thibodeau covers HCM and ERP technologies for TechTarget. He's worked for more than two decades as an enterprise IT reporter.