Getty Images
Pay transparency laws could soon cover 20% of Americans
Employers advertising nationally to fill remote jobs might have no choice but to follow New York City and California laws to disclose pay ranges.
Before too long, as many as 1 in 5 Americans will live in states that require employers to detail the salary range, either annually or hourly, in a job posting. This change is happening at lightning speed in the U.S. and could have a broad effect nationally.
Colorado was the first state to require that employers post salary ranges in job positions in 2019. But there's been an uptick in momentum more recently. This month, New York City's pay transparency law in job ads took effect. Starting next year, California employers will have to do the same under legislation recently signed by its governor. New York state has a similar bill awaiting the governor's signature. Washington state also has a salary range job posting law taking effect next year. In total, these states cover some 73 million people.
Pay transparency laws constitute a significant change for HR recruiting strategies. Until recently, private employers that posted salary ranges were "pretty rare," said Tony Guadagni, analyst at Gartner.
This knowledge of pay ranges by job applicants might be costing employers some negotiating power. Candidates are "going to come in looking for the higher end of that range," Guadagni said.
If a candidate knows the salary range, they're going to come in looking for the higher end of that range.

Tony GuadagniAnalyst, Gartner
Disclosure of pay ranges was one of the reasons why Colorado's law faced resistance from the Rocky Mountain Association of Recruiters, which filed an unsuccessful lawsuit claiming the law forced employers to make "fundamental changes to their recruiting systems." Some out-of-state companies advertising for remote workers were reportedly forbidding Colorado residents from applying because they didn't want to disclose the salary range in the job postings.
The expansion of state pay transparency laws could also end up applying to any employer advertising nationally to fill a remote job. If a job is performed "in any way" in New York City, for example, the pay transparency law applies, said Keith Gutstein, co-managing partner of Kaufman Dolowich & Voluck's Long Island office.
Employers might challenge these laws in court, Gutstein said, but for now, his recommendation for employers is to take a conservative approach and post the salary range in job advertisements.
The motivation for salary range transparency comes from lawmakers to address inequity in pay, which disproportionately affects women. In March, the Equal Employment Opportunity Commission said that women file nearly 92% of charges it receives over wage discrimination.
"We must narrow stubborn gender and racial pay gaps, especially for Black, Latina, Indigenous and Asian women," said Adrienne Adams, speaker of the New York City Council, on Nov. 1 when the city's pay transparency law took effect.
Problems for employers
Pay transparency laws can also create internal management issues for employers.
If companies hire employees at the top of a job posting scale, "what does that do to the people who already have that job?" Guadagni said. One reason employers didn't want salary ranges in job ads "is you're giving a lot of information to your current employees as well."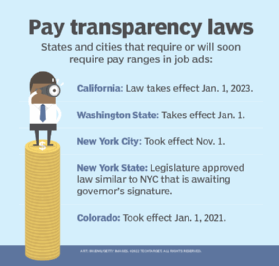 But apart from the push by lawmakers, employees might favor employers that are transparent about pay.
A recent survey of 1,000 full-time workers by Visier, a people analytics company based in Vancouver, B.C., found that nearly 80% of respondents want some form of transparency about their employer's job scale.
Employees want to know more about what they can potentially earn, said Andrea Derler, principal of research and value at Visier. The survey findings indicate that "there's a lot of curiosity and need to know" about how pay is determined, she said.
One company that already includes salary ranges in many of its job ads is the insurer Allstate, which is based in Northbrook, Ill. For example, it recently advertised for a senior integration service engineer, a home-based worker, with a range of $80,500 to $134,800 per year.
"Pay transparency is imperative, but it can't be done in a silo," said Eloiza Domingo, chief diversity officer and vice president of HR at Allstate.
Domingo said pay transparency is part of a larger strategy to be open about how it operates and ensure equitable practices across the company. She described transparent goals as "achieving the most diverse staff composition in the industry" and "increasing our retention rates across historically marginalized demographic groups."
In September, Domingo testified at a hearing before the House Subcommittee on Diversity and Inclusion on Allstate's efforts to create an inclusive culture. Regarding pay, she told lawmakers that Allstate hired a third-party company to identify pay gaps, and it conducts annual pay equity reviews to ensure "Allstate's salaries are both internally consistent and externally competitive."
Patrick Thibodeau covers HCM and ERP technologies for TechTarget Editorial. He's worked for more than two decades as an enterprise IT reporter.