A rise in workplace violence gets a tech response
Mass shootings in the U.S. are rising, with workplaces being common targets. This has led to the development of advanced weapon detection and employee threat identification tools.
Mass shootings in the United States are increasing, with nearly a third occurring in the workplace, such as the recent attack at a bank in Louisville, Ky., that left five people dead and eight others injured. The rise in workplace violence is leading to increased sophistication of tools to detect weapons and discover employees who may pose a threat.
Some tools analyze video in real time for signs of guns and violent behavior. Other approaches include behavioral analysis tools that look for signs of stress in an employee through continuous reviews of social media and finances. Gun detection systems installed at building entrances can scan for weapons without requiring people to empty their pockets.
When choosing a security approach and tools, some security professionals said what's most important is to make it easy for employees to report any safety concerns, including troubling behavior. That includes efforts by HR to offer anonymous employee reporting systems.
"Part of the message is empowering employees," said Marisa Randazzo, executive director of threat management at Ontic Technologies, an Austin-based provider of protective intelligence software. An employee may be "the first person to see something troubling. [They] may be the only person to be worried about this co-worker or something [they] are seeing."
In the workplace, Randazzo -- a former chief research psychologist for the U.S. Secret Service -- said employees need "a system of trust" for reporting potential workplace threats. Some employees will call HR directly, but others may be more comfortable using an anonymous reporting system.
Such a system "can help employees feel safe," Randazzo said. But it also lets employees know "how seriously their organization takes workplace safety and workplace violence prevention."
Employers also need to remind employees regularly to report concerns, she said.
Mass shooting trends
The U.S. Secret Service, in a report last year, looked at 173 active shooting incidents and found that most of the attackers "exhibited behavior that elicited concerns" in family members, friends, co-workers and others.
In an analysis of public mass shootings last year, the U.S. National Institute of Justice reported that 31% of all shootings occurred in the workplace. Retail establishments were second on the list at 17%.
We are looking for a person holding the weapon.

Asaf BirenzviegCEO, Viisights
Mass shooting incidents overall are rising in the U.S. There were 636 mass shooting incidents in 2022 and 686 in 2021, according to Everytown for Gun Safety, a national advocacy group. From 2015 to 2018, the U.S. experienced fewer than 400 mass shootings each year. Everytown defines a mass shooting as an incident in which four or more people are shot, wounded or killed, excluding the shooter.
Workplace security begins with background checks upon hiring. But that screening process has become controversial, underscored by new California legislation that seeks to prohibit employment background checks broadly due to their preponderance for discrimination. An exception will be for a candidate applying for a position, such as at a school, where a background check is required by law.
The Calif. bill from State Sen. Lola Smallwood-Cuevas, a Democrat in Los Angeles, intends to help people with criminal convictions find work. The bill estimates that two million working-age Californians have a felony record. It cites research that has found the unemployment rate for formerly incarcerated people to be around 30%.
Labor and employment law firm Littler Mendelson P.C. described Smallwood-Cuevas's bill as a "draconian" proposal that "seeks to outright ban criminal background checks by most private sector employers."
But Tom Miller, co-founder and CEO of ClearForce, a risk management technology firm in Tysons Corner, Va., sees merit in the proposed legislation. He said pre-employment background checks may "be limiting the employment pool."
Behavior clues
If someone committed a crime five or 15 years ago, that "may not mean anything in terms of their risk going forward," Miller said.
Instead, Miller's firm looks for behavioral issues during employment in financial data, such as credit information, criminal activity and publicly posted threats of violence on social media. Employees have to consent for this to occur. He said they serve defense contractors; financial services firms; and the energy, transportation and health industries.
They are looking for signs that an employee is under stress, disengaged and "demonstrating concerning behavior," Miller said.
Some efforts prepare employees for potential workplace violence threats. Strivr Labs in Palo Alto, Calif., for instance, makes a VR training tool on how to respond to an armed attacker scenario.
In California, State Sen. Dave Cortese, a Santa Clara County Democrat, is advancing a bill requiring all non-healthcare employers to provide active shooter training. It will also require employers to maintain a log of all violent incidents against employees. Last Wednesday, the bill cleared the Senate Labor Committee and now heads for a Senate vote.
Other tools include mass notification systems that can send alerts to multiple devices simultaneously and trigger building alarms. Some tools watch for problems in the workplace in real time.
Viisights, a Tel Aviv-based company, makes a video analysis tool that monitors video security feeds in real-time. It can identify a gun and send out immediate alerts, according to co-founder and CEO Asaf Birenzvieg.
"We are looking for a person holding the weapon," Birenzvieg said. The tool can also flag situations such as violent behavior and vandalism, among other things. The software connects to existing camera infrastructure.
Some systems use sound, such as gunfire, to detect problems, but "when someone starts shooting, it's too late," Birenzvieg said.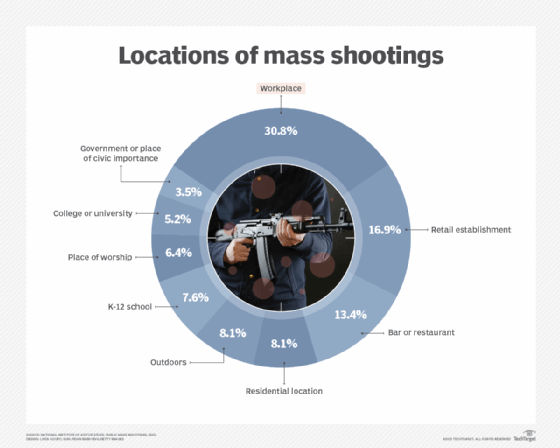 The role of AI expands
Other tools can detect weapons at entryways, such as the entrance to an office complex or corporate campus, hospitals, schools and other facilities. These also typically require security guards to monitor the station.
The technology underpinning these systems includes AI capabilities such as machine learning that can differentiate a gun from other objects a person may carry, letting people quickly walk through these systems without emptying their pockets.
Most security systems integrate with other technologies, such as Athena Security, an Austin-based company that makes a weapons detection system used at checkpoints.
When a security officer confirms the presence of a weapon, this prompts a live video feed to the security team so they can view what's taking place at the scanning station. For instance, the system can connect to access controls and lock doors.
Usually these entryway systems will deter people, said Chris Ciabarra, CTO and co-founder of Athena. "They know that there's an officer there and there's a system in place," he said.
Another maker of a gun scanning system, Evolv Technology in Waltham, Mass., also uses AI to scan people rapidly and "differentiate the things that we all normally carry every day," said Mike Ellenbogen, founder and chief innovation officer at Evolv. He said its users include large corporate campuses and building managers at multi-tenant office buildings.
Evolv released a survey this week of more than 2,000 people conducted independently by Equation Research about gun violence. It found that 36% of Americans believe they or someone they love will likely encounter an active shooter. That's an increase from 2021, when 29% responded affirmatively to this question.
More states are allowing people to carry weapons without a permit, which means more firearms are being carried, Ellenbogen said. He sees this in the company's data.
Last year, he said Evolv's systems screened more than 400 million people and found 90,000 guns, or a rate of about 400 guns a day.
"It happens all the time," Ellenbogen said of guns being detected. "Grandma forgot that she left her .38 in her purse."
Patrick Thibodeau covers HCM and ERP technologies for TechTarget Editorial. He's worked for more than two decades as an enterprise IT reporter.