blobbotronic - stock.adobe.com
Ramp up carefully during AIOps implementation
Sound IT automation and data management practices -- along with a healthy dose of patience -- are prerequisites for a smooth AIOps implementation.
LAS VEGAS -- AIOps has potentially significant benefits, from increased productivity on IT teams to self-healing infrastructure and predictive analytics. The road to AI in IT operations, however, can be long and bumpy, so adopt the technology with caution.
Experts explored AIOps benefits, challenges and use cases in full at the Gartner IT Infrastructure, Operations and Cloud Strategies Summit here this week. And despite high interest from IT professionals in how artificial intelligence can modernize their infrastructure and processes, experienced AI watchers counseled attendees not to rush AIOps implementation. Rather, they should take a phased approach to the technology.
Lay the technical foundation
IT organizations can't simply inject an AIOps tool into their monitoring and management roster and expect positive results. Instead, they need to prep IT workflows and infrastructure for an AI-driven strategy.
"The first place that IT leaders start their AI journey tends to be process automation," said Chirag Dekate, a Gartner analyst. IT automation itself doesn't equal AIOps, but it propels organizations in the right direction, as it eliminates menial and repetitive tasks for IT staff. First ensure existing IT automation scripts function as they should, Dekate said.
Streamlined data management and collection is another prerequisite for AI in IT operations, according to Ari Silverman, director of platform automation and enterprise architecture at OCC, an equity derivatives clearing organization in Chicago. Silverman's team uses LogicMonitor as an AIOps monitoring tool, primarily for predictive analytics and automated capacity planning and management.
"You have to be able to connect to all your different systems and pull data from all those systems into one central location for it be analyzed," he said. This pooled and synthesized information enables a team to better identify correlations between application performance and the IT infrastructure that drives it.
Early days for AIOps adoption
Gartner predicts that by 2023, 75% of enterprises will have AI-augmented IT management practices. But it's worth noting that AIOps adoption heading into 2020 remains relatively low: A September 2019 survey from the analyst firm suggests only 13% of enterprise IT shops use AI for infrastructure and operations.
Crawl, walk, run
IT leaders should take an incremental approach to AIOps implementation.
"What we have seen is staged or phased adoption of [AIOps] tools and techniques," Dekate said.
Phase one of adoption, Gartner said, entails a siloed approach to AI: Apply the capabilities of an AIOps tool to a specific data set to achieve a specific outcome or goal, such as a reduction in IT alert noise. Evaluate the tool's effectiveness before moving on to phase two, a cross-platform approach. At this stage, the AIOps implementation advances to include multiple data sources and systems. The disparate data sources should lead to use cases including root cause analysis and event correlation.
From there, organizations tend to progress to phases three through five. Phase three consists of intelligent process automation. For example, an IT operations team uses machine learning to drive infrastructure provisioning for new workloads. Phase four sees teams scale out the AIOps strategy. At this maturity level, the organization can collect and use data on hybrid IT infrastructure in the AIOps tool or tools. Lastly, in phase five, organizations gain continuous intelligence, or the use of cognitive services to support fully enabled AI workflows. This final stage of adoption remains largely elusive, as it far outpaces what most IT monitoring, automation and management vendors deliver, at this point, in terms of AIOps capabilities, Dekate said.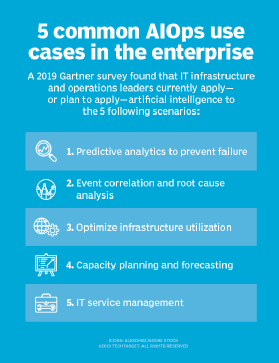 In general, most enterprises that use AI in IT operations today do so for monitoring and infrastructure automation. One emerging use case is the application of AI -- including chatbots and natural language processing -- to IT service management and the service desk. Here again, organizations should be careful not to ramp up too quickly. Test out chatbots to manage fairly simple and frequent end-user requests, such as password resets and account permissions, before attempting to automate resolutions of more complex or high-priority requests. This cautious buildout will prevent user frustration down the line.
"The worst thing you can do when your end users are emotionally charged is putting an automated interface in front of them," Dekate said.
Prepare staff for AIOps implementation
The word automation -- let alone the phrase artificial intelligence -- can strike fear into IT staff. When implementing AIOps for teams, carefully manage staff expectations and explain that AI is intended to modify, not eliminate, jobs.
"We changed the conversation [from] administering tools to analysis of data and providing a service," said OCC's Silverman. He emphasized to his team that, with a transition to AIOps, their daily role would evolve from one in which they oversee a process -- patching, for example -- to one where they help drive and optimize the organization's critical apps and services.
"It's about adding value to the business," he said.
From a skillset perspective, AI in IT operations requires staff to have a holistic view of their environment so they can interpret and react to events that span disparate infrastructure components and systems.
"Obviously, on the monitoring team, I want somebody with enterprise monitoring experience, but what that [experience] is is almost irrelevant," Silverman said. "It's almost more important that they understand how the pieces fit together. Do they understand a little bit about networking, a little about storage, a little about servers? And can they script? By having that higher-level understanding, the details work themselves out."
Dig Deeper on Systems automation and orchestration