Enterprises need to create an AI culture for success
Enterprises can resist using AI because of the cultural changes employees feel it will bring, including changes to employee job descriptions and elimination of outdated jobs.
Enterprises hoping to deploy AI and machine learning to help automate parts of their day-to-day workflows must overcome numerous technical hurdles. They must set concrete goals, structure data and install an AI platform, and sometimes several platforms mixed together.
Yet, for many organizations, technical challenges are only part of the problem. Enterprises need to foster a positive AI culture in their workforces to truly be successful in implementing an AI system.
Challenges of implementing AI
"Most companies are more ready on a technical level than they probably even realize," said Alan Pelz-Sharpe, founder of Deep Analysis, a marketing research and advisory firm.
For the most part, machine learning augments, not replaces, an enterprise's system, Pelz-Sharpe said. Putting in place an AI system on a technical level "isn't really rip and replace," he said. Instead, it has more to do with automating specific tasks and working with existing data sources to do so.
Culturally, however, Pelz-Sharpe warned, most enterprises are not entirely ready for AI.
Vendors tend to say that AI won't replace employees, he said. Instead, vendors argue that employees will be moved on to more interesting jobs, leaving mundane tasks to a machine.
People don't embrace change.

Margaret WilliamsLearning policy and program support team lead, U.S. Postal Service
Yet, "in 20-plus years, I have yet to see that happen," Pelz-Sharpe said. "That is not how the real world works."
Fearing, perhaps rightly so, for their jobs, some employees may resist incoming AI systems. Enterprises need to plan for a transition period to educate employees about a new AI system and ease that change, Pelz-Sharpe said.
"If you don't plan for that transition, it's going to be ugly," he said.
AI culture and a smooth transition
Starting up an AI system must be done by educating users individually, said Margaret Williams, learning policy and program support team lead at the U.S. Postal Service, during a panel at the AI World Government conference in Washington, D.C., in June.
It's a slow process that requires a lot of thought and should be managed by multiple teams, Williams said.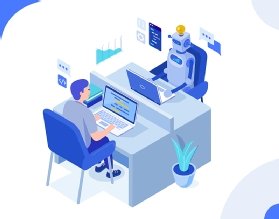 "People don't embrace change," she said. Especially when speaking about AI, people can become "very nervous."
For an organization to foster an AI culture, it should prepare for technological changes by hosting educational sessions and about a new AI system and draw on employees that have already begun to use AI in their workflows to help ease the transition for co-workers, Williams said.
A recent report on the role of culture in analytics and AI-driven enterprises by Deloitte noted that establishing a data-driven culture, while difficult, can yield positive results.
"Organizations with the strongest cultural orientation to data-driven insights and decision-making were twice as likely to have significantly exceeded business goals," the report said.
Many of the organizations surveyed by Deloitte reported they did not have a strong cultural orientation toward data-driven insights, and the report explained that achieving that type of culture is not an easy ask.