Rawpixel - Fotolia
New HashiCorp Terraform pricing aims for midsize firms, teams
HashiCorp Terraform Cloud's new pricing tier reflects a shift in how software vendors market to large enterprises.
HashiCorp Terraform offers a new midrange pricing tier that may appeal to teams within enterprises who want to use the infrastructure-as-code tool, but don't want to wait for a capital commitment to Terraform Enterprise.
HashiCorp Terraform Cloud, a hosted version of the open source-based infrastructure-as-code software, came out as a free offering in 2018, which offered cloud-based state storage for Terraform users outside the Terraform Enterprise subscription user base. This week, HashiCorp added features to the free version, and rolled out a paid version, Terraform Cloud for Teams, that bridges the gap between the Terraform Cloud free tier and Terraform Enterprise.
"How do you collaborate with your peers if you're not in a regulated corporate setting, if Terraform Enterprise is too big?" said Armon Dadgar, co-founder and CTO of HashiCorp, in a keynote presentation at HashiConf this week.
Additions to the Terraform Cloud free tier will flesh out Terraform for this mid-tier scenario, Dadgar said. In addition to state storage, Terraform Cloud free tier will now support remote plan and apply operations for Terraform infrastructure-as-code templates, as well as team-based workflows and collaboration and a private module registry for internal distribution among teams.
For Terraform teams that do want enterprise governance features, Terraform Cloud for Teams comes with role-based access control for private module registries and support for unlimited collaborators in a version priced at $20 per user per month. For $70 per user per month, Terraform Cloud for Teams also includes Sentinel policy as code and advanced policy and permissions features that can be customized among multiple regions and time zones, and enforced as mandatory or suggestions. The $70 per month version also includes a new cloud infrastructure cost estimation feature that alerts users about the projected costs of infrastructure they are about to provision with Terraform.
There will be overlap in the Terraform Cloud for Teams audience between midsize companies that will never need Terraform Enterprise, industry watchers say, and very large companies where IT teams don't want to go through the politics of instituting a Terraform Enterprise license agreement.
How do you collaborate with your peers if you're not in a regulated corporate setting, if Terraform Enterprise is too big?

Armon Dadgar Co-founder and CTO, HashiCorp
"Most big customers face a similar internal dynamic where it's more and more difficult to get capital budget for IT projects, and top-down license agreements take a very long time," said John Mitchell, formerly chief platform architect at SAP Ariba, a HashiCorp Enterprise shop, and now an independent digital transformation consultant who contracts with HashiCorp, among others. "Terraform Cloud for Teams offers an Opex-based consumption model, with fewer training issues, that gives enterprise teams an 'end around' to be able to use the tool from a political and budgeting standpoint."
HashiCorp can also use these team-based footholds to upsell the wider enterprise on a Terraform Enterprise license agreement where appropriate, Mitchell said.
Terraform Cloud's features in both the free tier and paid Teams versions also expanded to include workflow integrations with third-party IT management and DevOps platforms, from GitHub to ServiceNow and Slack, Dadgar said. Those tools could trigger Terraform build and deploy jobs in the past, but Terraform teams can now collaborate within those platforms as well. Terraform Cloud webhooks also let users back Terraform in to a broader IT automation ecosystem, including custom applications.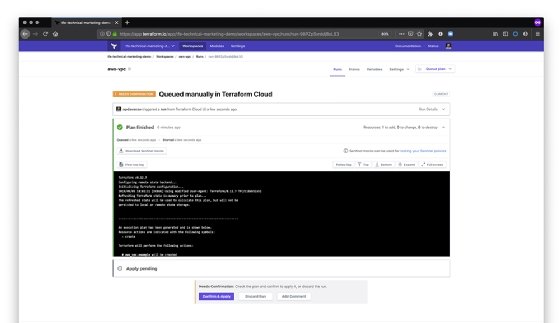 Terraform's future: Remain 'Switzerland' or join a platform?
It's no coincidence that HashiCorp seems to broaden Terraform's reach into third-party workflow platforms, as many large enterprise IT vendors race to offer soup-to-nuts DevOps and infrastructure automation platforms for their respective customers. It's also no secret that HashiCorp might make a juicy acquisition target for such a platform player. However, such speculation has been ongoing for at least a year, without any such acquisition in place, and industry experts are divided on whether HashiCorp will join up with a platform vendor or retain its platform independence while partnering with larger companies.
For HashiCorp loyalists such as Mitchell, HashiCorp's lack of affiliation with any one infrastructure or software platform provider is key to its appeal.
"The reality is that HashiCorp's founders have been around long enough to see what happens to most acquisitions done by [large IT vendors]," he said. "Even if the IP technically survives, it's still part of that bigger machine and economic model. HashiCorp will be more successful long-term than as part of an incumbent, legacy bureaucracy."
At the same time, HashiCorp faces some of the same business model problems as other independent open core software businesses, as major cloud providers threaten to usurp their value. So far, HashiCorp has taken a slightly different tack than players such as Elastic Inc. and Redis that saw open source software lifted by cloud providers such as Amazon -- HashiCorp offers its own managed services with Terraform Cloud, and where a third-party provider offers them, such as Microsoft Azure's HashiCorp Consul Service, HashiCorp's site reliability engineers retain control over back-end management.
"That has to be part of their strategy if they're going to remain independent, figuring out how to block or sidestep the obvious invasion by cloud providers," Mitchell said.
Other industry watchers don't count HashiCorp out as an acquisition target just yet.
"Terraform has the advantage of being able to deploy applications, while others have to find a way to plug in with CI/CD tools," said Tom Petrocelli, analyst at Amalgam Insights in El Cerrito, Calif. "But in a world where platforms matter, at some point they have to pull what they have together as part of a platform to compete with the likes of Ansible."