Getty Images/iStockphoto
The rise of the non-developer
Low-code and no-code tools are often touted as solutions to the developer talent shortage -- but they might not be the full answer for companies facing a lack of tech skills.
There is a lot to consider when thinking about the role of the developer. The accelerated growth of business often requires developers to accelerate their output accordingly.
In fact, in the latest research from TechTarget's Enterprise Strategy Group (ESG), we've seen an expectation that IT and development staff will provide twice the output with the same resources they had two years ago. This is also validated across a number of reports in the industry:
In ESG's 2022 research report "The State of DataOps," at least a quarter of respondents reported significant skills gaps in key roles related to DataOps initiatives.
According to a 2021 McKinsey report, 87% of businesses are currently seeing a skills shortage or expect to within the next five years.
In 2022, TechTarget saw a 69% increase in activity on content covering software and application development.
Addressing the app development skills gap
In my 2023 predictions, I indicated that this year would see the rise of the non-developer. When looking to understand the IT skills gap and its potential revenue impact, organizations are seeking alternative approaches to delivering applications needed to run the business.
Enter low code and no code. In our research, ESG found broad use of DevOps and Agile software methodologies as well as low-code and no-code processes to achieve business results.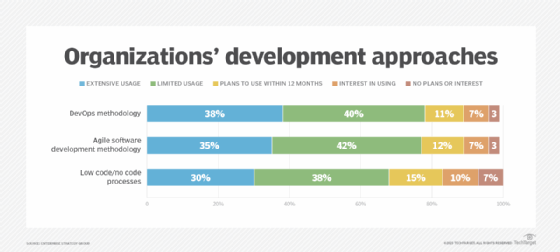 There is also a strong correlation between cloud-native development and extensive use of newer app development methodologies and processes, as indicated by the 44% of respondents employing low-code and no-code processes extensively.
Why? With low-code and no-code platforms, organizations can use additional talent in the lines of business rather than solely depending on traditional app developers to deliver results for the company.
The talent shortages facing today's businesses
Low-code and no-code approaches could provide an opportunity for organizations to leverage general skill sets to achieve what previously required highly trained application developers -- but the rise of the non-developer will not be the answer to all organizational challenges.
According to ESG research, organizations are looking to spend more money on salaries and various employee incentives to attract and retain the few skilled workers available over the next 12 to 18 months.
This creates a challenge for small businesses, as they cannot compete effectively with large corporations. It also has a negative impact on product performance and innovation. As discussed above, organizations are having issues hiring specialists for difficult-to-fill positions, and current staff will suffer from increased workloads.
Organizations are turning to vendors to provide fewer complex solutions so generalists can execute more tasks. However, the lack of software engineers is slowing corporate growth. Organizations are focused on cloud-native approaches for modernization, but they are still finding it challenging to follow technical trends to stay competitive when there is a lack of skill in the industry.
The lack of software developers is a concerning challenge that affects operational performance and efficiencies. Overworked developers clocking extended hours are at risk of burnout and morale issues. The quality of their work can suffer, especially if they decide to look for better work opportunities. This could cause the organization to fall short of its goals and objectives, potentially leading to a poor customer experience and effectively losing revenue for the business.
This is also true for organizations looking to accelerate their digital initiatives rapidly and consistently. We see in our research that the maturity of organizations' digital transformations matters as well.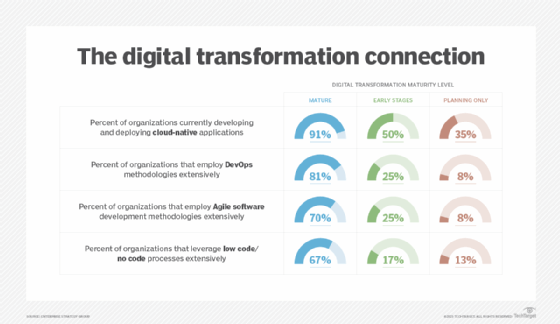 The path forward
It is clear to me that an organization's mission, culture, employee experience and vision will be critical when dealing with the talent gap for developers. Developers are looking for compensation, work-life balance and flexibility as their top three factors when considering a new role.
In addition, organizations must provide a clear direction to attract new developers by increasing developers' autonomy. This supports developers' ability to innovate and reduces the overall time spent on maintenance -- for example, through automating tedious tasks.
Another option is for organizations to partner with service delivery partners to fill the gap while new staffing resources and skills are brought on board. Whatever the approach, organizations that do not act are going to suffer when the competition passes them by.