ra2 studio - Fotolia
How SD-WAN and cloud exchanges benefit multi-cloud settings
As more organizations move IT workloads outside of company walls, SD-WAN services can help ease the shift to cloud environments and secure cloud connections, like cloud exchanges.
An ideal hybrid multi-cloud environment seamlessly integrates services delivered from multiple, diverse clouds -- sometimes including internal data centers. An array of management tools, such as cloud access security brokers, brings these disparate cloud services all together with the network. Software-defined WAN and cloud exchanges can be key components of that network.
SD-WAN and cloud resources are natural partners. SD-WAN was conceived when a WAN's chief purpose was to move traffic from an inside source, such as a branch office, to an inside destination -- e.g., a data center or another branch office. However, as of 2019, the majority of enterprise IT workloads shifted to various cloud environments; only 44% of workloads remained within enterprise walls, according to Nemertes Research's 2019-2020 Cloud and Cybersecurity Research Study.
It's no surprise, then, that the majority of WAN traffic is now outward-facing as well. For example, 38.5% of WAN traffic, on average, still connects from an inside source to an inside destination, according to Nemertes' Next-Generation Networking 2020-2021 Research Study.
How SD-WAN and cloud services evolved together
As network traffic focused more on outside destinations, SD-WAN evolved its cloud-friendly functionality to support that shift.
As network traffic focused more on outside destinations, SD-WAN evolved its cloud-friendly functionality to support that shift. For example, most SD-WAN services can selectively route traffic from a branch office directly out to an internet destination, instead of back through a data center to reach a cloud environment.
Most SD-WAN services also offer the ability to run a virtual SD-WAN node within an IaaS environment, which enables full security, enforces performance management policies, terminates encrypted connections from other locations and supports data compression, among other benefits. More than half of SD-WAN users have or plan to have cloud-to-cloud pathways.
Directing cloud-bound -- or cloud-born -- traffic across the internet is not always the right decision, however. Sometimes, especially when an IT team wants to link back-end application components to each other, it is better to bypass the internet.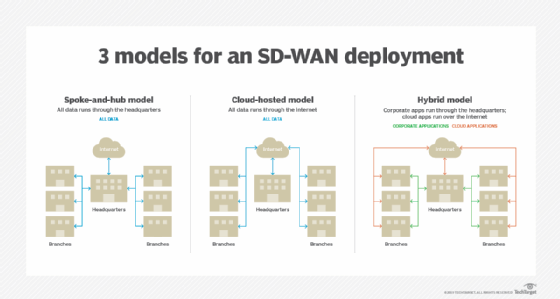 What differentiates cloud exchanges from other cloud services
If an enterprise establishes a private connection to a cloud provider, it can cut out an internet link's typical performance variability that damages application performance. Although direct cloud connections have existed for years and 31% of organizations have them, cloud exchange use has slightly surpassed the use of direct cloud connections in 2020, as 33% of organizations adopted cloud exchanges.
Cloud exchanges continue to grow in popularity because they offer the same performance improvement benefits for applications but also simplify how an IT team provisions and manages new cloud connections. For an IT team to engineer each new direct cloud connection would require the team to pull cables from enterprise routers to the new cloud provider's routers, which can take days to weeks.
Once connected to a cloud exchange, an enterprise can spin up a virtual direct cloud connection through the exchange's management portal within a few minutes. Teams can then estimate size and costs for these links proportionately to the amount of expected traffic flow. Because the cost to set up a new connection is low, the enterprise can experiment with dedicated connections to see where they are most beneficial.
IT teams must get help to weave a collection of cloud and internal services into a real multi-cloud environment, and SD-WAN and cloud exchanges are becoming key parts of that help.
This was last published in
April 2020