Nomad_Soul - Fotolia
How to become a network architect, from those who did it
You wouldn't be an engineer if you didn't love networking, but are you looking to make a career move? Find out how to become a network architect and whether it's right for you.
As a kid growing up in Southern California in the 1970s, Bill Dugger saw three possible futures for himself. He would become a landscaper, an electrical engineer or a helicopter pilot when he grew up.
But life took a different turn once he began tinkering with his stepfather's Atari and Commodore computers and discovered his love of technology. Starting in the IT industry as a telephone technician when he was 19, Dugger expanded his skills over the years and learned to install cable, build small LANs, provide desktop support, manage servers, design larger networks, work in data centers and dabble in disaster recovery.
Dugger, now 44, is a senior manager of network engineering at BeachBody LLC, a fitness company in Santa Monica. Despite the title, his role is more akin to an architect than an engineer, because of its focus on building roadmaps, understanding business operations and applying his knowledge about how the different facets of IT interact.
"I try to find opportunities that are going to allow me to use the skills and experience I gained throughout my career," Dugger says. "The point I'm super interested in right now is the mobility aspect of applications -- how we can move applications around a data center or even around your entire network easily, without the restrictions of traditional security DMZs."
For many network engineers, the day-to-day challenge of making packets move from Point A to Point B is dynamic and rewarding. But for others who no longer find fulfillment from spending most of their time doing that and want a more strategic role, looking at how to become a network architect might be the best next career move.
"It's a good progression for those people that think more 'big picture,'" says Kyle Cooper, a director of network and telecommunications at Houston Community College, a role he took last fall after five years as a senior network architect. "People with systems backgrounds are definitely more attuned to it because they understand the workflow a lot better, as opposed to somebody who's been so specialized in just firewalls."
Network architects are in much greater demand in the job market than network engineers, says Dan Scandalito, division lead of network services at TEKsystems, an IT staffing and recruitment company. According to a CareerBuilder report the company ran internally in February, there were 80% more job postings for network architects than there were active candidates in 2015. Meanwhile, there were 23% more active candidates for network engineering jobs than there were open positions.
"People at the architect level are sought after, and there's not much talent that's available," Scandalito says. "For an engineer who wants to make that move, there's opportunity out there."
What being a network architect entails
The job description for a network architect can vary significantly depending on the employer. At smaller companies, network architects may take on the duties usually assigned to network engineers, or vice versa. But in midsized and large enterprises, the job focuses more exclusively on the design and topology of the network, as opposed to implementing and troubleshooting it. Project management is a vital skill for the engineer figuring how to become a network architect, as is a wide breadth of experience.
"When you're a network engineer, you're primarily fighting fires, and your outlook is probably three to six months," says Kevin Rice, an enterprise architect at A.T. Kearney, a global management consulting firm based in Chicago. "As an enterprise architect, my outlook tends to be three to five years. You start to look at frameworks from a networking perspective and an application perspective. You interface more directly with the application owners, and you're responsible primarily for application delivery."
When working on a project, architects often use network modeling tools, build test networks and construct roadmaps to determine what hardware and software will be used, says James Stanger, senior director of product management at CompTIA, an IT industry trade group. In between projects, network architects are often found overseeing firmware and configuration updates, managing vendors and consulting with other IT groups, he adds.
"What you find is that there's a tremendous amount of work involved in keeping those systems updated and monitored, and then monitoring the service providers you've called in," Stanger says.
But as important as it is to understand the technology, engineers who want to know how to become a network architect should also know that designing network architecture is "absolutely not a full-time job," explains Lee Badman, a network architect and wireless LAN lead at a large private university in upstate New York.
"There's a lot of diplomacy. There are a lot of meetings with people who either know what they want and you have to help them translate that into a technical solution, or who think they know what they want and you can see that it's never going to work," Badman says. "You have to diplomatically and nicely help them find the solution and abandon their crazy idea, or let them convince you to make their crazy idea become something you embrace after doing due diligence."
The soft skills required are often underestimated, Cooper agrees.
"I think people don't realize that a lot of being an architect has more to do with people and departmental interaction than purely the technology," he says.
Engineers and architects also collaborate a great deal. All the network architects interviewed for this article insisted that they see both jobs as equally important to the success of an infrastructure team.
"A good architect at a company will most likely have some really strong engineers working with him on these complex things," Dugger says. "He's not out there by himself. The two working together is extremely important."
For architects, however, the stakes tend to be higher. Network failures are often traced back to faulty designs or poor vendor selection -- both of which typically come from the network architect.
"There's a lot more on the line. Your recommended solutions and directions have more dollars attached to them and more organizational credibility to be gained or lost, based on those decisions," Badman says.
And when something does go wrong, network architects don't always get a pass on the troubleshooting and resolution processes.
"There's not always a demarcation between engineering/architecture and operations," Cooper says. "You're working with these people on a daily basis on a lot of projects, so they know you have that expertise. So when things break, they know you know the technology and sometimes just bypass the operational [channels] to get to you."
But these dynamics are often what make the job so fulfilling.
"The biggest thing that's rewarding is you really do make a big impact on the systems and infrastructure of an organization," Cooper says. "The other [rewarding] aspect is you're constantly researching and learning new technologies and systems, and you really become engaged with almost all of the leaders within an organization. It's for people who are passionate about IT systems."
Addressing business needs
Taking the reins on the network can be empowering, but learning how to become a network architect involves understanding that the job isn't just a license to play around with cool new network technologies.
"As much as I love technology, I don't believe in implementing things that don't make sense for the company. Shiny and new is great, but if you implement a technology that costs $600,000, and you're not using that technology to its fullest extent, to me it's a waste," Dugger says. "You have to architect for a purpose, whether it's to reduce a hardware footprint or to streamline an application flow. You have to look at how the company you're architecting for does its business."
Network architects have to be realistic with their plans and make sure they recommend technologies that address a business need -- not the other way around, Cooper says. The position also means respecting the fact that some architectures are considered tried and true for a reason.
"New architects -- and I was guilty of this myself coming into the role -- a lot of the time want to reinvent the wheel or build a new solution from scratch," Cooper says. "But almost all vendors have validated design guides that address the most common deployments, and throughout my career, I've found those to be very, very beneficial for understanding both the high-level infrastructure and low-level designs."
A large part of the job is also removing your ego from the equation, Badman explains.
"I see, in other IT organizations, people in similar roles start to become kind of self-serving. 'I'm going to build this because it interests me, I think it's cool, and I think this ought to be where we are going.' They forget that, 'While I need to be a subject-matter expert and a technical expert at the same time, I exist because other people need things,'" he says. "I find that the best fellow engineers and architects are those who can ask really good questions or, even better, just shut up for a while and listen."
Broad skill set required
No single career trajectory can prepare someone for the jump from network engineering to network architecture, but those who have made the transition all agree on one requirement.
"If you don't have a good, strong working knowledge of the complementary niches that yours dovetails into, you're not going to survive," Badman says. "It's not enough to have textbook knowledge. You have to know how to fit it in seamlessly and how not to create more problems than it's supposed to solve."
Virtualization, cloud computing, application design, programming and security are some of the key areas to brush up on.
"The people I've seen who are really good architects are people who have a systems or data center background," Cooper says. "When you're building a network, you're building it to get services, whether that's Web services, applications, video or voice. And once you start to really understand those services and what's actually being hosted on those applications, you get a lot better feel for the network flow."
Many architects have made an effort to pick up those skills on the job by working on projects and taking positions outside their usual comfort zone. Greenfield deployments are a good opportunity to learn new technologies, but would-be architects should treat every day on the job as learning process, Rice says.
"You spend a lot of time reading documents and learning more about technologies and how they operate," he says. "I just broadened my skill set, and by working alongside application developers, I got a different perspective in terms of how they approach a problem and where they see an issue or opportunity."
Employers often look for expert-level certifications, and some network architects have found it beneficial to obtain a master's degree in information systems or business administration, says TEKsystem's Scandalito.
Cooper went back to school to obtain a second degree, a bachelor's in organizational management, to add to his background in electrical engineering.
"A lot of times, when you're getting a degree, it's as much about credentials as it is building experience for the actual role," Cooper says. "But I've had situations where I remembered that class or training, and it was really applicable to understanding how somebody thought about something a lot differently than I normally would."
Show me the money
Although a network architect is typically seen as a step above network engineers in terms of skills and responsibilities, most of the architects interviewed say they didn't see an enormous compensation increase when they made the transition.
"There hasn't been this large jump," Rice says. "I think this is typical of most organizations: If you want to see a substantial increase in salary, you have to leave your job and negotiate a better salary on the way out."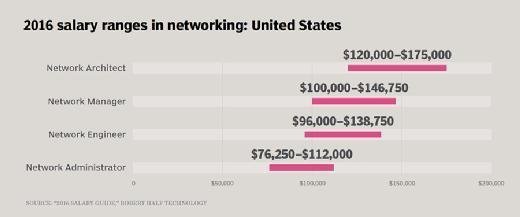 The average starting salary for network engineers in North America is $90,000, while architects start at $110,000 on average, says Scandalito.
A network architect's salary is often comparable to that of an experienced senior engineer, Dugger says.
"If [salary] is your own only reason for wanting to be an architect, it's probably the wrong reason," Dugger says. "Everyone likes a bump -- there's nothing wrong with that. But at this point, it needs to be more about what you want to do with your career and not so much about how much money they're going to give you to do it."
Next Steps
Will network engineers be ousted by IT generalists?
Inside the skills gap for wireless networking
SDN won't erase network engineering jobs -- but it will change them
This was last published in
April 2016