Definition
CCNA certification
What is CCNA certification?
Cisco Certified Network Associate (CCNA) is a technical certification that Cisco offers for early-career networking professionals. It covers the following topics:
network fundamentals
network access
Internet Protocol (IP) connectivity
IP services
security fundamentals
automation and programmability
Cisco made significant changes to its exam structure on Feb. 24, 2020, putting a focus on simplifying it and making it more flexible. It also attempted to align the exam more closely with modern industry needs. Previously, Cisco offered several CCNAs for different networking specialties. The latest update consolidated those offerings into one CCNA certification, which is now the foundational certification for all Cisco-based career paths.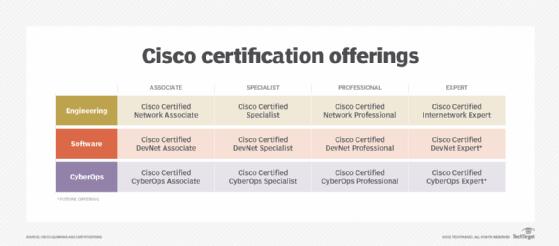 The 4 levels of Cisco certifications
Cisco offers one entry-level certification type, Cisco Certified Technician, which is available in three technology tracks: Collaboration, Data Center, and Routing and Switching. It is geared toward tech support roles and is not a prerequisite for CCNA or other higher-level certifications.
There are four levels in Cisco's certification hierarchy:
This level is a person who has been in a field for one or two years and is part of a team but not leading one.
Information technology (IT) professionals at this level have more experience; they may be a senior member of a team or a team leader.
At this level, a person has been in the networking field for several years and has developed skills in a specialized area.
This level of certification validates an even higher level of experience, focusing on end-to-end IT skills from planning and designing to operating and optimizing network systems.
Exams are given at all four levels in three different areas of expertise: Engineering, Software and CyberOps.
Prior to the 2020 changes Cisco made to its certification program, CCNA was a prerequisite to all higher-level exams, like Cisco Certified Network Professional and Cisco Certified Internetwork Expert. This is no longer the case. Now, there are no specific prerequisites, and individuals can take exams when they feel ready. Cisco does provide recommendations on the level of expertise needed to pass specific exams, however.
CCNA continues to be a foundational certification that serves as a springboard to other certifications. It is a useful certification to have, no matter what a recipient chooses to focus on in the future.
What are the benefits of being CCNA-certified?
The main benefits of passing the CCNA exam include the following:
Knowledge. Those passing the exam show they have a base level of knowledge about how to run a network.
Skills. A person passing the CCNA exam gets in-depth practice in a range of tasks and skills.
Credibility. With the CCNA certification on a resume, potential employers see that a candidate has validation from Cisco and is familiar with a breadth of Cisco networking products.
Updating skills. Taking and passing the CCNA is valuable even for seasoned IT professionals, as it keeps them up to date on developments in networking.
Pay. Attaining a new IT certification, on average, leads to a nearly $13,000 salary increase, according to Global Knowledge's "2020 IT Skills and Salary Report."
Versatility. The U.S. Bureau of Labor Statistics projected that the demand for IT professionals is increasing. This makes CCNA a valuable certification to get, as it is adaptable to various IT career paths.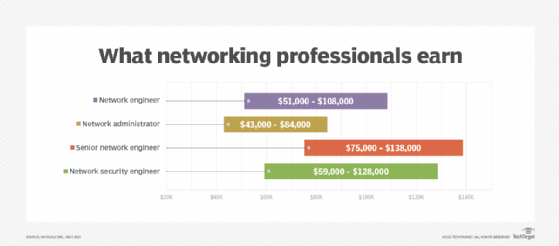 What are the prerequisites for CCNA certification?
According to Cisco, there are no formal prerequisites for the CCNA exam. However, Cisco recommends that CCNA candidates have the following:
at least one year of using Cisco networking products;
basic IP addressing knowledge; and
a solid understanding of the networking fundamentals.
With the 2020 changes to Cisco's exam program, CCNA and other exams were redesigned to mirror a natural career progression of a networking professional. Candidates can take an exam when they feel they are qualified.
How do you prepare for CCNA certification?
There are several online courses, free practice tests and books certification candidates can use to prepare for the CCNA exam.
Cisco offers a preparation course. The "Implementing and Administering Cisco Solutions (CCNA) v1.0" course provides experience with the skills needed to pass the exam and has lab scenarios for students to practice using Cisco networking technology.
Cisco also offers other resources through its Learning Network, including the following:
access to a community of experts;
practice assessments and exams; and
self-study and guided group study packages.
One useful resource for the new CCNA is the CCNA 200-301 Official Cert Guide. This two-volume set provides a deep dive into all things CCNA, complete with practice questions. Author Wendell Odom provided his insider perspective on the new exam in this interview and explained why he thinks Cisco "did this particular exam right."
How do you become CCNA-certified?
CCNA candidates must pass the Cisco 200-301 CCNA exam to be certified. The exam covers networking fundamentals, including the latest technologies, software development skills and professional roles. Passing it demonstrates that the test taker knows the basics of running a network.
Cisco administers exams through the Pearson VUE service. Prospective exam candidates should follow these four steps:
Take advantage of Cisco's and other organizations' test prep courses and study materials.
Log in at the Pearson VUE website.
Register for the Cisco 200-301 exam, picking a time and location.
Take the exam at a Pearson VUE test center or online.
Test takers learn if they passed the exam while at the testing center. If they pass the exam, they are CCNA-certified.
What types of questions does CCNA certification ask?
CCNA exams are proctored and timed, and they consist of written questions and answers, not labs. The exams include the following types of questions:
multiple choice, single answer;
multiple choice, multiple answer;
drag and drop; and
lablets, where tasks are performed on virtual machines.
Below is an example of a single-answer, multiple-choice question about security fundamentals. It is not from an actual exam but rather is part of the CCNA curriculum and is in the style of the exam questions.
Question: Which command verifies whether any IPv6 access control lists are configured on a router?
Show IPv6 access-list

Show IPv6 interface

Show access-list

Show IPv6 route
Answer: Show IPv6 access-list
What is the recertification process for CCNA certification?
Cisco certification holders must recertify every three years, either by completing continuing education requirements or retaking the exam.
Passing the "Implementing and Administrating Cisco Solutions (CCNA) v1.0" course mentioned above earns course takers 30 continuing education credits and recertifies them for CCNA.
CCNA certifications earned before the 2020 changes remain valid until their expiration date.
This was last updated in
May 2021
Continue Reading About CCNA certification
Dig Deeper on Networking careers and certifications