NetworkGPT, ChatGPT plugins show promise for NetOps
NetworkGPT, a ChatGPT plugin revealed at Cisco Live 2023, shows the potential of how generative AI can integrate with and support network operations.
It's rare nowadays to not see daily news about AI or speculate about its potential implications -- and it's no different in the networking industry. AI in networking has compelling use cases, and many network pros are optimistic about its benefits yet cautious of moving too fast.
AI took center stage during the Cisco Live 2023 conference in Las Vegas, popping up in keynotes and breakout sessions. As Chuck Robbins, chair and CEO at Cisco, said during the opening keynote, AI is moving quickly, and organizations are tasked with determining how to use it responsibly.
"We're all as organizations trying to figure out how are we going to use it? How well do we trust it? What's the good upside for it? What are the risks?" Robbins said.
While Cisco made its own AI-related product announcements, some conference sessions focused on teaching network engineers how they can work with AI on their own. In one such session, John Capobianco, developer advocate at Cisco Learning and Certifications, discussed a ChatGPT plugin he developed -- networkGPT -- demonstrating the possibilities of how generative AI can interact with networks and support network operations.
Let's go !!! #ciscolive pic.twitter.com/KonJgCp72E

— John Capobianco (@John_Capobianco) June 6, 2023
Capobianco began his ChatGPT journey in November 2022 when OpenAI released the first version of its chatbot. He said he was one of the first users within the initial five days after the platform's release.
"It took Netflix 3.5 years to hit 1 million users," he said. "It took ChatGPT five days."
In seven months, Capobianco gained access to the ChatGPT 3.5 API, which he used to programmatically interact with ChatGPT using Python and pyATS; created a Django framework with buttons and drop-downs; and received plugin access for ChatGPT. The result was networkGPT, an OpenAI plugin.
NetworkGPT plugin use cases
In his first demo prompt during the session, Capobianco asked ChatGPT to introduce itself and act as his assistant for the demonstration. ChatGPT responded, adding information about itself, large language models (LLMs) and plugins.
"In the context of AI models like me, plugins can be used to extend my functionality, allowing me to interact with different types of data, APIs or systems," the ChatGPT response said. "For instance, the networkGPT plugin allows me to interact with Cisco network data, providing insights and analysis based on the data received."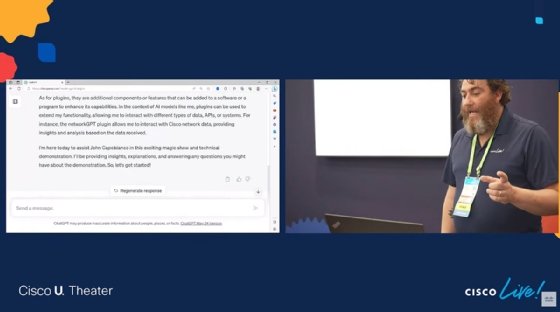 Capobianco then discussed different ways he used the networkGPT plugin to interact with the network, using natural language and prompts. All data used in the demonstration was public through Cisco sandboxes, added Annie Hardy, senior visioneer at Cisco.
Interfaces and syslogs
One way network pros can use the plugin is to identify downed interfaces. In Capobianco's case, the plugin responded to the prompt by providing the payload from pyATS, noting that two interfaces had been administratively shut down.
"I don't have this answer in my trillions of data sets or corpus of knowledge," Capobianco said. "But the plugin might."
Capobianco said it's also possible to ask networkGPT to enable the downed interfaces or perform other tasks, such as checking syslogs and highlighting interface activity. Instead of network practitioners having to read through pages of syslogs when a problem arises, they can ask networkGPT to do the tedious work and provide insights.
DNA Center and Nexus insights
Network teams can also use a plugin like networkGPT to understand devices in their Cisco DNA Center, Nexus data center fabrics or other network environments, Capobianco said. Previously, staff might have clicked through dashboards or perused data sets to find device information. But networkGPT can make a direct API call to DNA Center or the Nexus fabric and describe each device type, platform, status and IP address in that system.
"Plugins go out and bring the data to you," he said. "They get data from here and from there, bringing it all together into a new universal UI that could be for sports chat, news chat or running your network."
Quite the crowd at @John_Capobianco's presentation at Cisco U. Amazing stuff! #CiscoLive pic.twitter.com/VLbnNL9i6C

— Jeremy Stretch (@jstretch85) June 6, 2023
Safeguards with ChatGPT plugins
Currently, Capobianco's networkGPT plugin is still in development as he works to ensure that the result is trustworthy and reliable. But network pros can still play around with ChatGPT and available plugins now to discover how to use them within their own network operations.
In the meantime, network teams should implement safeguards when starting with prompt engineering. One audience member asked how to safeguard the plugin from shutting down the network or pushing a configuration. Capobianco stressed the importance of intentional prompts, noting the difference in terminology between a request to generate and propose a configuration versus running a configuration.
He also gave a suggestion for those concerned about privacy.
"I think the burning question on most people's minds is: 'I'm going to send my network data to an LLM and let it learn from my data? That seems scary,'" Capobianco said. Instead, users can select an option within the GPT-4 model to turn off chat history so it doesn't learn from their prompts.
Another more playful best practice Capobianco gave the audience was to be polite in prompts when using generative AI platforms.
"Someday this is going to take a physical form and have laser beams for eyeballs that can melt our faces," Capobianco said. "It's going to come to my house and go, 'No, not this one. He was always polite and said please and thank you.'"
This was last published in
June 2023
Dig Deeper on Network management and monitoring