AlexOakenman - Fotolia
Big Switch taps AWS VPCs for hybrid cloud networking
Big Switch plans to roll out software for creating virtual networks in AWS and a private cloud. The hybrid cloud technology takes advantage of AWS VPCs.
Big Switch Networks has introduced software that provides consistency in building and managing a network infrastructure...
Continue Reading This Article
Enjoy this article as well as all of our content, including E-Guides, news, tips and more.
within a virtual network in Amazon Web Services and the private data center.
The vendor, which provides a software-based switching fabric for open hardware, said this week it would release the hybrid cloud technology in stages. First up is a software release next month for the data center, followed by an application for AWS in the fourth quarter.
The AWS product, called Big Cloud Fabric -- Public Cloud, provides the tools for creating and configuring a virtual network to deliver Layer 2, Layer 3 and security services to virtual machines or containers running on the IaaS provider. AWS also offers tools for building the virtual networks, which it calls Virtual Private Clouds (VPCs).
In general, customers use AWS VPCs to support a private cloud computing environment on the service provider's platform. The benefit is getting more granular control over the virtual network that serves sensitive workloads.
Big Cloud Fabric -- Public Cloud lets companies create AWS VPCs and assign security policies for applications running on the virtual networks. The product also provides analytics for troubleshooting problems. While initially available on AWS, Big Switch plans to eventually make Big Cloud Fabric -- Public Cloud available on Google Cloud and Microsoft Azure.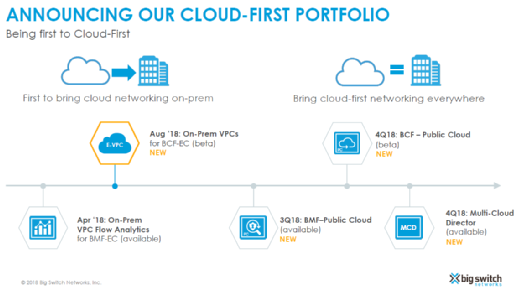 VPCs for the private data center
For the corporate data center, Big Switch plans to add tools to its software-based switching fabric -- called Big Cloud Fabric -- for creating and managing on-premises VPCs that operate the same way as AWS VPCs, said Prashant Gandhi, the chief product officer for Big Switch, based in Santa Clara, Calif.
Customers could use the on-premises VPCs, which Big Switch calls enterprise VPCs, as the virtual networks supporting computing environments that include Kubernetes and Docker containers, the VMware server virtualization vSphere suite, and the OpenStack cloud computing framework.
"With the set of tools they are announcing, [Big Switch] will be able to populate these VPCs and facilitate a consistent deployment and management of networks across cloud and on premises," said Will Townsend, an analyst at Moor Insights & Strategy, based in Austin, Texas.
Big Switch already offers a version of its Big Monitoring Fabric (BMF) network packet broker for AWS. In the fourth quarter, Big Switch plans to release a single console, called Multi-Cloud Director, for accessing all BMF and Big Cloud Fabric controllers.
In general, Big Switch supplies software-based networking technology for white box switches. Big Cloud Fabric competes with products from Cisco, Midokura and Pluribus Networks, while BMF rivals include technology from Gigamon, Ixia and Apcon.
Big Switch customers are mostly large enterprises, including communication service providers, government agencies and 20 Fortune 100 companies, according to the vendor.