Mathias Rosenthal - Fotolia
Packet broker added to Big Switch cloud fabric on AWS
Big Switch cloud fabric for AWS has a network packet broker. The company launched Big Mon for the cloud this week. Upcoming tech includes Big Cloud Fabric and Multi-Cloud Director.
Big Switch Networks has released an AWS version of its network packet broker, the latest step toward the vendor's goal of convincing companies to use its software-defined networking products in hybrid clouds.
The company launched this week Big Monitoring Fabric (BMF) for AWS. The latest addition to the Big Switch cloud fabric does packet-based analysis and sends the data to the tools used for monitoring the performance and security of workloads running on virtual private clouds (VPCs) within the IaaS provider.
A VPC within AWS provides companies with more granular control over a virtual network serving sensitive workloads in an isolated section on the public cloud. Large companies can run hundreds of VPCs.
For those companies running VPCs, Big Switch is gradually providing the software tools needed to manage the interconnections and interactions among workloads on AWS, Microsoft Azure and cloud environments in private data centers.
By the second quarter of next year, Big Switch plans to make its Big Cloud Fabric (BCF) for AWS available in beta to any company that wants to try it. Big Cloud Fabric lets companies create AWS VPCs and assign security policies for applications running on the virtual networks. The product also provides analytics for troubleshooting problems.
What's next for the Big Switch cloud fabric?
In the first quarter of 2019, Big Switch expects to start selling a single software console, called Multi-Cloud Director, for accessing BMF and BCF controllers. Today, companies must use each controller's user interface separately. Companies can use Multi-Cloud Director with BMF and BCF software running in the private data center, as well as the cloud.
Big Switch is well-positioned to sell its multi-cloud and hybrid cloud products to enterprises using the vendor's switching fabric technology in the data center, said Shamus McGillicuddy, an analyst at Enterprise Management Associates, based in Boulder, Colo.
"I haven't tested the technology, so I can't speak to the overall scalability and performance of their solutions, but they do tick off a lot of the functionality and feature requirements that their target customers have," McGillicuddy said.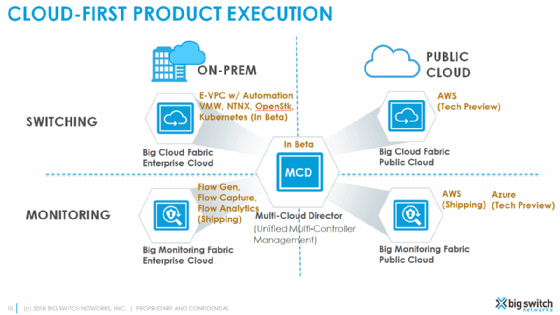 Getting the technology to market, however, has taken longer than Big Switch expected. The company initially planned to release Multi-Cloud Director this quarter, along with the beta version of BCF for AWS.
The delay was mostly due to directing product development resources to BMF add-ons released in April and introducing a version of BMF for Azure.
"We felt we needed to prioritize those two to take advantage of the [potential sales] opportunity," said Prashant Gandhi, chief product officer at Big Switch, based in Santa Clara, Calif.
Big Switch's roots are in providing software for building and administering a fabric of white box switches in a data center. The company's efforts to extend this technology into public clouds place the vendor in competition with leading networking companies targeting the hybrid cloud market. Those companies include Cisco and Juniper Networks.
The more prominent vendors have a much larger share of the data center networking market, giving them an advantage in selling hybrid cloud products. Big Switch's focus on managing network fabrics of open switches mostly attracts cloud and communication service providers and the largest financial institutions, not mainstream enterprises.
"The enterprise market is still slow to embrace the white-box, brite-box strategy that Big Switch leads with," McGillicuddy said.