DXfoto.com - Fotolia
Automation added to Extreme SLX data center networking
Extreme Networks has introduced network automation and a single console for managing data center and campus networks. The technology is part of the Extreme SLX Agile Data Center.
Extreme Networks has launched a portfolio of network software that provides automation and a single console for...
Continue Reading This Article
Enjoy this article as well as all of our content, including E-Guides, news, tips and more.
managing the data center and the campus network. The release puts to work technology Extreme acquired in 2017 with the purchase of Brocade's data center business.
The latest software in the Extreme SLX Agile Data Center portfolio includes the new Workflow Composer and a refresh of the Extreme Management Center (XMC). The Workflow Composer is a proprietary implementation of the open source StackStorm software Extreme acquired from Brocade.
The new technology, introduced this week, is meant to strengthen Extreme's competitive posture against Arista, Cisco and Juniper Networks, which are also focused on network automation and providing a single application for managing the data center and campus.
Extreme's decision to make XMC the focal point for administering the company's data center and campus switches and applications "can potentially deliver operational efficiencies," said Brad Casemore, an analyst at IDC.
"They'll take this message initially to their installed base of customers -- and that's where I expect it will resonate most -- but they'll also try to emphasize these synergies in situations where they're seeking to displace an incumbent vendor," he said.
Extreme extended XMC's reach from the campus to its SLX line of data center switches and routers via the Brocade IP fabric, which provides a Layer 3 Clos switching architecture. Network operators use the XMC to manage, troubleshoot and provision switches and wireless LAN access points regardless of the supplier.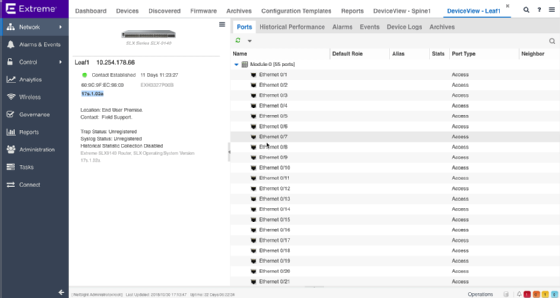 StackStorm in Workflow Composer
Workflow Composer uses StackStorm to respond to events in network infrastructure and application environments in the data center. Admins define the rules for responding to network occurrences, such as a system failure.
Workflow Composer will run diagnostic checks, remediate problems or send alerts through the various systems it plugs into through its integration pack. A list of supporting technology is on the StackStorm Exchange.
Available applications include monitoring systems, such as Nagios, New Relic and Sensu; the Ansible and Chef open source automation platforms; and messaging software, such as HipChat. A pack is also available for Cisco's Application Centric Infrastructure. ACI provides policy-driven, software-based management of a network fabric comprised of Cisco Nexus 9000 switches.
Latest Extreme SLX switch, router
Along with Composer, Extreme unveiled new hardware: the SLX 9030 top-of-rack leaf switch and the SLX 9640 data center interconnect router. The new devices expanded the Brocade-developed SLX line of leaf-spine switches and routers to seven products.
The SLX 9030 is a 1/10/25/40/100 Gigabit Ethernet switch that uses copper cabling. The 1RU hardware has 48 1/10 GbE SFP+ server-facing ports and 4 10/40/100 GbE QSFP28 ports.
The SLX9640 has 24 ports of dual-mode 1/10 GbE and 12 ports of dual-mode 40/100 GbE. The 1RU hardware provides up to 900 Gbps of switch fabric capacity and up to 4 million and 800,000 IPv4 and IPv6 routes in the Forwarding Information Base.
Dig Deeper on Cloud and data center networking