yoshitaka272 - Fotolia
Extreme makes Fabric Automation friendlier to developers
Extreme Networks adds Fabric Automation features that make the company's virtualized data center networks more adaptive to changes by application developers.
Extreme Networks has added features to its data center fabric to make networks more responsive to changes developers make to applications.
Extreme also unveiled this week two additions to its SLX line of switches. The SLX 9150 leaf and SLX 9250 spine have embedded software that supports the new features in Extreme's Fabric Automation software.
Fabric Automation is part of the Extreme Data Center Fabric suite for building an underlay and a network virtualization overlay across SLX switches. Other software comprising the suite include Management Center, ExtremeAnalytics and Workflow Composer, a network automation tool based on StackStorm.
In general, the Extreme Data Center Fabric utilizes several standardized protocols to bring automation and programmability to a Layer 3 network. The protocols used include the Ethernet VPN (EVPN), the Border Gateway Protocol (BGP), and the Virtual Extensible LAN (VXLAN). VXLAN creates the overlay network Extreme uses on an existing Layer 3 infrastructure.
The latest Fabric Automation features make protocol configuration changes to align network services with virtual machines that development teams move, delete and create. Keeping networks in sync with contintually changing VMs in application environments is a challenge for development and networking teams.
"The value proposition is about more than saving time," said Brad Casemore, an analyst at IDC. "Many network professionals are under intense pressure to become more agile, more responsive to the needs of the business, and developers."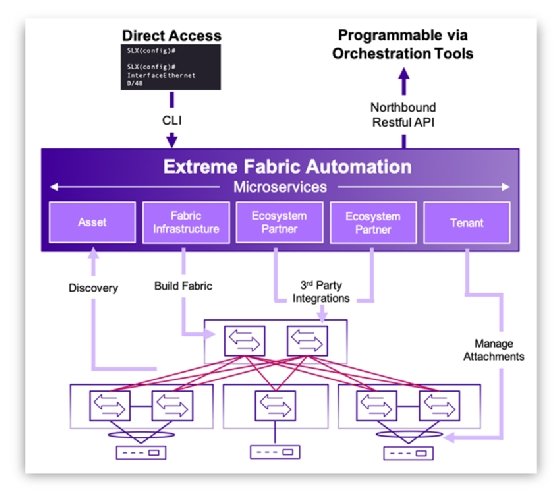 New in Fabric Automation
The latest enhancements to Fabric Automation make the software friendlier to developers by also providing integration with orchestration tools. They include Microsoft's and VMware's management software for their respective virtualized application environments. The products are Microsoft System Center Virtual Machine Manager and VMware vCenter.
Extreme has also added integration between Fabric Automation and OpenStack. The latter is a framework of open source software modules used to create and manage cloud infrastructures.
Extreme has embedded the latest Fabric Automation software in the new SLX switches. The software runs on a VM that companies can deploy separately on a server in data centers with older SLX switches.
The SLX 9150 is a fixed top-of-rack leaf switch with 32 MB of packet buffer and overall throughput of 2 Tbps. The hardware has 48 1/10/25 GbE SFP28 ports and eight 100/40 GbE QSFP28 ports.
The SLX 9250 is a 100/40 GbE switch that provides spine and leaf connectivity in a 1RU fixed form factor. The hardware runs Extreme's Linux-based SLX-OS network operating system.
Extreme had a low single-digit share of the global data center market in 2018, according to IDC. Cisco led the market with a 48.9% share, followed by Arista, 14.7%, and Huawei, 9.6%.
Extreme is more significant in the wired and wireless LAN market, where Gartner lists it as a leader with Cisco and Aruba, a Hewlett Packard Enterprise company.
Extreme is one of many networking vendors -- large and small -- bringing network automation technology to the market. Arista, Cisco and Juniper Networks are developing broad product portfolios, while niche players, like Apstra, Forward Networks and Veriflow, have software-only products.
Dig Deeper on Cloud and data center networking