Sergey Nivens - Fotolia
Apstra adds EVPN configuration to AOS
The newly released version of Apstra AOS includes EVPN configuration. The latest feature in the intent-based OS reduces the manual labor behind network segmentation.
Apstra has added to its AOS intent-based operating system tools that remove the manual chore of configuring the Ethernet VPN protocol used in securing Multi-tenancy environments in a private data center.
Apstra added the capability in AOS 2.2, which the company released this week. The latest OS version contains other enhancements, including integration with authentication systems, support for more network hardware and software and better anomaly detection.
The EVPN configuration capability, however, is likely to have the broadest appeal to network operators. Engineers typically use the protocol with the Border Gateway Protocol (BGP) and the Virtual Extensible LAN (VXLAN) encapsulation protocol. VXLAN creates an overlay network on an existing Layer 3 infrastructure.
Apstra customers use EVPN, BGP and VXLAN together to segment the physical network in a multi-tenancy architecture. IT operations use multi-tenancy to serve multiple customers on a single instance of a software application. Network segmentation isolates customers so data and malware can't travel between them.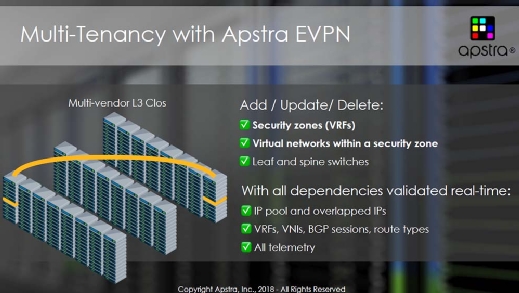 The benefit of EVPN configuration
Apstra added EVPN configuration in its AOS software to remove an arduous task from the to-do list of IT staff, said Carly Stoughton, a senior technical marketing engineer at Apstra.
"We'll actually automate that complex EVPN configuration for you, which is huge," she said. "Configuring this plus BGP, plus VXLAN, if you're doing that on every single switch in your data center, that's a very complex configuration, and it's a human, error-prone process."
Apstra already provided tools for configuring BGP and VXLAN, so the EVPN capability filled a hole in AOS.
Apstra's AOS software is part of the network management layer. The product monitors the configurations of multi-vendor network hardware and software and alerts IT managers when the intent of the setting is violated. Other startups taking an intent-based approach to network management include Forward Networks, Intentionet and Veriflow.
Other improvements in AOS 2.2 include support for switches from Mellanox Technologies and Dell EMC, a unit of Dell Technologies. New software support comprises OpenSwitch, an open source network operating system, version 3.6 of the Cumulus NOS and version 16.04 of the Ubuntu server OS.
In January, Apstra introduced customizable analytics in AOS. The feature lets network operators define the type of data they want the software to collect and then set the rules for extracting intelligence from the information.
Apstra said it would release the latest version of AOS this month at no additional cost to customers.
Dig Deeper on Cloud and data center networking