animind - Fotolia
Apstra AOS IDs root cause of network problems
Startup Apstra has launched version 2.3 of its intent-based networking OS. The new Apstra AOS includes analytics for finding the root cause of network problems.
Apstra has added to its analytics engine the ability to identify the root cause of problems that hamper the performance of networks managed by the vendor's intent-based operating system.
Apstra introduced root cause analysis as part of this week's release of version 2.3 of the Apstra Operating System (AOS). Other improvements to Apstra AOS include integration with VMware's server virtualization suite, vSphere, and support for the open source SONiC operating system for white box switches.
AOS, introduced in 2016, continuously monitors the state of a multivendor leaf-spine IP fabric, based on telemetry data collected from physical and virtual network systems. AOS sends the information to a data store, where the vendor's algorithms compare system configurations with the actual state of the devices. Then, AOS notifies operators of discrepancies and provides the tools for correcting problems. AOS also lets operators set up automated responses to troubles.
AOS 2.3 adds to the operating system's analytics engine the ability to help customers find the root cause of problems affecting network performance. The software does that by mapping symptoms of network problems to associated anomalies and events recorded in the data store. AOS' algorithms then work backward to locate the root cause of the symptoms, which could include, for example, choked bandwidth in a segment of the network or, at a higher level, intermittent transaction failures on a retailer's point-of-sale hardware.
"Apstra's root-cause identification capability should have considerable value for network professionals that adopt the latest release of AOS," said Brad Casemore, an analyst at IDC. "There's a proliferation of network data, but separating the wheat from the copious chaff is a daunting task when it comes to identifying the root causes of events, issues, symptoms, and anomalies that can affect network performance and application availability."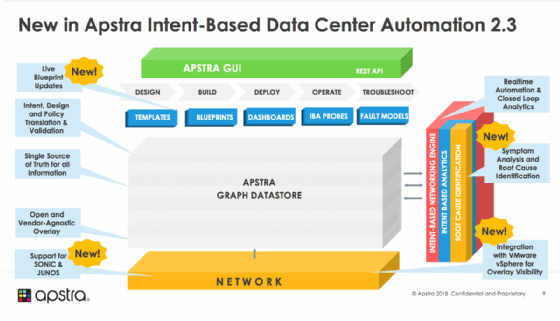 Other Apstra AOS analytics
In January, Apstra added customizable analytics to AOS. The feature let network operators select specific information, such as CPU utilization on spine switches, and then choose the condition under which the software would examine the data.
Better analytics is a crucial component of vendors' progress toward developing networks capable of adjusting to changes in applications used by business operations. Network adaptability based on conditions set by operators is the definition of intent-based networking.
Recent research from Enterprise Management Associates, based in Boulder, Colo., found that nearly every organization using advanced network analytics was doing so to enable network automation.
Apstra is one of many vendors pursuing analytics-based networking. The startup differentiates itself from larger suppliers, such as Arista Networks, Cisco and Juniper Networks, by enabling its software to manage hardware from multiple vendors.