chris - Fotolia
HPE, Juniper intro 5G hardware for the edge
Hewlett Packard Enterprise and Juniper Networks have introduced 5G hardware for service providers' network edge.
Communication service providers will eventually have to upgrade their network edge to deliver high-bandwidth 5G services to consumers and businesses. To help with that transition to the fifth-generation wireless technology, Juniper Networks and Hewlett Packard Enterprise recently introduced a line card and a converged system, respectively.
HPE launched this week the Edgeline EL8000 Converged Edge System for data processing related to media delivery, mobility services or smart city applications. HPE is aiming the 5G hardware at CSPs preparing to deliver those products over a 5G wireless service.
The Edgeline EL8000 is a ruggedized single-socket design that's powered by an Intel Xeon processor. The system supports Nvidia Tesla GPUs and has up to 1.5 TB of memory and 16 TB of storage. HPE plans to release the system in June.
Juniper's MPC11E line card is for the company's MX2000 Series 5G Universal Routing Platform. Powering the line card is Juniper's Penta silicon, which delivers 4 Tb per slot capacity. The company plans to release the 5G hardware in the second half of the year.
Juniper line cards for core networking
CSPs that upgrade the edge will likely have to increase bandwidth in their core networks to handle the increase in traffic flow from 5G services. For CSPs bolstering the core, Juniper plans to introduce in the second half of the year a 14.4 Tb line card for its PTX10008 Universal Chassis.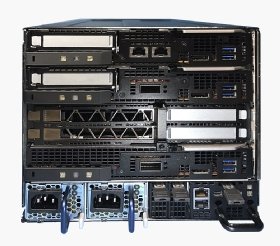 Powered by Juniper's Triton silicon, the line cards will make it possible to deliver 100 GbE and 400 GbE through the PTX10008. Juniper touts the Triton as 70% more power efficient than the company's Junos ExpressPlus silicon. The Triton also delivers 380% more bandwidth than previous generation line cards, according to Juniper. The vendor did not release more extensive technical details on the new silicon or hardware.
If Juniper delivers its new products as advertised, then the company will be "more competitive in the market given the increase in capacity and programmability that the new silicon brings to the table," said Rajesh Ghai, an analyst at IDC.
"From a financial perspective a new product cycle typically does provide a lift, considering there will be Juniper-installed base customers who may have been waiting for this launch," Ghai said. He also noted the products could make Juniper more competitive in pursuing new deals.
Juniper sales slump
Juniper could use a revenue boost from CSPs. The company reported last month weak sales to communication and cloud service providers were behind a decline in sales in the fourth quarter. The decrease marked six straight quarters of declining revenue.
That trend is likely to continue in the current quarter. Juniper predicted a 6% to 12% decrease in revenue.
AT&T and Verizon have rolled out 5G services in a limited number of U.S. metropolitan areas. However, analysts do not expect the service providers to generate significant revenue until at least 2020.
Dig Deeper on Network Infrastructure