Fotolia
Array Networks launches monitoring system for app performance
Array Networks launches a monitoring and reporting tool that draws data from the vendor's application delivery controllers to pinpoint application troubles.
Array Networks Inc., a maker of network functions virtualization hardware, has introduced monitoring and reporting software for its virtual application delivery controllers, providing customers with a reporting option other than third-party products.
Array released this week its Monitoring and Reporting System (MARS), which can handle as many as 32 of the company's virtual APV Series ADCs. Customers use the controller, which companies can buy as a component of Array's AVX NFV appliance, to improve application performance and security.
Array customers access MARS through a console that can run on an AVX appliance or a VMware virtual machine. The console comprises five customizable dashboards for monitoring server behavior and traffic. Array designed the console as a tool to help network administrators spot trends that could lead to a deterioration of application performance.
Array released MARS as an alternative to third-party products that provided similar features by drawing data from the vendor's ADCs through their RESTful APIs. "We did not have our own monitoring and reporting system that we could sell to a customer," said Paul Andersen, head of sales at Array.
In general, universal monitoring tools from other vendors tend to be less useful than those built for a specific product, said Kevin Tolly, founder of The Tolly Group, an IT testing firm based in Boca Raton, Fla.
"Third-party tools, by definition, are more generic, less tightly coupled to the app and might not be able to provide the level of detail or the timeliness of an integrated solution," said Tolly, whose customers include Array.
Array Networks MARS dashboards
Four of the MARS console's five dashboards focus on monitoring a specific element of the network. The items include HTTP response codes, such as status, the URLs administrators should cache to improve application performance, server response times, and secure socket layer (SSL) traffic. The fifth dashboard alerts administrators to performance issues, such as a problematic IP address.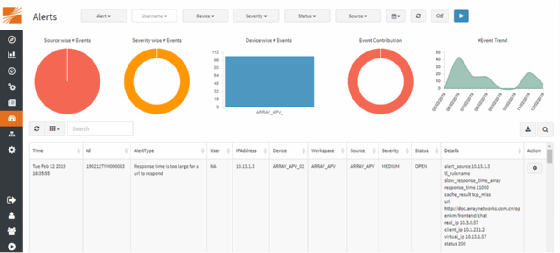 Array plans to release more dashboards covering other application-related data in the future. Andersen said the company could offer three or four more panels next quarter.
The Array vAPV controllers feeding data into MARS provide Layer 4-7 server and network link load balancing, SSL acceleration, caching, compression, traffic shaping and protection against distributed denial-of-service attacks. Array claims its ADCs can deliver 99.999% application availability while significantly improving application response times. The software, which can also run as a virtual instance on a public cloud, acts as the first line of defense for web-enabled applications and cloud services, according to the vendor.
Array's AVX network functions virtualization platform launched in May 2017, comprises a series of virtualized servers for running Array and third-party software. The latter includes Fortinet's FortiGate next-generation firewall and Positive Technologies' PT AF web application firewall.
Companies can purchase MARS through Array resellers. A perpetual license starts at $7,995 for two units, while a yearly subscription license starts at $2,665 for an equal number of units.