ltstudiooo - Fotolia
Array bolsters throughput, security in NFV appliance
Array Networks has added support for 40 GbE interfaces in its NFV appliance. The AVX hardware also has higher throughput for encrypted traffic.
Array Networks Inc. has introduced an upgrade of its network functions virtualization hardware. New features in the AVX NFV appliance, which provides application delivery, security and other networking operations, include support for 40 GbE interfaces and higher throughput for encrypted traffic.
Array, based in Milpitas, Calif., launched the AVX5800, AVX7800 and AVX9800 appliances this week. Along with support for optional 40 GbE network interface cards (NICs), the latest hardware provides a significant improvement in elliptic curve cryptography (ECC) processing over a Secure Sockets Layer virtual private network (SSL VPN).
The new NFV appliances include Array's latest software release, AVX 2.7. The upgrade provides better fine-tuning of system resources for virtualized network functions running on the platform. Other improvements include the ability to back up and restore AVX configurations and images via USB and an online image repository for software running on AVX appliances.
Array has also added enhancements for companies using the NFV appliance with OpenStack environments. The company has introduced a hypervisor driver that lets the AVX platform serve as an OpenStack compute node.
The AVX NFV platform, launched in May 2017, comprises a series of virtualized servers for running Array and third-party applications, such as Fortinet's FortiGate next-generation firewall and Positive Technologies' PT AF web application firewall.
A10 Harmony Controller Update
A10 has launched an upgrade to its Harmony Controller, an application delivery controller, or ADC, that is also a cloud management, orchestration and analytics engine.
A10, based in San Jose, Calif., released Harmony version 4.1 last week, adding improvements to the product's ability to configure and manage policies across A10's line of Thunder security appliances.
New features in Harmony include preloaded Thunder ADC services. Also added to the controller is a self-service app for Thunder SSL inspection, which decrypts traffic, so security devices can analyze it.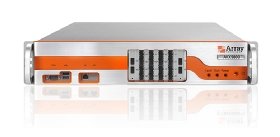 Other improvements include extending Harmony's analytics history to 12 months, so network operators and security pros can go further back in time when investigating events.
Harmony is a cloud-optimized ADC that can spin up specific services anywhere in a hybrid cloud environment. The software also incorporates per-application analytics and centrally manages and orchestrates application services.
Aviatrix improves its AWS security
Aviatrix has added to its AVX network security software better control over traffic leaving Amazon Web Services. The enhancements provide customers with stronger protection against internal threats and external attacks.
The new AVX capability announced last week focuses on filtering egress data from an AWS virtual private cloud (VPC). An AWS VPC provides a private cloud computing environment on the infrastructure-as-a-service provider's platform. The benefit of a VPC is the granular control a company can get over a virtual network service serving sensitive workloads.
AVX for AWS VPCs verifies the traffic destination's IP address, hostname or website, the vendor, based in Palo Alto, Calif., said. An inline, software-controlled AVX Gateway does the VPC filtering and prevents traffic from going to unauthorized locations.
The Aviatrix platform, which comprises a controller and gateway, operates over a network overlay that spans cloud and data center environments. The new VPC egress security feature is available as part of the platform, which is available only as software.
Companies can deploy the Aviatrix product through the AWS marketplace. Aviatrix also has versions of its technology for Microsoft Azure and Google Cloud.