Maksim Pasko - Fotolia
Cisco AMP for Networks bolsters SD-WAN security
Cisco AMP for Networks is now part of the company's SD-WAN product. Cisco also announced this week that it had open sourced its MindMeld AI development platform.
Cisco has added advanced malware protection to its software-defined WAN product. The move, announced this week, reflects the demand for stronger security among companies planning to use SD-WAN to connect branch offices to SaaS and cloud-based applications.
Cisco has included Cisco AMP for Networks in version 16.11 of the Cisco IOS-XE SD-WAN. The software runs on the 1000 and 4000 series of Cisco Integrated Services Routers (ISR).
Cisco AMP for Networks searches for malicious activity by tracking and analyzing files and file behavior on the network. The application sends alerts on suspicious activity to network operators, who have the option of sandboxing files for further examination.
AMP for Networks joins other security services available with the Cisco SD-WAN, which is based on technology obtained through the 2017 acquisition of Viptela. Other services include a firewall, URL filtering and segmentation across the WAN.
Network managers have protected WANs for years using standard tools like encryption, VPNs, tunneling protocols and IPsec. SD-WAN, however, changed the security landscape by providing the option of using less expensive, and less secure, broadband internet connections in place of private MPLS links.
Companies rate securing an SD-WAN as the top priority when adopting the technology, followed by WAN optimization and policy control and management, according to IDC. Some experts contend that SD-WAN as it exists today still provides less security than a properly locked down traditional WAN.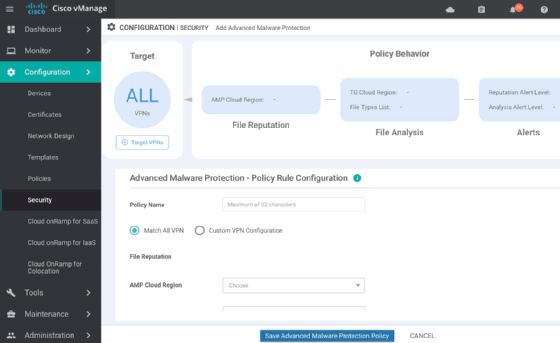 Cisco makes MindMeld AI open source
In other Cisco news, the company has open sourced its MindMeld Conversational AI Platform, which Cisco used to build the voice assistant in its Webex web conferencing product. Companies using MindMeld, a Python-based machine learning framework, include Starbucks, Uniqlo and InQTel, according to Cisco.
Cisco is releasing with the platform a developer guide, called the Conversational AI Playbook. The guide provides details on the steps required to build and test voice assistants in applications. The platform, manual and other resources are available through the Cisco DevNet site.
Cisco acquired AI-platform developer MindMeld in 2017 to build voice and chat assistants into its Spark collaboration service. The next year, Cisco changed the Spark name to Webex Teams and started merging the technology into the more widely known Webex platform.