xy - Fotolia
CloudGenix SD-WAN platform open for developers
The CloudGenix SD-WAN is open for developers. The vendor has launched a developer program and tool set for integrating third-party infrastructure software.
CloudGenix is offering third-party makers of infrastructure software the option of integrating their products with the vendor's cloud-managed software-defined WAN for the branch and remote office.
CloudGenix launched this week a platform called CloudBlades that lets companies make their cloud-based infrastructure services available through the CloudGenix SD-WAN user interface. Services currently available from a variety of vendors include security, voice and video conferencing, public cloud connectivity and applications related to IT operations.
CloudGenix is attempting to address the evolution of SD-WAN from routing branch traffic across the wide area network to a multifunction infrastructure platform. An all-in-one product for branch networking holds the promise of reducing complexity by reducing the number of separate appliances a company needs for essential services.
Enterprises are open to the concept, but haven't decided whether cloud-based services can deliver the same lifecycle management and orchestration as on-premises applications.
"The jury is still out in terms of where these functions will actually reside," said Rohit Mehra, an analyst at IDC.
Companies could opt to have a firewall or video conferencing application on premises, in a co-location facility or with a managed service provider. CloudGenix, however, is banking on many enterprises opting for the cloud.
The CloudBlades Platform
To deliver that cloud option, the company has built the CloudBlades Platform, which provides APIs to CloudGenix's UI, telemetry, authentication service and app-centric traffic forwarding engine. Companies that integrate cloud-based services with the platform let CloudGenix customers create routing policies for those applications.
For example, a customer who has a firewall vendor integrated with the platform could set policies in the UI that tell the CloudGenix SD-WAN software to direct traffic from each branch office to the closest instance of the security application. Configuring the firewall would require a visit to that vendor's UI.
Roughly three-quarters of enterprises surveyed by Enterprise Strategy Group had applications running on multiple cloud service providers, while two-thirds had one in five applications delivered by SaaS. Therefore, many companies need a service like CloudBlades, said Bob Laliberte, an analyst at ESG in Milford, Mass.
"Security is still on the top of every organization's list, so [CloudBlades'] tie into major security vendors is important," he said.
Security vendors integrated with the CloudBlades Platform include Palo Alto Networks, Zscaler, Check Point and Symantec. Voice and video vendors include RingCentral, Microsoft Skype, Fuze and Zoom.
IT operations software providers attached to CloudBlades include ServiceNow, PagerDuty and Slack. CloudGenix customers can also use CloudBlades to connect to applications running on Microsoft Azure, AWS, Google Cloud and an Equinix co-location facility.
Companies interested in using the CloudBlades Platform can do so through the CloudBlade Developer Program, which is also open to customers, CloudGenix said.
As an SD-WAN vendor, CloudGenix focuses on forwarding traffic to SaaS, data center and cloud applications. The company uses software- and network-level metrics to execute policies customers create to prioritize traffic and maintain a specific level of service for every application.
Customers create policies in CloudGenix's UI and deploy them on the vendor's physical or virtual routing appliance in the data center, remote or branch office, or cloud service provider. To meet service levels set by customers, CloudGenix continuously monitors network and application metrics and makes adjustments to traffic paths, as needed.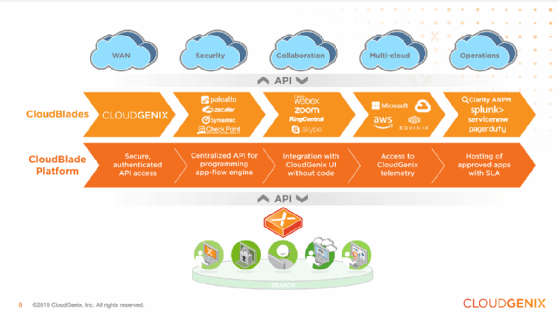 CloudGenix's future
CloudGenix has received nearly $100 million from investors since its founding in 2013, according to Crunchbase. CloudGenix had attracted investors because of the success it has had in selling to enterprises through channel partners, Mehra said. Many SD-WAN vendors have focused on licensing deals with managed service providers.
"For the time being, [CloudGenix] will be OK on their own," Mehra said. "But, eventually, I think a large home will probably be more appropriate to get the scale that they need."
Obstacles to CloudGenix growth long term include operating in a crowded market of about 40 vendors, including Cisco and VMware, which have revenue in the billions of dollars.