pressmaster - Fotolia
AT&T-Microsoft deal secures use of 5G wireless, Azure cloud
The latest AT&T-Microsoft partnership announcement lacked details for buyers of enterprise products and services but gave a big boost to Microsoft's Azure public cloud.
AT&T and Microsoft have entered a partnership that's a significant customer win for Microsoft but is short on the details of joint products and services the companies plan to offer enterprises.
This week, the companies announced a multiyear alliance that's reportedly worth more than $2 billion. The companies did not release financial details.
Under the deal, AT&T agreed to roll out Office 365, Microsoft's cloud-based office productivity suite, to most of the telecommunication company's 250,000 employees. Also, AT&T said it would use Microsoft's public cloud platform, Azure, to run non-network infrastructure applications.
AT&T plans to become a "public cloud-first company" by 2024 when it expects to have most of its non-network applications running on the data centers of cloud partners. The Microsoft deal, which is not exclusive, comes a day after AT&T agreed to use IBM's public cloud for some of its computing needs.
"The partnership with Microsoft seems to be a great way for AT&T to focus on its core business focus areas, while leveraging cloud for underlying and adjacent infrastructure and platform needs," said Deepak Mohan, an analyst at IDC.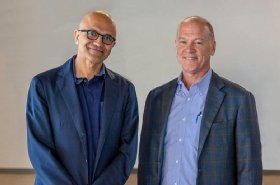 In return for AT&T's business, Microsoft will tap the 5G wireless network AT&T plans to have available nationwide in the first half of next year. Microsoft expects the service to deliver the speed and performance needed to build edge computing applications for enterprises, such as services supporting IoT projects.
"Successful IoT implementations will, of course, be network connected to a back-end cloud service," said Ed Anderson, an analyst at Gartner. "So, if that's what Microsoft and AT&T can put together, then I think there's great potential there."
AT&T-Microsoft product details scarce
However, without details on the upcoming edge computing capabilities, enterprises won't know how much value the alliance will bring, analysts said. Also, the companies will have to show they are willing to invest a significant amount of money and people to make joint projects successful.
"Everything they announced today was great," Anderson said. "[But] we'd love to see more details about the specifics of how they are going to invest and innovate together."
Everything they announced today was great. [But] we'd love to see more details about the specifics of how they are going to invest and innovate together.

Ed Anderson Analyst, Gartner
Mohan agreed, saying tech buyers need details beyond what's possible through the AT&T-Microsoft partnership.
"The proof of success, and the extent to which the execution will include differentiated value for the end buyer, will be seen when the first set of downstream services on this platform start getting announced, built and released," he said.
AT&T and Microsoft had worked jointly on edge-computing projects before, including one that involved the testing of a tracking and detection system for drones.
Joint development aside, the AT&T deal could help Microsoft in competing with AWS, the leading public cloud provider. In the first quarter of this year, AWS accounted for 33% of the market with Microsoft coming in second at 16%, according to Synergy Research Group. Google and IBM were third and fourth with 8% and 6%, respectively.