Fotolia
Silver Peak SD-WAN orchestrator scales to thousands of sites
Silver Peak has launched a cloud-based SD-WAN orchestrator that provides centralized control of multiple Unity Orchestrators deployed in separate locations.
Silver Peak has introduced a cloud-based orchestrator for running the company's software-defined WAN across thousands of sites. The capability demonstrates how SD-WAN technology is maturing with features aimed at the largest organizations.
The new product, called the Global Enterprise Orchestrator, acts as a central controller for Silver Peak orchestrators deployed in separate locations. "You can kind of think of [it] as the controller of controllers," said Damon Ennis, senior VP of product at Silver Peak.
Customers use Silver Peak's Unity Orchestrator to manage security and connectivity policies that govern the operation of the vendor's Unity EdgeConnect SD-WAN. A single Silver Peak orchestrator can manage up to 2,000 sites, and the new global product can act as the hub for up to five SD-WAN orchestrators.
The purpose of the Global Enterprise Orchestrator is to simplify the creation and deployment of policies governing multiple EdgeConnect SD-WANs, each of which relies on a separate orchestrator.
Rather than log into each orchestrator separately, a network engineer can enter the global version and manage any connected controller from a single location. The central controller also monitors all SD-WAN fabrics and issues alarms when it detects problems.
Global orchestrator aimed at the largest enterprises
Only a small number of organizations need an orchestrator capable of managing SD-WANs that serve as many as 10,000 sites, analysts said. Such deployments are limited to the largest distributed organizations, such as Starbucks, McDonald's or governments.
"The universe of companies that will require 5,000 to 10,000 sites is quite small," said Steve Garson, president of consultancy SD-WAN Experts. "This announcement has minimal impact on the general marketplace."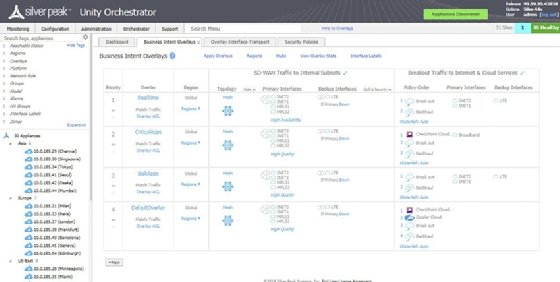 The global orchestrator also lets companies segment the WAN. That lets groups of sites share the same WAN infrastructure for cloud-based business applications, such as Office 365 or Salesforce. The controller handles segmentation by letting network managers create and apply policies for firewalls, virtual routing and forwarding, and network address translation.
Overall, Silver Peak's new features represent the direction of many SD-WAN vendors, said Lee Doyle, principal analyst tor Doyle Research. In 2020, more SD-WAN vendors will likely bolster security through better segmentation and increase the scalability of their products to sell to the largest organizations.
However, the differentiator for SD-WAN vendors won't be in the number of sites they can handle. "It's more how you do the management and orchestration, not just how many things you scale to," Doyle said.
Essential criteria when looking for a highly scalable SD-WAN product include centralized management, the simplified grouping of sites and visibility across the network to spot problems, Doyle said. Today, those features are "more challenging than customers want them to be."
The global orchestrator requires a separate subscription license. Silver Peak also requires a separate subscription for its SD-WAN appliances.
The company also sells its Unity Orchestrator and Unity Boost WAN optimization product separately. The company's licenses are typically for one or three years.