.shock - Fotolia
Users find harmony in Cisco, VMware SDN software
Baystate Health and Sugar Creek Packing give Cisco and VMware SDN software separate chores in data center networks.
Baystate Health has weighed the strengths and weaknesses of Cisco's and VMware's software-defined networking products. The evaluation has given the Springfield, Mass., healthcare provider an understanding of how to use each vendor's technology.
"They're both excellent products, but they're not exactly the same," said Michael Feld, interim CTO for Baystate. "They're not interchangeable."
Baystate and Sugar Creek Packing Co., based in Washington Court House, Ohio, spoke to TechTarget recently about their plans for using Cisco's Application Centric Infrastructure (ACI) and VMware's NSX. Both companies have separated the vendors' SDN software in similar ways while working on data center overhauls.
Their experiences provide a guide for other companies trying to cut through the hype surrounding ACI and NSX. While the vendors list many uses for their SDN software, Baystate and Sugar Creek have found the options much narrower. Both companies plan to use NSX for security and for handling traffic to VMware's virtual storage software. ACI, on the other hand, is the best option for managing Cisco networking gear.
Baystate is more daring in its use of NSX than Sugar Creek, which isn't ready to trust VMware's latest technology with critical data. Baystate is using NSX as the controller for data moving across three mini data centers.
They're both excellent products, but they're not exactly the same. They're not interchangeable.

Michael Feldinterim CTO at Baystate Health, on ACI and NSX
Over the next 18 months, the facilities will replace the company's 12,000-square-foot data center in Holyoke, Mass., just outside of Springfield, and its disaster recovery facility on a Baystate campus near the organization's headquarters. The company has migrated 15% of its data center operations to the new facilities.
The baby data centers -- each less than 2,000 square feet -- are nearly identical. Each has fewer than a dozen racks of Cisco Unified Computing System (UCS) servers running Baystate's software for accounting, electronic medical records, laboratory management and other business operations. The applications run on VMware's ESXi hypervisor.
NSX writes data to VMware's Virtual SAN (VSAN) in the three sites at the same time and in the same way, Feld said. VSAN clusters hard drives and flash storage capacity from ESXi hosts.
Having everything done in triplicate means if a mini data center goes down, the remaining facilities can keep the medical provider operating.
"This architecture is always on," Feld said.
Sugar Creek's careful use of VMware SDN software
Sugar Creek is also using NSX with VSAN in Cisco UCS hardware, which combines compute, storage and networking in a single system. The company will use the technology as the core of a new data center and disaster recovery site, both scheduled to open in mid-May. CyrusOne, which owns, operates and develops data centers, will host the facilities.
Sugar Creek is taking a more cautious approach than Baystate. The food manufacturer will use NSX and VSAN when storing unstructured data, such as employees' personal files and recordings from video surveillance cameras.
Customer, inventory, accounting and other data critical to business operations will remain on NetApp storage devices that serve Sugar Creek's Microsoft Dynamics AX ERP system. The company will also skip NSX and VSAN in backing up data in the disaster recovery facility.
The company will consider replacing NetApp with VSAN during its next data center refresh in three years, said Edward Rodden, CIO of Sugar Creek. "We think we can do it on VSAN, but we want to prove it before we do it."
Baystate and Sugar Creek are equally comfortable using NSX as a tool for network microsegmentation. The process refers to wrapping network controls around applications or individual virtual machines. The walled-off zones prevent hackers who compromise one application from traveling to another.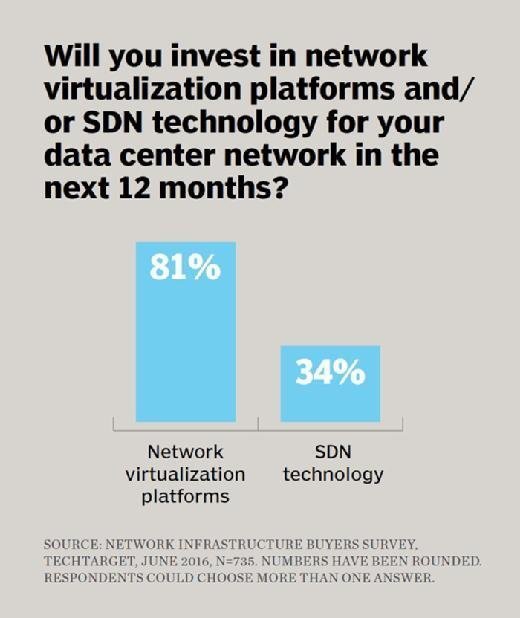 Managing Cisco gear with ACI
The companies are consistent in their use of Cisco's SDN software as a central location for configuring and managing the vendor's Nexus 9000 switches.
Outside of its NSX-controlled network, Baystate has Cisco switches and routers at the end of multiple network connections, such as MPLS, Ethernet and T1 and T3 lines. In the future, the company plans to let ACI control and manage the gear, Feld said.
"That's a very good use of ACI," he said.
How organizations use ACI, NSX or both will depend on their data center architectures. Companies that want to standardize their networks on Cisco gear will use ACI, while others using VMware as the core of their virtualized data centers will lean toward NSX.
Baystate and Sugar Creek based their decisions on what they wanted to accomplish with the SDN software. But whether you choose ACI or NSX, Sugar Creek advises companies always to have a backup plan in case Cisco or VMware fail to innovate as much as the other.
"Today, we view NSX as the better choice, but there's no guarantee it will stay that way in the future," Rodden said.
Next Steps
Why SDN security worries IT pros
How SDN and NFV differ
Understanding orchestration and virtualization in SDN