5G Advanced features include accurate timing, AI support
5G Advanced is the latest 5G specification, aiming to deliver enhanced massive MIMO, 5G integration with AI and accurate location positioning. Here's more about recent developments.
The next major chapter of 5G development focuses on the arrival of 5G Advanced.
Essentially, 5G Advanced is another name for the upcoming Release 18 of the 5G cellular specification and its future releases. The 3rd Generation Partnership Project (3GPP) revealed the concept of 5G Advanced in 2021 with its proposed Release 18 package. The previous specification, Release 17, introduced enhancements for beam management and enhanced mobile broadband. Release 18 and the future Release 19 build on those specifications and aim to better support AI, extended reality (XR) and energy efficiency.
The 5G standard started with the late 2017 delivery of non-standalone new radio (NR) specifications for the technology. The initial phase of 5G deployment is well underway in the U.S., with carriers deploying fixed and mobile network 5G across thousands of metropolitan areas.
Now that 5G technology has reached most populations, the arrival of the 5G Advanced specification is next on the list. 3GPP said the standard is "significantly enhanced to improve efficiency, as well as adding capabilities."
New features of 5G Advanced
5G Advanced has "advanced capabilities from new services, extreme connectivity and security," said Nokia Bell Labs in a white paper on the upcoming standard and future cellular advances.
Below are some of the functionalities and features of 5G Advanced.
Improved massive MIMO
5G Advanced provides enhanced massive multiple input, multiple output (MIMO) performance for 5G network operations. MIMO is an antenna array technology that uses multiple antennas at both the transmitter and receiver to increase data transfer speeds. Massive MIMO is a multiuser upgrade that increases the number of transmitter and receiver components.
Bell Labs anticipates that 5G Advanced, as well as future standards, will need base stations that support between 64 and 512 transceivers, which are the antenna elements that both send and receive data for increased uplink and downlink capacity per base station. For enterprise users, this means updated 5G Advanced systems better support high-throughput data users on a network and improve cellular network connectivity indoors. This is especially true for industrial wireless sensors that are often located in basement facilities.
Users need to deploy new infrastructure and devices to gain this future speed boost at the network edge.
Accurate timing
Precise millisecond timing is crucial for many industry sectors, such as banking, industrial IoT and smart energy grid technologies. 5G Advanced guards against the degradation or loss of satellite signals by providing time references directly from the network, Nokia wrote.
Upgrades that started with 3GPP Release 17 also affect enterprise users. The nonterrestrial network update enables compatible devices to connect with 5G satellites. Another major update is a lower data rate for wearables and IoT devices.
Reduced capability
Release 17 introduced reduced capability (RedCap) as part of its specification. RedCap refers to 5G NR and describes how 5G-enabled devices use less bandwidth to operate. Wearable or IoT devices using RedCap can operate in a 20 MHz channel, rather than the 100 MHz channel 5G NR typically uses.
Qualcomm said Release 18 scales back the necessary bandwidth for RedCap devices, while maintaining compatibility with existing 5G NR and RedCap devices.
Mobile extended reality
The business use cases for XR -- a subset of augmented reality (AR) -- are growing at a consistent rate. Examples are the following:
Using AR mobile device headsets to train and onboard new employees.
Navigating technical engineers to the equipment on which they must work.
Remote collaboration in virtual spaces.
XR requires high-resolution images -- up to 4K 60 frames per second -- to stream in real time within indoor locations. Thus, the improved low-latency performance, simultaneous user connectivity, indoor reliability and traffic prioritization benefits that 5G Advanced provides lessen the hurdle of true XR-immersive experiences across a number of market verticals.
5G Advanced and AI
5G Advanced used AI and machine learning (ML) to apply intelligent network management and improve the performance of complicated, multiantenna systems. According to Ericsson, this support further extends XR use cases with the combination of AR and ML.
A major aim of 5G Advanced is to derive more energy-efficient networks. Implementing AI and ML updates on the network makes this possible, Ericsson said. 3GPP said it is defining a base station power efficiency consumption model as part of the Release 18 specification. It also aims to determine power reduction methods for the standard.
Improved positioning
With the Release 18 specification, enterprise users will have the advantage of enhanced location positioning. Nokia said 5G Advanced will "improve cellular-positioning accuracy to below 10 cm by using beamforming as well as time-based methods to determine location." These improvements enable machinery to move with centimeter accuracy indoors without access to a GPS satellite signal.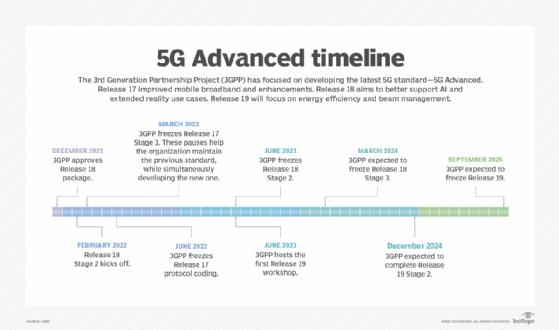 Operator advances
It's still early days for 5G Advanced, but carriers are preparing for the next phase of 5G.
"Release 18 will support a number of system enhancements and support for vertical services -- from XR experiences to artificial intelligence and machine techniques in the network," said Brian Daly, assistant vice president of standards and industry alliances at AT&T Labs. "However, these specifications will not be complete until early 2024."
Daly said he expects to see Release 18 features in products within 18 to 24 months after development. Thus, expect that commercial upgrades to 5G Advanced will likely not commence until late 2025 or early 2026. With improved data rates, location, timing and coverage on the way, however, enterprise users should pay attention to the latest phase of 5G and consider how to use the new capabilities to their fullest extent.
Editor's note: This article was originally written by Dan Jones and updated by Andrew Froehlich to reflect technology changes.
Andrew Froehlich is founder of InfraMomentum, an enterprise IT research and analyst firm, and president of West Gate Networks, an IT consulting company. He has been involved in enterprise IT for more than 20 years.