Fotolia
A refresher course on white box networking equipment
This white box networking review sheds some light on the variations, as it's all too easy to confuse the intricacies of white boxes, universal CPEs and brite boxes.
The white box networking movement within the IT infrastructure space aims to replace name-brand servers and switches...
Continue Reading This Article
Enjoy this article as well as all of our content, including E-Guides, news, tips and more.
-- from the likes of Dell, Hewlett Packard Enterprise and Cisco -- in favor of so-called white box equipment made by original device manufacturers. ODMs typically make equipment that is then sold under other logos, but they also sell directly to enterprises or through low-margin value-added resellers.
Under the cover, white box networking gear is made with all the same components as name-brand equipment. It typically contains microprocessors from Advanced Micro Devices, Arm Holdings or Intel and network processors from the likes of Broadcom, Intel, Cavium, Mellanox and Barefoot Networks. Because it's compatible with the same software as name-brand equipment, but comes from "no-name" vendors, white box equipment is the IT equivalent of generic drugs or store-brand products.
IT teams continue to show interest in white box networking mainly for cost reasons, but also for vendor relations management. Because the ODMs that make white box equipment also supply to other vendors, they typically charge significantly less when selling directly to consumers, especially for network switch gear. These systems come with a warranty -- often three years -- on the parts, but are otherwise unsupported. For instance, they don't include a professional services division or support staff for troubleshooting assistance.
White box equipment also comes without software. On the server side, this is of little consequence to most organizations, as most are accustomed to loading hypervisors and operating systems onto server hardware. Software-free equipment is less familiar to network teams that are used to tightly coupled operating software with custom silicon. So, network teams need to get comfortable with installing both basic operating software -- the switching OS -- and also higher-level network operating systems to manage higher-level network functions.
White box switches and servers
Outside the pool of data center host servers, white box networking equipment is mostly deployed as part of SDN architecture or network functions virtualization (NFV) architecture.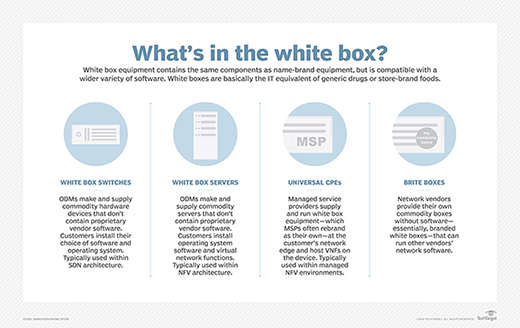 For SDN use cases, network teams deploy generic switches, layer on switch and network operating software, and migrate from proprietary switches. They may adopt the classic OpenFlow-based architecture, using OpenFlow as the communications protocol between the switching hardware and a controller running as a virtual machine somewhere in the data center. Or, they may use some other variety of controller and protocol. Suppliers in this space of white box switches include Cumulus Networks, Pica8 and Pluribus Networks.
For NFV architecture, a network team would more likely deploy a white box server. This server would run an operating system with one or more virtual network functions (VNFs) on top of the OS. VNFs take the place of network appliances or of subsets of network function appliances, such as routers, firewalls, WAN optimization and, more recently, SD-WAN endpoints.
White box equipment is the IT equivalent of generic drugs or store-brand products.
It is more usual, though, for an enterprise to consume NFV in the form of a managed network service. In this scenario, the managed service provider places a white box device at the network edge -- possibly rebadged with its own logo -- that serves as a universal CPE (uCPE) that will host whichever VNFs are needed to deliver the contracted services.
In whatever guise, the entire network landscape is feeling the effects of white box networking. Traditional network providers have begun to move away from or limit the role of custom silicon in favor of working solely on commodity platforms. They have also started to disaggregate hardware and software, supplying their own software-free gear upon which other network software can run -- so-called brite boxes, or branded white boxes -- as well as software that can run on other makers' hardware.
And managed service providers are taking advantage of white box uCPE gear and SDN and NFV principles to bring their service portfolios out of a hardware-limited paradigm and into the software-defined paradigm. Enterprises should reap the benefits of white box equipment in lowered costs and broadened options.
This was last published in
May 2018