Sergey Nivens - Fotolia
As technology changes, networking skills need to keep up
Evolving technology demands that networking professionals stay up to speed on the latest advancements, especially those centered around software-based services.
Some technology changes, such as the adoption of Ethernet at ever-increasing speeds, have had little impact on networking jobs. Meanwhile, other technology changes, such as the emergence of voice over IP, have had a profound impact. The networking industry, I believe, is at the cusp of a long series of technology changes that will alter the jobs of many networking professionals.
For example, look at how VoIP has changed the networking industry. In the late 1980s to early 1990s, enterprises' voice and data groups had very little interaction or cross training. By the early 2000s, companies adopted VoIP by combining their voice group and data group under a single manager.
But former voice group members would still handle voice issues and data group members would deal with data issues. Companies had changed organizationally, but they didn't change how the work was being done -- at least for a while.
Over time, how the work was being done did change. Voice was seen as another application running on the data network. Those voice engineers who learned new data networking skills kept their jobs. Those who didn't, didn't.
Software-based services impacting networking jobs
Nearly every segment of IT is now seeing fundamental technology changes. But the biggest impact is yet to come. The ongoing shift from hardware-based services to software-based features -- evidenced by the emerging adoption of SDN and network functions virtualization (NFV) -- will transform the workforce.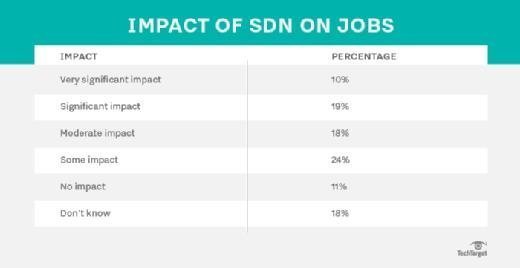 In its 2016 Guide to SDN and NFV, computer networking consulting firm Ashton, Metzler & Associates asked 144 IT professionals how much of an impact software-based services will have on their jobs over the next two years.
The results show that more than one-quarter of respondents believe that over the next two years the movement to software-based services will have a significant or very significant impact on their jobs. When asked to indicate the types of changes that would likely occur to their jobs, the responses included:
Our roles will blend and create some conflicts.
How we design, deploy and manage networks will change.
We will need to be retrained on the skills necessary to support a software-defined environment.
The skills needed will change from networking to programming and scripting.
Bridge the gap between training and actual work
A recent New York Times article discussed the changes that AT&T is making in order to evolve its workforce to respond to the technology changes brought on by SDN and NFV. Instead of having a workforce focused on how to climb poles or troubleshoot a balky switch, AT&T wants its employees to develop more software and data analysis skills.
AT&T will pay for at least some of the training, but employees must take classes on their own time and the telco has yet to specify what its future job descriptions will ultimately be. But the message, at least as far as the article implies, is clear: AT&T employees have been told to get retrained because some day they may need those skills.
The problem with this approach is after employees are trained, they don't always get to apply their new skills when they return to work. A couple weeks after the training, employees may forget just about everything they learned in those classes.
Make sure you're in demand five years from now
Here is another trend: Manual tasks are increasingly becoming automated and, as a result, the number of people who perform these tasks will be reduced. If you are just a few years away from retirement, you can probably ignore these changes. If you are further away from retirement, you can't.
Five or 10 years from now, new networking skills will be in high demand. Unfortunately, many enterprises still don't seem to have a firm grasp on the skills required. But some areas that should see increased growth include programming, analytics for network management and security, a better understanding of business and an increased knowledge of applications.
My advice: Choose one or more of these areas and develop as much expertise as you can through a combination of formal and on-the-job training. While not a guarantee, this approach will increase the chances that you will be in demand as the IT environment continues to evolve.
Next Steps
UC technology responds to changing business needs
As Internet of Things technology evolves, security concerns remain
The top five UC technology trends to watch in 2016
This was last published in
May 2016
Dig Deeper on Networking careers and certifications