Sergey Nivens - Fotolia
Network infrastructure design for network-as-a-service
When it comes to network as a service, network infrastructure design depends on if you want services delivered across the LAN, WAN or data center. Find out what you need to know.
Nowadays, it's easy to conceptualize SaaS, PaaS and IaaS architectures. Yet, the notion of network as a service, or NaaS, leaves many scratching their heads.
Network as a service is loosely defined as a group of data transport services provisioned and managed by a third party. NaaS network infrastructure design can take on many forms within the enterprise WAN, LAN and data center. Despite NaaS being more broadly focused, the benefits are similar to other types of as-a-service architectures. With it, you can achieve on-demand scalability, a shift from CapEx to OpEx spending, and the elimination of many management and administration tasks. Thus, we are seeing an uptick in NaaS demand.
In this article, we're going to look at several popular NaaS technology use cases and discuss steps IT decision-makers can take to properly align their existing networking infrastructure for a smooth transition.
NaaS network infrastructure design for the WAN
While software-defined WANs (SD-WAN) can certainly be built, deployed and managed in-house, it's becoming increasingly popular to outsource the provisioning and management of all WAN links to a third-party provider. Typically, the service provider will offer customers the ability to tap into its application-aware routing intelligence that resides in its distributed cloud network. To extend this intelligence to customers, the provider deploys either hardware or virtualized SD-WAN routers at the company's corporate and branch office WAN edge. The service provider then manages all WAN routing, traffic shaping and security policies from its cloud.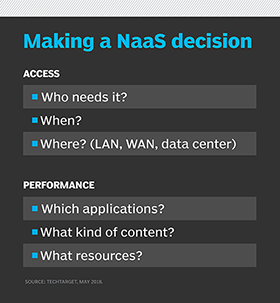 Another nice feature of NaaS in the WAN is the concept of bandwidth on demand (BoD). This gives customers elastic control to expand and contract the maximum throughput of a WAN link on an as-needed basis. It helps an organization seamlessly adapt to variations in bandwidth demand. Policy can be created between the customer's server and service provider to dictate the scope of BoD and whether the changes are scheduled and approved or simply done automatically when certain thresholds are met. Having the ability to quickly scale bandwidth as needed is incredibly useful for organizations with constantly fluctuating data requirements.
NaaS and its impact on the LAN
Your organization's LAN has a different feeling compared with the rest of the enterprise infrastructure. While applications and data can easily be stored in faraway data centers, your corporate office still needs an on-premises LAN that contains network switches, access points, devices and routers. Additionally, the LAN connects users to the internet edge, WAN edge and to corporate cloud resources. It's in the LAN where NaaS network infrastructure design takes on a much more physical form.
You need to think about how you would like the NaaS migration process to happen within your organization. Obviously, the less end-user impact, the better.
Due to the popularity of NaaS, there is a growing trend where networking resellers are moving toward a managed services provider (MSP) model. Within this NaaS model, the end customer chooses to either purchase or lease LAN and WLAN equipment that is configured and deployed inside company office space. From that point on, the NaaS MSP will manage all facets of the LAN, including port changes, troubleshooting and standard maintenance, such as server-based firmware updates and network security patches.
Often, the MSP will use software-defined LAN or WLAN technologies combined with cloud-managed network hardware to streamline management functions.
NaaS for the data center and its benefits
NaaS in private data centers operates similarly to services offered within public cloud IaaS platforms. Virtualized network appliances, including virtual switches, load balancers and firewalls, can be deployed by third-party MSPs. The MSP will then remotely manage and monitor these services for a fee.
In some cases, the services can be deployed on existing virtualization hardware you already own. In others, it may require you to conform to some sort of open source or proprietary equipment requirement outlined by your provider. In either case, it frees the customer from having to take on the management of increasingly complex data center network components and devices that may reside inside corporate-owned data centers.
Laying the groundwork for a NaaS network infrastructure design
If you've concluded that one -- or more -- NaaS providers meets your needs, your next step in the process should be to evaluate the various available options. For example, if your first foray into NaaS is to offload your geographically dispersed WAN, you may find it better to go with a large and highly reputable SD-WAN or BoD provider. A larger provider will likely be able to better service and manage remote sites and servers that span the globe. It will also be able to achieve bulk WAN circuit pricing, which should trickle down to the customer in the form of cost savings.
Alternatively, small and midsize businesses looking to move to a NaaS-based LAN provider may prefer working with a local company that can be physically on site at a moment's notice.
Another decision revolves around the hardware and software that will be deployed. As is often the case with any network infrastructure or architecture design project, it's inevitable there will be a debate between a proprietary or single-vendor approach versus open source. Of course, there are pros and cons to each, so the decision really boils down to what the service provider prefers, tool integration features and benefits specific to your organization, and cost differences between technology product offerings.
Finally, you need to think about how you would like the NaaS migration process to happen within your organization. Obviously, the less end-user impact, the better. But beyond that, choosing between a complete rip-and-replace upgrade versus phased rollout really boils down to timing and the potential to integrate the new NaaS architecture with the current legacy network. Again, your options on this decision center around your preferred service supplier -- and the NaaS platform it provides.
This was last published in
May 2018