momius - Fotolia
Manage
Learn to apply best practices and optimize your operations.
Service providers use NFV open source to innovate the network
With NFV open source, service providers can push network innovation and reduce network costs. But service providers will need to adjust to a new open source culture.
Leading service providers have embraced the promise that open source software can positively affect network innovation...
Continue Reading This Article
Enjoy this article as well as all of our content, including E-Guides, news, tips and more.
and reduce overall network costs, especially when it comes to NFV open source. But the immaturity of open source code for network applications and support issues will continue to challenge service providers.
One area where service providers are increasingly using open source is with network functions virtualization. NFV adoptions have increasingly grown, as many service providers use it in key applications, including the mobile core -- e.g., Evolved Packet Core and IP Multimedia System -- virtual customer premises equipment, security, management and monitoring, session border controllers and routing. Additionally, service providers currently deploy virtual network functions from network equipment providers and independent software vendors (ISVs) as applications on standard hardware, like commercial servers. But service providers continue to report challenges in deploying NFV related to management, automation and orchestration.
With NFV open source, service providers can realize certain advantages, including accelerated innovation and reduced cost. By using open source software, providers can push the adoption of new technologies, like virtual radio access networks. Open source can also supercharge the cost advantages of NFV by using low-cost software that runs on commodity hardware.
Another potential benefit of NFV open source is the ability for service providers to avoid infrastructure lock-in that comes with a box or software from a specific supplier.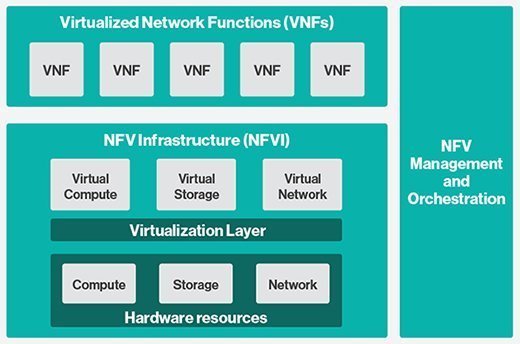 Open source NFV implementation challenges
Implementation of open source for NFV applications will require service providers to adopt new ways of designing, deploying and supporting their network infrastructure. Network infrastructure based on open source software represents a radical shift from the traditional model of relying on large network equipment suppliers -- e.g., Ericsson, Nokia, Cisco or Huawei -- to design, test, deploy and support highly reliable networks. The success of NFV open source will require network suppliers to redesign their business processes and customer relationships.
Implementation of open source for NFV applications will require service providers to adopt new ways of designing, deploying and supporting their network infrastructure.
Here are some key questions regarding NFV open source:
Who will contribute the leading-edge code? Will it be network suppliers, ISVs, service providers or standards organizations?
Who will govern standardization and stabilize the open source code? How will standards and interoperability be maintained?
Who will test the code and make sure rigorous security is maintained?
For service providers, open source is a new engineering practice, and they will need a new open source culture. Open source requires new disciplines, respect and credibility; service providers can no longer just demand suppliers build unique new features useful only to them. Service providers will need to form key partnerships to develop the software, test it, and provide integration and support.
NFV open source deployment examples
The use of OpenStack as the platform layer for NFV infrastructure deployments is the most widely deployed open source code in the telecom industry. Many service providers have found that OpenStack is challenging to implement and have turned to partners for assistance and deployment support.
OpenDaylight (ODL) has a strong community of active developers -- around 200 to 300 engineers on a daily basis. ODL is primarily deployed as a piece of the network puzzle across many network applications and some telecom applications.
Open Network Automation Platform (ONAP) is a community promoting standardization in the management, orchestration and automation (MANO) component of NFV. ONAP is currently working to merge millions of lines of code from various contributors, including AT&T. Open Source MANO is another service-provider-supported MANO project with ambitious standardization goals.
Service providers currently promoting open source include AT&T, BT, China Mobile, NTT Communications, Telefónica and Verizon. Suppliers specializing in NFV open source include Lumina Networks, Inocybe Technologies, Hewlett Packard Enterprise, Radisys, Red Hat and VMware.
Final thoughts for service providers
Open source software has delivered proven benefits for the IT industry in terms of innovation, lower costs and vendor independence. Open source developments in the networking industry, however, are still in their infancy, especially when compared with the IT industry. There are only a few, select examples of leading service providers using open source for commercial use, with many more potential deployments in the lab or being used for proof of concept.
For service providers evaluating open source deployments, recommendations include the following:
Stay as close to upstream code as possible.
Avoid forking the code for specialized requirements.
Stay current on releases.
To be successful, open source requires continued contributions, and service providers must be willing to give back to the community in terms of cutting-edge code. Migration to open source is a journey that requires new expertise, retraining of existing personnel, new procedures and a revamped request-for-proposal process.
Service providers should carefully evaluate the cost, benefits and risks associated with specific network projects and their suitability for open source. Migration to open source will require new business models and changes to the service provider and supplier relationship.
This was last published in
November 2017