funkyfrogstock - Fotolia
Where can I get SAP SuccessFactors online training?
The SAP Learning Hub has a wealth of resources for training, certification and knowledge sharing for users and administrators of the SuccessFactors suite.
SAP is the only official provider of training for SuccessFactors. A majority of the training it offers is available online, either through the SAP Learning Hub or -- for customers and partners -- the SuccessFactors Administrator Learning Center and SAP SuccessFactors Community. Partners also have access to SAP SuccessFactors online training resources through the SAP PartnerEdge platform and various partner Jam groups.
SAP Learning Hub
The Learning Hub is the official platform to take training and certification on SAP products, including SAP SuccessFactors. Only training and certifications taken in the SAP Learning Hub are recognized by SuccessFactors.
Anybody can sign up and pay for access to training through the SAP Learning Hub. Users who want to take SAP SuccessFactors online training need an SAP Learning Hub, Professional Edition, Public Cloud Version subscription (code HUB030).
Various SAP SuccessFactors online training courses and certifications are available in the Learning Hub, as well as SAP Live Access. Learning is split up into three areas: Content, Journeys and Rooms.
Learning Content provides training courses on various aspects of the SuccessFactors platform. The vendor also provides SAP Live Access, which enables you to practice on a real system as you move through your training.
Learning Journeys is an alternative path of training courses that form a complete course and can make you eligible to take a certification exam for a particular module. For example, the SuccessFactors Employee Central Learning Journey contains a total of six training courses. Integration Learning Journeys are also available.
Learning Rooms are collaborative groups that support the learning experience through social collaboration and knowledge sharing. They provide a variety of content, such as a place to ask questions, live events, videos, news and information and recommended Learning Journeys.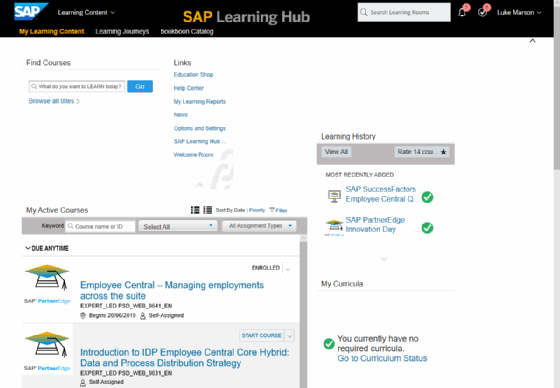 SuccessFactors Administrator Learning Center
The SuccessFactors Administrator Learning Center (SFALC) employs the same areas as the Learning Hub, but it focuses on providing administrator training for customers. It can be accessed through the Training page of the SAP SuccessFactors Community. The Learning Content, Learning Journeys, and Learning Rooms are specifically centered on providing administrator-focused content.
One of the core pillars of this administrator-focused SAP SuccessFactors online training is the SAP SuccessFactors eXpert (SFX) Accreditation, which is designed to give administrators deeper knowledge on how the software works and how to optimize administration.
SAP SuccessFactors Community
For customers, the SAP SuccessFactors Community offers a wealth of resources and information to help keep you educated and informed on everything that is happening in the SuccessFactors world. The Community website Training section provides a variety of SAP SuccessFactors online training, educational materials and other resources that you can use to educate yourself on a range of topics, such as implementation, support, and using and administering the products in the SuccessFactors HCM suite.
Dig Deeper on SAP ERP software and modules
SAP's SuccessFactors Dynamic Teams could help support project-based teams in the workplace and solve associated challenges. Learn more about the new ... Continue Reading
Part of SAP SuccessFactors HXM, Work Zone for HR is a digital workspace meant to boost employee experience. Learn more about its features and ... Continue Reading
Qualtrics has certain technical integration challenges, and IT needs to address questions to uncover what they are and how they will affect the ... Continue Reading