Floating the possibilities of SAP S/4HANA Cloud migration
When weighing the advantages of abandoning legacy ERP systems for SAP S/4HANA Cloud, factors include implementation and support costs, functionality, flexibility and security.
Moving to SAP S/4HANA Cloud might seem like an easy decision for some companies to pull away from their legacy systems and leave legacy architectures in the dust. The independent Americas' SAP Users' Group found that 44% of SAP customers moving to S/4HANA are choosing a cloud model: S/4HANA SaaS or a hosting environment like AWS, Azure or Google Cloud.
While an S/4HANA Cloud migration has some advantages, that move can also present challenges for companies that rely on heavily customized systems or expect S/4HANA Cloud to work just like their on-premises ERP Central Component (ECC) systems. S/4HANA Cloud was never designed to be a carbon copy of ECC running in a multi-tenant cloud environment. Yet if companies are looking for specific benefits, a cloud or SaaS implementation may be their best bet.
Implementation and support costs
An S/4HANA Cloud migration makes sense if companies are trying to reduce costs, particularly implementation costs. Companies that have moved their ERP systems to the cloud "are finding a better total cost of ownership," according to the "2020 ERP Report" by Panorama Consulting Group, which reported that 86% of companies chose a SaaS model over a hosted model for their cloud ERP systems.
On-premises costs include the usual hardware and software licenses, plus a secured room, electricity and support staff. Migrating to the cloud can help companies eliminate most of these capital expenses and instead move to an operating expense model, said Harley Lippman, CEO of New York-based IT staffing firm Genesis10. But that will require companies to conduct a detailed analysis to determine their true total cost of ownership.
In addition, support for S/4HANA Cloud can become almost a non-issue for companies. SAP or the cloud provider handles the upgrades and maintenance, including patching, scheduled downtimes, regression testing and resolving glitches. "You are always on the latest versions of the operating system, databases and the ERP software itself," Lippman noted.
Functionality issues
It has been well documented that lack of customization is a big roadblock for companies considering an S/4HANA Cloud migration. Customers can build extensions on the SAP Cloud Platform to overcome this hurdle, and SAP has released ABAP, its proprietary programming language, in the SAP Cloud so that organizations to some extent can still customize S/4HANA Cloud. But these options might not be enough.
The extensions in SAP Cloud are different from how SAP has been customized historically, and they come with restrictions that aren't present in on-premises deployments. "Having said that, [S/4HANA Cloud] might be a good fit for organizations with less complexity through the organization and within their processes," said JP Perez-Etchegoyen, CTO at Onapsis, a Boston-based cybersecurity monitoring firm for SAP applications. "However, for large enterprises, lacking flexibility to customize the system is definitely a significant challenge."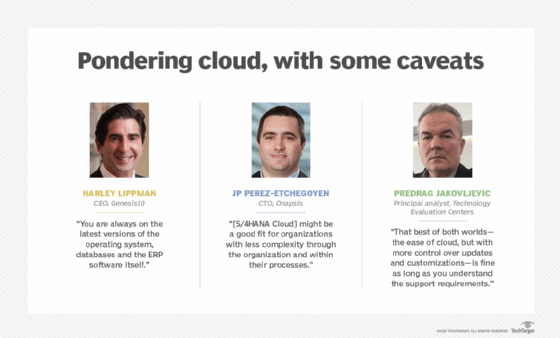 Guaranteed data security is another concern that might hinder an S/4HANA Cloud migration. Citing a 2019 SAPInsider benchmark report, Perez-Etchegoyen noted that 81% of respondents indicated that certified and guaranteed security was very or extremely important to their cloud migration strategy.
Since SAP ERP systems often house critical customer, financial and intellectual property data, companies tend to pay special attention to how they're protected. Moving to the cloud means on-premises firewalls are no longer an option, and the cloud provider must be entrusted with shoring up security. "As they move to the cloud, organizations realize that the attack surface is increasing, often with discrepancies on who is responsible for protecting the data," Perez-Etchegoyen said. While security isn't an excuse not to move to the cloud, he added, organizations should still factor in how to protect sensitive data.
Hosted S/4HANA anyone?
Choosing S/4HANA in the cloud or on premises is just like selecting any other ERP system, according to Predrag Jakovljevic, principal analyst at Technology Evaluation Centers. For companies that want heavy customization capabilities, tend to quickly shift processes -- as large multinationals are inclined to do -- or want to control the timing of an upgrade, a move to the cloud isn't recommended.
"Cloud ERP systems are usually updated every six months or so," Jakovljevic explained. "The vendor sends you a test bed, a list of updates, and they give you a cutover date, [with] which you must comply."
He advised that companies might want to consider a single-tenant cloud implementation by running S/4HANA in the cloud instead of S/4HANA Cloud as SaaS. "That best of both worlds -- the ease of cloud, but with more control over updates and customizations -- is fine as long as you understand the support requirements and how to tie up all those distributed solutions and data sources," he reasoned.
All of which boils down to companies taking a hard look at what they will and won't need in the cloud, including issues of customization and control over security. If they choose S/4HANA Cloud migration, then now is when to start planning, even with SAP's two-year deadline extension to 2027. To get ready for the cloud, it will take a good amount of time to identify and streamline processes in legacy systems.