kentoh - Fotolia
IronWolf 110 SSD could mark NAS-specific storage shift
Is there a place in the current storage market for NAS-focused SSDs? Seagate seems to believe so, if the recently released IronWolf 110 is any indication.
Earlier this year, Seagate released a line of solid-state drives that specifically target network-attached storage systems. Seagate's IronWolf 110 SSD could very well fill a gap that's been largely ignored by SSD vendors.
The IronWolf 110 is based on the Serial Advanced Technology Attachment (SATA) standard. Seagate is the first and, so far, only vendor to take such a stand with a NAS SSD, thumbing its nose at an industry trend toward nonvolatile memory express and NVMe over Fabrics.
Nothing prevents an organization from using enterprise-grade SSDs in their NAS systems, and at first glance, it might be difficult to see how an SSD that targets NAS would be different from the rest. On the surface, the IronWolf 110 seems fairly comparable to other SATA-based SSDs in its class. It's only on closer inspection that the NAS-specific features become apparent.
The IronWolf 110 SSD is aimed at small-to-medium enterprises. The drive comes in a 2.5-inch form factor and is 7 mm thick. Like many comparable SSDs, the IronWolf 110 supports the SATA 6 Gbps interface and is built on triple-layer cell 3D NAND technologies, making it suitable for a variety of NAS systems.
The IronWolf line from Seagate also includes a number of HDDs in addition to the SSDs, making it possible to support all-flash arrays or cache tiering. With cache tiering, organizations can implement a hybrid storage platform in which SSDs are used to cache data that's ultimately stored on the HDDs, helping to improve performance over an all-HDD configuration, but without the high price tag of all-flash.
IronWolf 110 NAS-specific features
A NAS device is a node on an Ethernet LAN configured with its own IP address, just like other nodes. NAS systems implemented in corporate settings typically support multi-user connections from heterogeneous client devices, while providing 24/7 access. These systems have a reputation for durability and for delivering high capacities at affordable rates, with easy access from a variety of devices. They can also store a range of file types, including Microsoft Office documents, multimedia files, email and text messages, database files and virtual machine images.
The IronWolf NAS SSD is more than just a SATA drive. It also offers features that support the type of 24/7 multi-user workloads typical of a NAS system.
The IronWolf 110 SSD supports the NAS environment in a number of ways. One of the most important is its adherence to the SATA standard, which continues to be used in many NAS systems, despite the industry trend toward NVMe.
But the IronWolf NAS SSD is more than just a SATA drive. It also offers features that support the type of 24/7 multi-user workloads typical of a NAS system. For example, the IronWolf 110 incorporates Seagate's AgileArray firmware, which enhances NAS performance and reliability in multi-user environments that require full-time accessibility.
The NAS SSD includes DuraWrite, a lossless data reduction technology that compresses data as it flows through the drive's controller. DuraWrite makes it possible for the SSD to deliver much higher random-write capacities, along with greater power efficiency, leading to better performance and reliability, while extending the drive's usable life.
Another way that the IronWolf 110 targets NAS systems is by including a two-year subscription to Seagate's Data Recovery Service, which ensures the recovery of lost data in the event of drive failure. As with its IronWolf HDDs, Seagate offers a five-year limited warranty for its IronWolf 110 SSDs.
Seagate also plans to bundle the IronWolf Health Management service with its SSDs. IronWolf Health Management provides built-in monitoring for maintaining the drive's health over its lifetime. However, the feature has not yet been incorporated into the drive.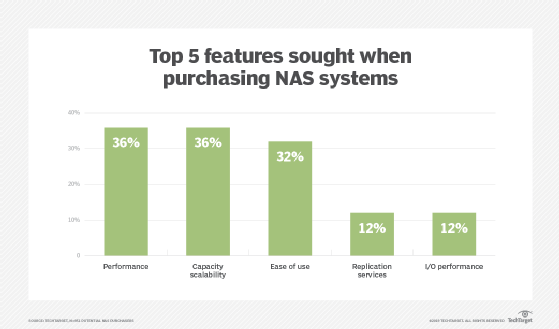 IronWolf 110 specs for the NAS environment
The IronWolf 110 SSD supports capacities ranging from 240 GB to 3.84 TB. Of course, this is nothing compared to the capacities available to Seagate's IronWolf Pro HDDs, which can provide up to 14 TB. That said, the 3.84 TB is nothing to scoff at, and it still comes out ahead of Western Digital's Blue SSD, which has a maximum capacity of 1 TB. Even so, the larger capacities of the IronWolf 110 SSD make it better suited to a NAS system.
The IronWolf 110 also supports a sustained sequential read rate of 560 MBps. Although this rate is similar to comparable SSDs, its support for a NAS multi-user environment is worth noting. The rate indicates how well the drive can deliver steady state speeds for the types of files and read operations often supported by a NAS system.
The IronWolf 110 also has a mean time between failures rate of 2 million hours. The MTBF rate predicts the drive's reliability using a calculation based on the observed error rate of a continuously running drive in a test environment.
Although the MTBF rate doesn't reflect the actual number of hours the drive will run before failing, it can help compare reliability among different drives. For example, the Western Digital Blue SSD has an MTBF rate of only 1.75 million hours, and the Samsung's SSD 860 Pro shows an MTBF rate of only 1.5 million hours. In fact, the IronWolf Pro HDD has an MTBF rate of only 1.2 million hours. Clearly, the IronWolf 110 comes out ahead, making it even better suited to the needs of a NAS environment.
An industry trend?
It's difficult to say how much of an impact the IronWolf 110 will have on the NAS industry, or whether such a product is warranted in today's market. Much will depend on how the cost of the drive stacks up to other SSDs on the market. While exact prices can vary significantly from one listing to the next, suggested retail prices are $85 for 240 GB, $135 for 480 GB, $265 for 960 GB, $480 for 1.92 TB and $910 for 3.84 TB. Currently, the Western Digital Blue 1 TB drive runs about $150, and the Samsung SSD 860 Pro 1 TB drive is about $300.
The IronWolf 110 NAS SSD must also go through the rigors of being implemented in production environments before we know if it has any staying power. That said, Seagate has taken an important step in NAS storage, even if it might seem like a step backwards to some. Whether other vendors will follow suit is yet to be seen.