Share this item with your network:
Managing and protecting all enterprise data

idspopd - Fotolia
Primary storage optimization overcomes a range of challenges
Enterprises turn to different products, technologies and tools to optimize primary storage, overcome data storage challenges and make networked storage deployments more efficient.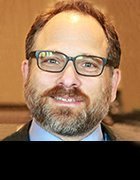 By
Primary storage for applications and active data makes the data center hum and everyday business processes possible....
Continue Reading This Article
Enjoy this article as well as all of our content, including E-Guides, news, tips and more.
Yet enterprises face a number of challenges when it comes to maintaining their networked primary storage deployments.
Close to a third, 29%, of those surveyed by TechTarget Research cited a lack of adequate capacity as their leading storage challenge. Eighteen percent named poor performance, while 16% noted that ongoing management is difficult or time-consuming. Fifteen percent said the same thing about configuration and provisioning, and 15% named bandwidth constraints; 14% scalability; and 13% system sprawl, having too many isolated storage systems to manage, as primary storage problems to overcome.
Chances are if you aren't already dealing with one or more of these primary storage challenges, you will eventually -- most likely sooner rather than later. Thankfully, the toolbox is full of ways to improve data storage efficiency.
Solid-state storage tops this list, with 35% of respondents identifying it as a method for primary storage optimization. Automated storage tiering (30%) is next, followed by data reduction in the form of deduplication and compression (28%), thin provisioning (26%), storage virtualization (24%), data archiving and cloud storage (both 21%), storage resource management software (12%) and automated provisioning software (8%).
Upcoming primary storage buys
Of those surveyed, 78% already have a SAN deployed for primary storage, and 22% have NAS systems. Meanwhile, 41% plan to buy more networked storage in the next 12 months. Of these, 59% will go with a SAN (block storage), and 28% NAS (file storage). Another 37% said they would be looking to purchase a unified array.
Unified arrays are attractive because they can store applications and data used to run and manage block, file or both protocols on the same device. A multiprotocol array can lower capital expenditures and simplify management by providing one system to manage. Paying for both file and block storage may prove too expensive if an enterprise only requires one or the other, however.
Nearly three quarters (73%) of those with storage arrays would like to increase storage capacity. This leads the runner-up goal of improved performance (32%) by more than 40 percentage points.
Next up are performance improvements for certain apps and data (28%); better management of data, migration, tiering and efficiency (26%); higher utilization rates for installed storage (22%); rearchitecting storage infrastructure to scale with more virtualization of the data center (19%); consolidating storage footprint (17%); and lowering dependence on specialized SAN management skills (15%).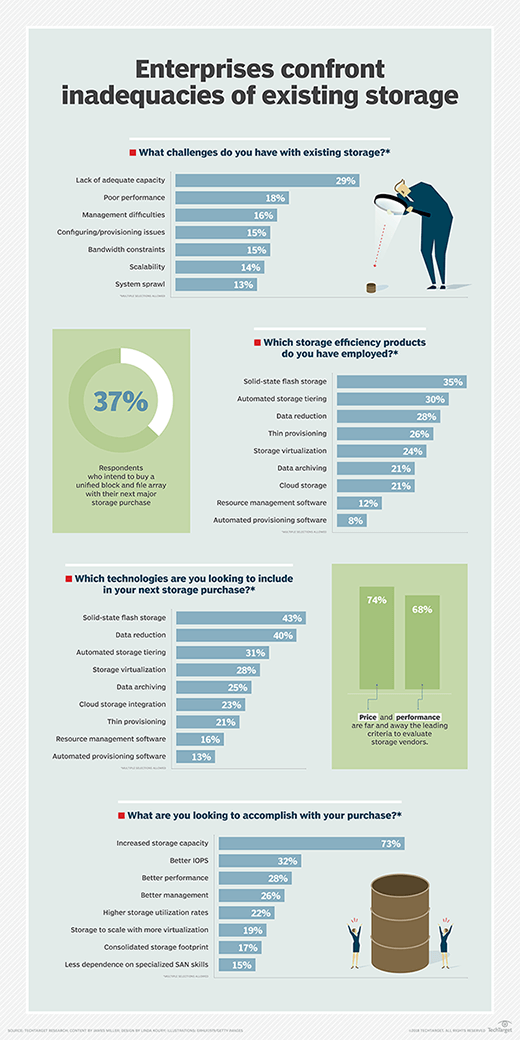 As with their current storage deployments, organizations plan to deploy primary storage optimization technology with these upcoming major storage purchases, but with some notable differences. Solid-state storage still leads, but 8% more respondents cited it for upcoming storage buys (43%) than current deployments, reflecting the solidification of flash technology's role as primary storage in the enterprise. And while automated storage tiering products and data reduction swapped second and third places from where they landed for current deployments, the former's percentage stayed fairly steady at 31% while the data reduction jumped 12% percentage points to 40%. Storage virtualization (28%), data archiving (25%), cloud storage integration (23%) and thin provisioning (21%) clustered together in the middle of the pack, while storage resource management software (16%) and automated provisioning (13%) again finished in the back of the pack.
Taking the primary storage optimization leap
Businesses are considering several newer storage technologies as part of their upcoming primary storage optimization purchases. Among these, 34% identified object-based storage, 33% cloud storage, 27% software-defined storage and 12% gateway appliances that integrate cloud storage resources. Only 3% said they wouldn't consider any emerging storage technology, while another 29% said they would, but didn't specify which ones.
Price (74%) and performance (68%) are, by far, the leading factors for evaluating primary storage vendors. These are followed by features and functions (35%) and scalability (33%) as distant third and fourth factors. Market leadership and tech support and service are next at 27% apiece, with integration with other technology (17%), vendor already supplies other tech (7%), financial stability of vendor and unspecified other (both 5%) round out the top 10 assessment factors.
A third of respondents will purchase primary storage optimization technology for their latest project through a reseller, and 11% said they would do so directly through the manufacturer. A quarter of the respondents intend to go both the reseller and direct routes for obtaining the technology and services for their project, and another 32% were undecided.
Dig Deeper on Primary storage devices