Sashkin - Fotolia
Scality storage update adds three-server option
Scality Ring 7.4 file and object storage software takes aim at easing installation and ongoing management, and it adds a lower-cost three-server entry configuration.
Scality launched its Ring 7.4 distributed file and object storage software that's designed to simplify installation and lower the entry-point cost through a new three-server configuration.
The Scality storage update includes a new unified installer that aims to help customers deploy the Ring software in less than an hour on hardware from a Scality partner. The installer is available with 45 supported reference architectures for Hewlett Packard Enterprise (HPE), Cisco, Dell and Supermicro servers.
Those reference architectures include the new three-server configurations that are designed to give customers an entry point at a lower price. Scality storage previously required a minimum configuration of six servers.
The latest 7.4 update also includes a new Scality Ring Supervisor Management Portal to enable customers to monitor hardware, software, Amazon Web Services S3-based object storage and NFS- and SMB-based file storage through the same newly updated user interface (UI).
Paul Speciale, chief product officer at Scality, based in San Francisco, said the vendor did a considerable amount of work with HPE and Cisco to facilitate management of HPE Apollo and Cisco Unified Computing System servers.
"You can even see the HPE server branding and the models and the specs of their servers through our UI. That's been a hard thing for software-defined storage. The more you were decoupled from the hardware, the less you were able to show the user the things that were relevant. This solves that problem," Speciale said.
Scality's Ring software-defined storage is designed to run on any server hardware across a single data center or multiple sites. Customers also have the option to purchase a rebranded HPE version of the product, called Scalable Object Storage with Scality Ring, which prepackages the software and hardware.
Scality previously offered FastTrack reference configurations to ease deployment for customers who buy their own hardware. Those are replaced by the unified Ring Installer that runs as a virtual machine instance.
The Ring Installer includes an inventory file to feed the deployment and orchestration process across the 45 supported reference architectures. Users select whether a given server is a storage node, a file server equipped with Scality's scale-out file system, an S3 object server or a combination. Scality bundles in the open source SaltStack orchestration tool to enable agents to automate the deployment of the packages across servers, Speciale said.
"Making this work right took a lot of energy. It's a lot of learning and figuring out all the dependencies, so that you can really run this predictably end to end. Universal installers are a very hard task," Speciale said.
Customers who choose hardware outside of the predocumented reference architectures will need to customize the inventory file, and their deployments could take longer, Speciale warned.
New Scality storage Supervisor
Once installed, the new Ring Supervisor Management Portal is designed to assist with ongoing operations. The Supervisor includes an S3 Service Management console that lets customers directly set account user groups and access controls across a multi-tenant deployment. Service providers and enterprises can brand the console, if they choose.
The new Supervisor Management Portal for Scality storage is an integrated data browser that eliminates the need for a third-party tool to manage S3 buckets and object data. Supervisor also offers access to online documentation and contextual help.
The Scality storage update has been available to customers since March 30, but the company didn't publicly announce the Ring 7.4 general availability until today.
Scality releases one major Ring update per year. The Ring 7 cycle included a series of minor releases that culminated in the 7.4 long-term support release, which is the stable version that goes into a four-year maintenance period.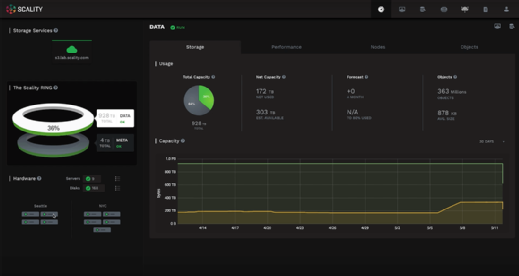 Amita Potnis, a research manager in IDC's storage systems program, said the new release addresses customer concerns and feedback related to complex installation and deployment with previous releases. She added that simplicity of management and reporting are becoming a must-have for vendors. Potnis said Scality's competition often includes Dell EMC's Elastic Cloud Storage, NetApp's StorageGrid and IBM's Cloud Object Storage.
Randy Kerns, a senior strategist and analyst at Evaluator Group, based in Boulder, Colo., said the new three-server entry configuration should help companies that are just starting with object storage and have a limited budget. He said they often want to start small and grow as they add more data and use cases. Traditional IT organizations are interested in object storage systems primarily as a repository for online data that is active but doesn't require primary storage and for retained backup copies of data, according to Kerns.
Speciale said Scality now has more than 200 customers, including large service providers, media, healthcare and financial services companies that have petabyte-scale deployments.
Scality storage roadmap
The first release of the Ring 8 "feature train" is due later this year. Speciale said the Ring 8 roadmap includes simplified installation for multisite deployments, integration of HPE Integrated Lights Out remote server management APIs into Supervisor and advanced workflow automation. He said data compression, deduplication and erasure coding across multiple Rings are also on Scality's roadmap.
Scality also plans later this year to make its Zenko software generally available. Zenko will manage data across multiple public clouds and Ring-based private clouds, Speciale said. Supervisor will enable access to Scality's Zenko Orbit cloud-based portal. The vendor is currently in pilot projects with some of its large Ring customers.